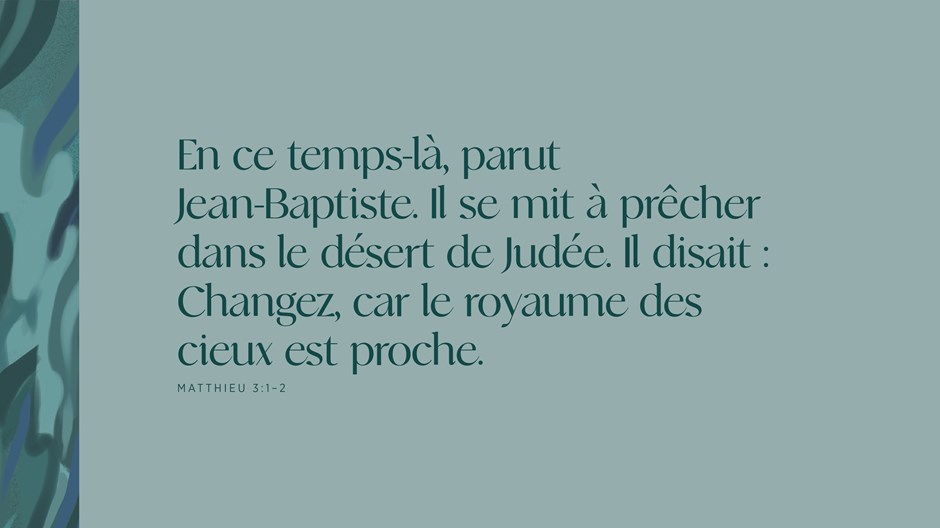 Lecture dans Matthieu 3.1-12
L'évangéliste Matthieu situe le cadre historique du ministère de Jean-Baptiste avec ce simple marqueur temporel : « En ces temps-là » (v. 1). Il suffit de lire le chapitre précédent (ainsi que Luc 3) pour comprendre qu'il s'agit d'une époque de dirigeants mégalomanes, à l'image d'Hérode le Grand qui, dans une rage sanguinaire, fit assassiner les petits garçons de Bethléem. Après la mort d'Hérode et l'accession de son fis au pouvoir, Joseph craint toujours pour sa famille et déménage à Nazareth. « Ainsi s'accomplit cette parole des prophètes : on l'appellera le Nazaréen » (2.23).
L'Évangile de Matthieu insiste sur l'accomplissement des promesses de Dieu transmises par les prophètes. « Dieu a dit — et cela s'est accompli », souligne-t-il à maintes reprises. Cela ne va pourtant pas de soi quand la réalité visible suggère que le mal l'emporte. Quand des bébés sont assassinés des mains d'un roi mauvais, par exemple, pouvons-nous vraiment croire que le royaume des cieux s'est approché, comme le prêche Jean (3.2) ?
Jean-Baptiste évoque la figure d'Élie dans l'Ancien Testament, vêtu de poils de chameau, mangeant des sauterelles et du miel sauvage. Elie exerçait aussi son ministère prophétique dans le contexte d'un régime politique corrompu. Le roi Achab, comme Hérode, était prêt à tuer pour son ambition. Après la victoire spectaculaire d'Elie sur les prophètes de Baal, la reine Jézabel mit à prix la tête d'Elie.
Repentez-vous, car le royaume des cieux est proche. Il y a là l'essentiel de la parole prêchée par tous les prophètes de Dieu. Et par sa grâce, cette parole nous parvient même dans les ténèbres. C'est une parole de bonne nouvelle : il se prépare un changement de régime. Cette proclamation, prêchée à la fois par Jean et par Jésus, annonce qu'un autre roi montera sur le trône. Comme le prophète Ésaïe lui-même l'a déclaré des centaines d'années plus tôt, le règne de ce roi, contrairement à celui du roi Achab ou du roi Hérode, sera un règne de paix (Ésaïe 9.6-7).
Suivre le roi Jésus, ce n'est pas simplement être sauvé par lui ; c'est être changé par lui. Selon Paul, l'Évangile affirme que Jésus « s'est livré pour nous afin de nous délivrer de toute désobéissance et de faire de nous, en nous purifiant ainsi, un peuple qui lui appartienne et qui mette toute son ardeur à accomplir des œuvres bonnes » (Tite 2:14).
Nous connaissons l'action de la grâce merveilleuse, salvatrice, purificatrice, lorsque le peuple de Dieu se détourne du péché et s'abandonne entièrement à Dieu. Si l'Avent marque l'avènement de de la lumière, la repentance est l'habitude quotidienne qui nous permettra de marcher dans cette lumière.
JEN POLLOCK MICHEL est une écrivaine, une animatrice de podcasts et une conférencière basée à Toronto. Elle est l'autrice de quatre livres, dont A Habit Called Faith et Surprised by Paradox.
Traduit par Valérie Dörrzapf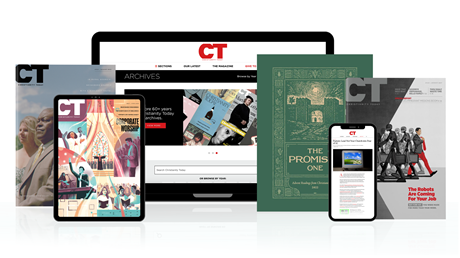 Subscribe to Christianity Today and get access to this article plus 65+ years of archives.
Home delivery of CT magazine
Complete access to articles on ChristianityToday.com
Over 120 years of magazine archives plus full access to all of CT's online archives
Subscribe Now
Grâce merveilleuse et purificatrice
Grâce merveilleuse et purificatrice