Untuk mengunduh kumpulan renungan "Berita Injil di Masa Adven," klik di sini.
Baca Lukas 21:25–36
Kedatangan Yesus yang Kedua akan benar-benar kentara. Seluruh ciptaan, dari langit sampai ke lautan yang bergelora, akan bergejolak hebat; semua orang di dunia akan melihat dan putus asa. Sungguh tidak akan ada tempat untuk bersembunyi, tidak ada tempat untuk melarikan diri dari Dia yang akan datang untuk membawa keadilan. Tidak ada tempat, kecuali di dalam Dia yang datang kembali untuk menghakimi orang yang hidup dan yang mati. Sementara bangsa-bangsa akan menderita, para pengikut Yesus diberitahu untuk tidak merunduk dan bersembunyi, tetapi untuk berdiri dan mengangkat kepala mereka. Karena hidup mereka tersembunyi di dalam Kristus yang duduk di surga, mereka tidak perlu takut ketika Dia kembali ke bumi.
Yesus ingin para murid-Nya mengerti bahwa peristiwa ini akan datang dengan cepat dan pasti. Ada perdebatan besar tentang siapa "angkatan ini" (Luk. 21:32). Mungkin ini merujuk pada pendengar Yesus saat itu, yang bagi mereka kejatuhan Yerusalem akan menjadi tanda dan contoh dari akhir yang akan datang. Mungkin ini berarti generasi yang akan melihat tanda-tanda kedatangan-Nya. Artinya, kedatangan Kristus kembali akan terjadi tidak lama setelah pohon-pohon bertunas secara metaforis. Namun, apa pun itu, Yesus berjanji bahwa peristiwa tersebut lebih kukuh daripada dunia itu sendiri.
Apa yang harus dilakukan para murid sementara dalam penantian? Kita yang dari latar belakang gereja tertentu mungkin mengharapkan panggilan untuk menginjili dan memuridkan orang lain karena orang-orang harus tahu tentang bencana yang akan datang ini. Dan ya, kita harus. Kita yang dari latar belakang gereja lainnya mungkin mengharapkan panggilan untuk mempraktikkan keadilan karena kita dipanggil untuk mengasihi semua yang Tuhan kasihi dan membenci segala yang Dia benci. Dan ya, kita harus.
Namun, dalam momen spesifik di Lukas 21 ini, Yesus memanggil para murid-Nya untuk berhati-hati, berjaga-jaga. Sebuah perangkap pegas (seperti jebakan tikus) memberi gambaran yang sesuai tentang akhir yang tiba-tiba dan ganas ini. Siapa yang begitu arogan untuk menganggap bahwa mereka akan lolos? Godaan duniawi untuk berpesta liar atau ketakutan yang tidak semestinya adalah contoh bagaimana hati manusia bisa terbebani.
Dan hidup kita yang berat, ditambah lagi dengan membawa beban berat, membuat kita tidak bisa dengan cepat menghindar dari akhir yang tiba-tiba dan ganas itu.
Baik pelarian maupun kekhawatiran tidak dapat memberi apa yang dijanjikan. Pelarian tidak membuat kenyataan pergi; kekhawatiran tidak benar-benar mempersiapkan kita. Yesus memanggil kita untuk berjaga-jaga dan berdoa, untuk memperhatikan sungguh-sungguh, dan sepenuhnya bergantung kepada Tuhan yang benar-benar akan datang. Yesus ingin para murid-Nya mampu berdiri di hadapan-Nya saat itu; dan Ia akan menjawab doa itu.
Rachel Gilson melayani dalam tim kepemimpinan Cru untuk pengembangan teologi dan budaya. Ia adalah penulis buku Born Again This Way: Coming Out, Coming to Faith, and What Comes Next.
Diterjemahkan oleh: Denny Pranolo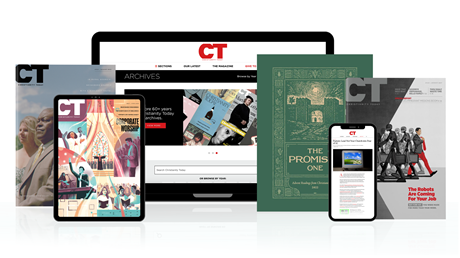 Annual & Monthly subscriptions available.
Print & Digital Issues of CT magazine
Complete access to every article on ChristianityToday.com
Unlimited access to 65+ years of CT's online archives
Member-only special issues
Subscribe
Berjaga-jaga dan Berdoa
Berjaga-jaga dan Berdoa