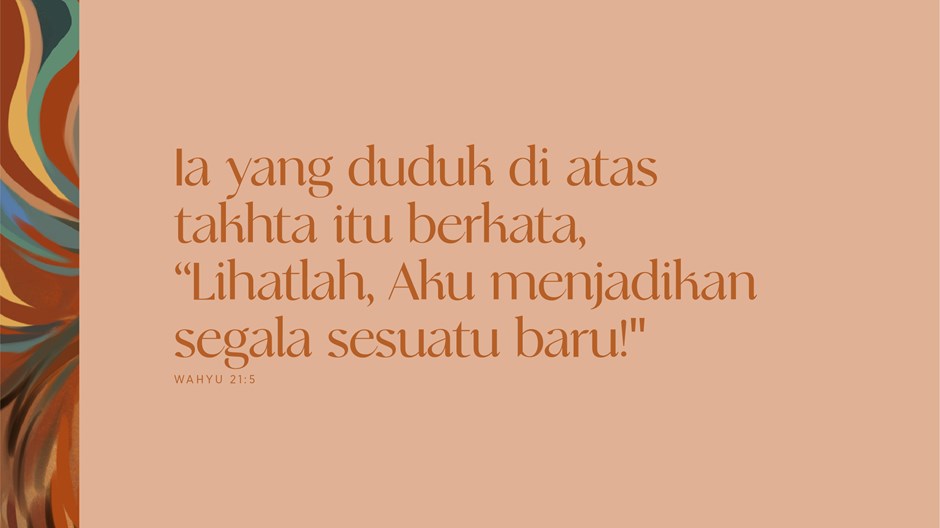 Untuk mengunduh kumpulan renungan "Berita Injil di Masa Adven," klik di sini.
Baca Wahyu 21:1–6
Bagaimana Anda menghadapi pandemi? Apa dampaknya terhadap relasi Anda dengan Allah? Beberapa orang semakin dekat dengan Allah dan menemukan kekuatan untuk melewati masa-masa sulit. Namun bagi yang lainnya, yang mungkin kehilangan orang yang dicintai atau terguncang karena penderitaan berskala dunia, pandemi ini membuat orang bertanya-tanya.
Bagaimana mungkin Allah yang penuh kasih membiarkan hal-hal seperti ini terjadi? Ini adalah "problem penderitaan" sejak zaman kuno—setidaknya sekuno kitab Ayub. Alkitab tidak memiliki satu pun jawaban untuk hal itu; sebaliknya, Alkitab memberikan kita beberapa sudut pandangan berbeda terhadapnya.
Kemudian tepat di akhir Alkitab, kita menemukan pesan ini: "Tidak akan ada lagi perkabungan atau ratap tangis, atau dukacita" (Why. 21:4). Allah akan menyembuhkan ciptaan-Nya dari segala yang merugikan dan merusaknya. Terkadang orang-orang mengeluh tentang kurangnya bukti kasih Allah dalam kitab Wahyu. Sebagian orang mungkin mengatakan hal yang sama tentang pandemi ini. Tetapi, dapatkah Anda membayangkan gambaran yang lebih indah tentang kasih Allah daripada ini: Allah "akan menghapus segala air mata dari mata mereka" (ay. 4)?
Kitab Wahyu tentu saja tidak membatasi penggambarannya tentang kengerian sejarah. Tetapi harapan mengalir di sepanjang kitab itu dan berkembang dalam penglihatan final yang diberikan kepada Yohanes. Allah akan menjadikan segala sesuatu menjadi baru. Allah memiliki masa depan yang baru bagi seluruh ciptaan-Nya.
Ketika kita berpikir tentang masa depan, seringkali kita berpikir ke mana arah masa lalu dan masa kini. Tetapi ini berbeda. Sebagaimana hanya Tuhan yang dapat mencipta, maka hanya Tuhan pula yang dapat memperbaharui seluruh ciptaan-Nya. Dimulai dengan kebangkitan Yesus—satu hal baru yang mengubah segalanya. Dalam kehidupan yang diubahkan oleh Roh Kristus, kita telah mencicipi masa depan yang baru.
Masa depan itu sendiri jauh melampaui apa yang dapat kita bayangkan. Tetapi penglihatan Yohanes mengajak kita juga untuk mengarahkan pandangan ke gunung yang tinggi itu (ay. 10) di mana Yerusalem Baru turun dari surga. Dengan matanya kita bisa melihat lebih jauh dari yang biasa kita lihat.
Adapun yang menjadi pusat dari masa depan yang baru adalah Allah: "Lihatlah, kemah Allah ada di tengah-tengah manusia dan Ia akan diam bersama-sama dengan mereka. Mereka akan menjadi umat-Nya dan Ia akan menjadi Allah mereka" (ay. 3). Hal inilah yang selalu menjadi tujuan Allah bagi ciptaan-Nya, dan inilah yang akan membuat semuanya menjadi berbeda.
Berbagi penglihatan dengan Yohanes bukan hanya impian yang kita imani. Hal ini memberikan kita harapan untuk hidup. Kita dapat memulai hidup sesuai dengan apa yang Allah janjikan, dan itu akan membuat kehidupan kita yang sekarang ini menjadi berbeda dalam segala hal.
Richard Bauckham adalah seorang profesor emeritus Studi Perjanjian Baru di Universitas St. Andrew, Skotlandia, dan penulis banyak buku, di antaranya Theology of the Book of Revelation.
Diterjemahkan oleh: Vika Rahelia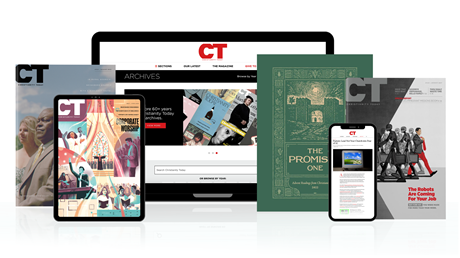 Annual & Monthly subscriptions available.
Print & Digital Issues of CT magazine
Complete access to every article on ChristianityToday.com
Unlimited access to 65+ years of CT's online archives
Member-only special issues
Subscribe
Segala Sesuatu Baru
Segala Sesuatu Baru