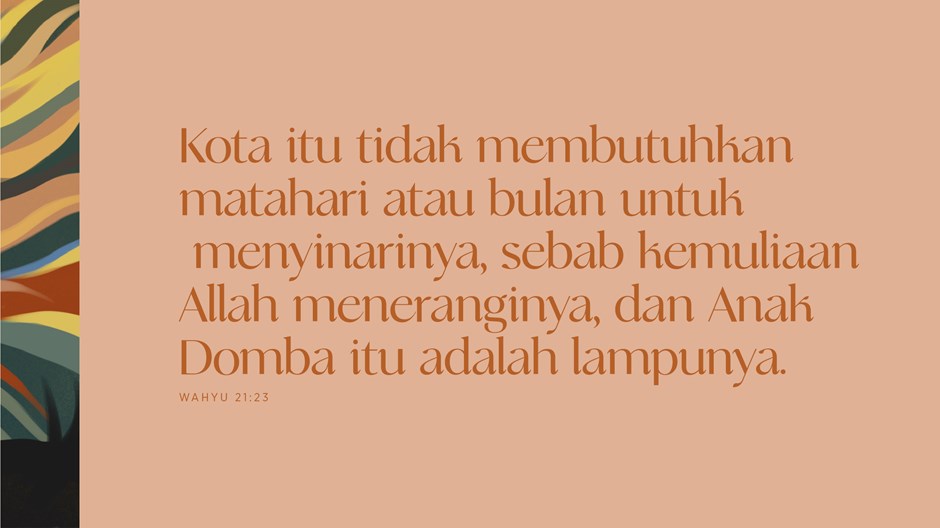 Untuk mengunduh kumpulan renungan "Berita Injil di Masa Adven," klik di sini.
Baca Wahyu 21:9–22:5
Ketika saya pindah dari Inggris untuk tinggal di Skotlandia, satu hal yang menyulitkan bagi saya adalah periode siang hari berlangsung lebih cepat di musim dingin. Pada hari-hari yang mendung, bisa terlihat sepertinya kota itu tidak pernah mendapatkan cahaya sama sekali.
Saya merasa hal ini agak menyedihkan, tetapi sebagian orang sangat terpengaruh olehnya dan harus duduk dengan lampu yang menyerupai sinar matahari. Kita semua bergantung pada sinar matahari untuk kesehatan fisik dan mental kita.
Tidaklah mengejutkan bahwa dalam banyak budaya, orang-orang telah menyembah matahari, dan terkadang bulan juga. Mengapa hari yang cerah membangkitkan semangat kita? Mengapa banyak orang suka berjemur di bawah sinar matahari? Ilmu pengetahuan menegaskan bahwa jarak planet kita dari matahari, dengan cahaya dan panas yang diberikannya, sangatlah penting bagi kehidupan di bumi.
Dalam ciptaan ini, berkat Allah disalurkan kepada kita melalui sarana ciptaan, di antaranya adalah matahari. Namun dalam ciptaan baru, kita akan hidup dalam hadirat Allah secara langsung, terbenam di dalamnya sebagaimana kita sekarang di siang hari—dan malam tak akan ada lagi.
Bayangkan: Sebuah kota yang dipenuhi dengan cahaya. Bayangkan kota itu bagaikan permata yang jernih seperti kristal (Why. 21:11), dan cahaya yang dipantulkan dalam semua batu mulia dengan berbagai warna itu tercantum dalam ayat 19-20. Bayangkan, jika Anda bisa, cara cahaya itu bersinar melalui kota itu, yang terbuat dari emas yang transparan (ay. 18, 21). Lihatlah pemandangan kota itu dari kejauhan. Kota itu berdiri di atas sebuah puncak gunung (ay. 10) dan menyinari seluruh negeri di sekitarnya. Ini adalah sinar matahari dari dunia itu. Ini adalah terang yang melaluinya orang-orang dapat hidup (ay. 24).
Pikirkan, sekarang, tentang jendela kaca patri di sebuah gereja dengan penggambaran alkitabiah yang jelas atau tokoh-tokoh Kristen lainnya. Jendela itu sendiri sudah cukup indah sepanjang waktu, tetapi ketika matahari bersinar melaluinya, jendela itu bercahaya.
Warnanya kuat menyala! Dalam Yerusalem Baru, keindahan semua ciptaan Tuhan akan menjadi kegembiraan bagi semua orang. Kita akan melihat mereka dalam warna aslinya.
Cahaya Tuhan yang hadir secara langsung tidak akan melenyapkan bentuk dan warna mereka, yang merupakan realitas mereka diciptakan, melainkan akan menerangi mereka, membuat mereka menjadi indah.
Di sepanjang Alkitab, terang adalah simbol dari Allah dan Yesus (yang berkata, "Akulah terang dunia" dalam Yohanes 8:12). Pikirkan tentang cara terang Tuhan telah masuk ke dalam kehidupan kita di dunia ini—bagaimana terang itu menerangi hidup kita, dan bagaimana kita bisa berjalan di dalam terang tersebut. Jika kita melihat cahaya itu sekarang, maka cahaya itu akan menerangi jalan yang dapat kita tempuh menuju kota cahaya. Apa yang dapat kita bawa untuk dipersembahkan kepada Allah dan untuk berkontribusi bagi kehidupan di kota yang kekal itu (Why. 21:24, 26)?
Richard Bauckham adalah seorang profesor emeritus Studi Perjanjian Baru di Universitas St. Andrew, Skotlandia, dan penulis banyak buku, di antaranya Theology of the Book of Revelation.
Diterjemahkan oleh: Vika Rahelia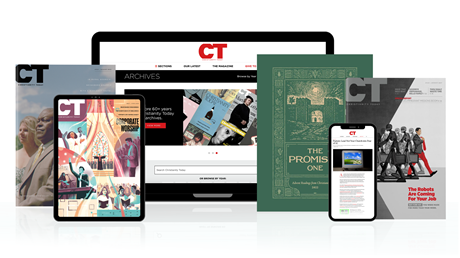 Annual & Monthly subscriptions available.
Print & Digital Issues of CT magazine
Complete access to every article on ChristianityToday.com
Unlimited access to 65+ years of CT's online archives
Member-only special issues
Subscribe
Kota Cahaya
Kota Cahaya