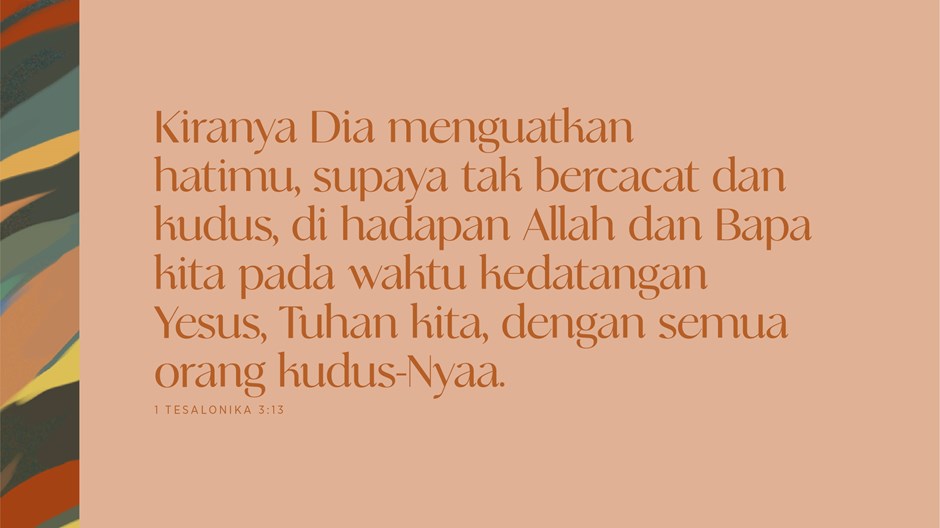 Untuk mengunduh kumpulan renungan "Berita Injil di Masa Adven," klik di sini.
Baca 1 Tesalonika 3:9–13
Pernahkah Anda begitu merindukan seseorang sedemikian rupa dan sangat ingin berjumpa dengan mereka lagi? Selama bulan-bulan pandemi yang panjang dan seakan tanpa akhir ini, ada banyak orang-orang terkasih yang tidak bisa kita lihat, sapa, dan peluk secara langsung.
Aplikasi Zoom dan FaceTime tidak dapat menggantikan perjumpaan tersebut. Kita ingin berada dalam jarak, tempat dan waktu yang sama dengan orang-orang tersebut. Kita rindu berjumpa dengan mereka secara langsung.
Rasul Paulus juga sangat ingin berjumpa dengan jemaat Tesalonika secara pribadi. Ia dipenuhi luapan sukacita ketika mendengar laporan Timotius yang yakin bahwa jemaat ini sudah menghidupi Injil, yaitu menjalankan Injil tersebut dalam hidup mereka, dengan "teguh berdiri di dalam Tuhan" (3:8). Ia sangat ingin mengunjungi mereka secara pribadi, namun untuk saat ini kehadirannya hanya bisa diwakili oleh surat tersebut. Apakah pesannya bagi mereka? Yaitu bahwa Injil harus dihayati secara pribadi sampai kita berjumpa Yesus muka dengan muka. Seperti apa kelihatannya? Sama seperti Kabar Baik tentang kasih Yesus yaitu dengan "bertambah-tambah dan berkelimpahan dalam kasih seorang terhadap yang lain dan terhadap semua orang" (ay. 12).
Bentuk kasih ini tidaklah mudah untuk dihidupi dalam dunia kita yang terpecah. Banyak orang Kristen masa kini telah membiarkan nilai-nilai duniawi menjalar masuk dan membasmi kasih kristiani serta kesaksian Injil. Sebagai gereja masa kini, kita mungkin jauh lebih terpecah daripada sebelumnya.
Nasihat Paulus yang tepat ini, untuk bertambah-tambah dan berkelimpahan dalam kasih kepada orang lain, bukanlah sesuatu yang dapat kita capai dengan kekuatan kita sendiri.
Sebaliknya, Paulus berkata, "Dan kiranya Tuhan menjadikan kamu bertambah-tambah... dalam kasih" (ay. 12).
Implikasi dari Injil adalah menghidupinya melalui kasih kita yang serupa Kristus, khususnya kepada mereka yang menurut kita termasuk dalam kategori "semua orang." Kita tidak bisa berkata bahwa kita dengan sabar menanti untuk berjumpa Yesus pada kedatangan-Nya yang kedua-yang merupakan penggenapan berita Injil-jika saat ini kita tidak tahan berada di tengah saudara-saudari kita di dalam Kristus!
Seraya kita menantikan kedatangan Yesus kembali, Paulus mendorong orang-orang percaya supaya "tak bercacat dan kudus" (ay. 13) di tengah masyarakat yang mengagungkan kompromi dan dosa. Penantian kita yang penuh harapan akan kedatangan Kristus kembali menantang kita untuk selalu mengejar kehidupan yang kudus demi kemuliaan Allah.
Ini meliputi sikap menanggung satu sama lain dan bersabar terhadap mereka yang tidak sependapat dengan kita, dengan mengandalkan kuasa Tuhan untuk melakukannya.
Paulus mendorong jemaat Tesalonika untuk hidup dengan cara demikian dalam terang kedatangan Kristus kembali: Dengan mengizinkan pemuridan mereka sekarang dibentuk oleh pengharapan mereka akan masa depan. Sama seperti mereka, kita juga rindu untuk berjumpa Yesus secara langsung. Adven mengingatkan kita bahwa suatu hari kelak hal tersebut pasti terjadi. Sementara itu, kiranya kita berusaha untuk menjadi umat yang mengasihi dan kudus. Segeralah datang, Tuhan Yesus!
Matthew D. Kim adalah profesor Preaching and Practical Theology-George F. Bennett, di Gordon-Conwell Theological Seminary dan penulis buku Preaching to People in Pain.
Diterjemahkan oleh: Joseph Lebani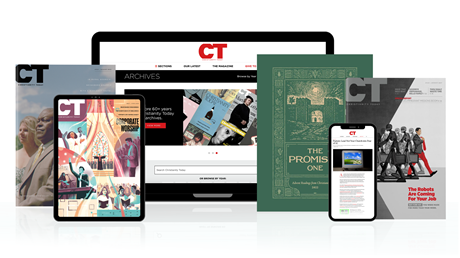 Subscribe to Christianity Today and get access to this article plus 65+ years of archives.
Home delivery of CT magazine
Complete access to articles on ChristianityToday.com
Over 120 years of magazine archives plus full access to all of CT's online archives
Subscribe Now
Kehidupan Injil secara Pribadi
Kehidupan Injil secara Pribadi