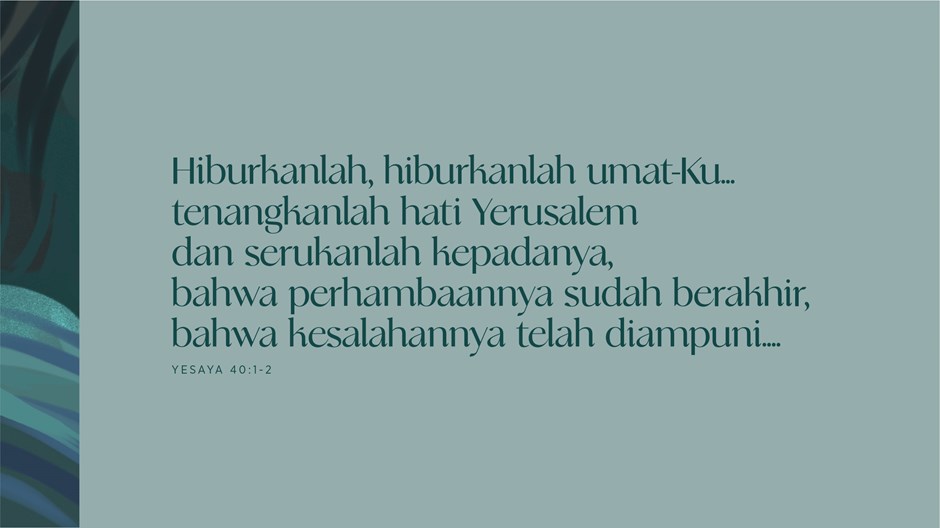 Untuk mengunduh kumpulan renungan "Berita Injil di Masa Adven," klik di sini.
Baca Yesaya 40:1-5
Ketika kita berusaha memahami perikop yang indah ini, pemahaman tentang komunitas Yahudi bisa membantu kita lebih mengerti konteks dan maknanya. Orang-orang Yahudi di seluruh dunia memakai siklus pembacaan kitab suci mingguan, mirip dengan leksionari Kristen. Minggu-minggu tergelap dari siklus tersebut jatuh pada pertengahan musim panas, menjelang Tisha B'Av, hari yang paling menyedihkan dalam kalender Yahudi. Ini momen memperingati kehancuran bait suci di Yerusalem, baik yang pertama maupun kedua.
Tisha B'Av juga menandai banyak tragedi lain di sepanjang sejarah Yahudi. Ini adalah hari berpuasa dan berkabung. Kitab Ratapan pun dibacakan di depan umum dan dosa Israel di hadapan Allah disingkapkan.
Tetapi itu bukan akhir dari kisah ini. Segera setelah Tisha B'Av, siklus pembacaan memasuki tujuh minggu penghiburan, menjelang Rosh Hashanah, Tahun Baru Yahudi. Yesaya 40:1–26 adalah bacaan mingguan yang dipilih setelah hari Tisha B'Av, sebagai pengingat bahwa penghakiman bukanlah kata terakhir. Setiap tahun, orang-orang Yahudi berjalan melewati suramnya teguran ilahi dan diingatkan bahwa anugerah dan pengampunan Tuhan pasti terjadi. Mereka bangkit dari masa kelam dan keputusasaan menuju janji baru akan kasih Tuhan yang tak berkesudahan.
Yesaya menulis selama ekspansi kerajaan Asyur dan runtuhnya kerajaan Israel (dan Yehuda juga). Itu adalah masa yang penuh gejolak dan tragis, yang dilukiskan olehnya dengan gambaran yang menghantui. Namun Yesaya tahu bahwa ini bukanlah akhir dari Israel.
Deskripsi dari Yesaya tentang pemulihan sama-sama visionernya, membangkitkan harapan dan ketekunan bagi orang-orang yang terkepung dalam pergumulan karena meragukan kehadiran Tuhan di tengah mereka.
Kata-kata Yesaya juga menunjukkan puncak pewahyuan ilahi di Perjanjian Baru dan peran Yohanes Pembaptis, yang diidentifikasi sebagai "orang yang berseru-seru di padang gurun" (Mat. 3:3). Pelayanan Yerusalem yang berat telah diselesaikan dan dosanya telah dibayar (Yes. 40:2). Dan suatu hari kelak, referensi tersebut akan menjadi kenyataan bagi semua bangsa, sebagaimana yang Yesus nyatakan bahwa semua orang di bumi sekarang diundang masuk ke dalam relasi kovenan dengan Allah.
Karakter kovenan baru yang dimateraikan melalui kehidupan, kematian, dan kebangkitan Yesus ini mencerminkan kovenan yang telah lama dikenal oleh umat Israel. Meskipun ada akibat dosa, namun pengampunan dan komitmen Allah kepada umat-Nya diperbarui lagi dan lagi, layaknya ombak yang menerjang pinggir pantai. Semoga kita masuk ke dalam indahnya hadirat dan janji-janji Allah, seraya kita menantikan penyataan kemuliaan Allah sepenuhnya, seperti yang dinubuatkan Yesaya.
Jen Rosner adalah asisten profesor tamu bidang teologi sistematika di Fuller Theological Seminary dan penulis buku Finding Messiah: A Journey Into the Jewishness of the Gospel.
Diterjemahkan oleh: Mikhael Kristiani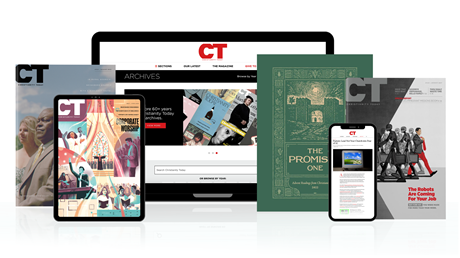 Subscribe to Christianity Today and get access to this article plus 65+ years of archives.
Home delivery of CT magazine
Complete access to articles on ChristianityToday.com
Over 120 years of magazine archives plus full access to all of CT's online archives
Subscribe Now
Hiburkanlah Umat-Ku
Hiburkanlah Umat-Ku