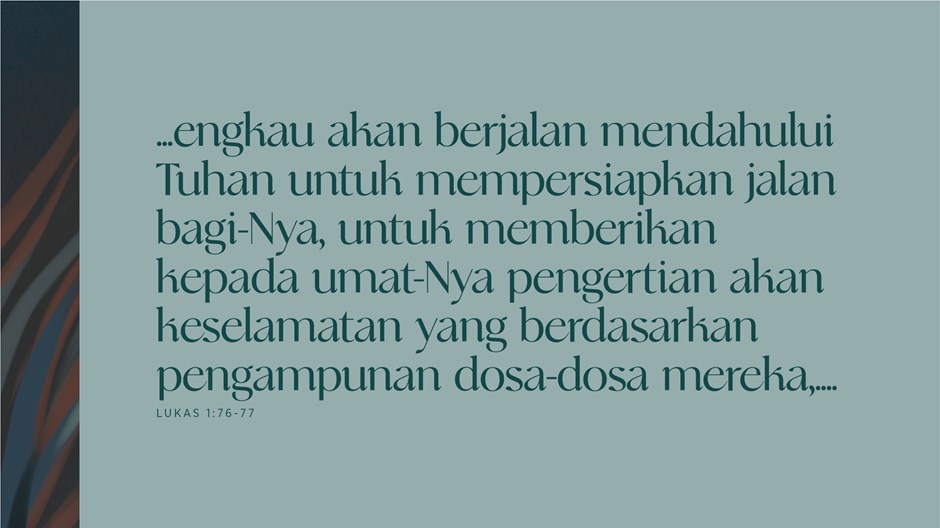 Untuk mengunduh kumpulan renungan "Berita Injil di Masa Adven," klik di sini.
Baca Lukas 1:67–79
Dalam kebaktian doa pagi setiap hari di gereja saya, kami berdoa memakai kata-kata dari nyanyian Zakharia. Seiring dimulainya hari baru, kami mengucapkan atau menyanyikan: "Surya pagi dari tempat yang tinggi, untuk menyinari mereka yang diam dalam kegelapan dan dalam naungan maut untuk mengarahkan kaki kita kepada jalan damai sejahtera" (ay. 78-79).
Siapapun yang pernah bersusah payah bangun pagi dan mendaki ke bukit atau naik ke menara untuk melihat matahari terbit, akan tahu betapa mudahnya memakai gambaran matahari terbit sebagai metafora untuk pengharapan. Terbitnya mentari seakan berkata, "Apapun yang terjadi kemarin, hari ini adalah hari dengan segala kemungkinan baru. Ada kehidupan di balik kegelapan dan kedamaian di balik perselisihan."
Mungkin penggunaan yang paling terkenal dari metafora itu berasal dari nabi Maleakhi di Perjanjian Lama, yang menggambarkan matahari sebagai burung pembawa damai, yang terbang menaburkan rahmat atas orang-orang yang memandangnya. Dalam parafrase yang mengesankan dari Eugene Peterson, Maleakhi 4:2 tertulis, "Bagimu, matahari terbit! Surya kebenaran akan terbit atas mereka yang memuliakan nama-Ku, kesembuhan memancar dari sayapnya" (MSG).
Ketika kami mengucapkan kata-kata ini setiap pagi, kami berharap agar hangatnya sinar mentari mengingatkan kita akan terang Tuhan yang bercahaya di dalam hati kita dengan anugerah baru untuk hari esok (2Kor. 4:6).
Namun, ada satu hal yang membuat saya agak tidak nyaman ketika berdoa dengan nyanyian Zakharia. Hal itu terkait simbol matahari terbit yang agak abstrak dan dapat dikenali secara universal. Simbol itu dipakai berdampingan dengan referensi yang sangat konkret tentang seorang anak dalam sejarah: sepupu Yesus, yang kita kenal sebagai Yohanes Pembaptis.
"Dan engkau, hai anakku," nyanyi Zakharia, beralih dari sebuah gambaran yang begitu megahnya lalu berfokus pada satu orang secara spesifik, "akan disebut nabi Allah Yang Mahatinggi; karena engkau akan berjalan mendahului Tuhan untuk mempersiapkan jalan bagi-Nya" (Luk. 1:76).
Saya jadi memikirkan makna hal ini bagi kehidupan doa saya. Artinya semua pembicaraan yang indah tetapi agak kurang konkret tentang cahaya ilahi, kesembuhan, kedamaian, dan sebagainya benar-benar difokuskan pada peristiwa-peristiwa seputar satu orang nabi Israel dari abad pertama. Nabi tersebut suatu hari kelak akan mengalihkan fokus dari dirinya sendiri dan menyatakan tentang Yesus: "Lihatlah Anak domba Allah, yang menghapus dosa dunia." (Yoh. 1:29). Matahari dimaksudkan untuk mengingatkan kita akan pengharapan, ya benar—tetapi khususnya, pengharapan dari Sang Putra itu sendiri.
Wesley Hill adalah seorang imam di Trinity Episcopal Cathedral, Pittsburgh, Pennsylvania, dan seorang lektor kepala Perjanjian Baru di Western Theological Seminary di Holland, Michigan.
Diterjemahkan oleh: Ivan K. Santoso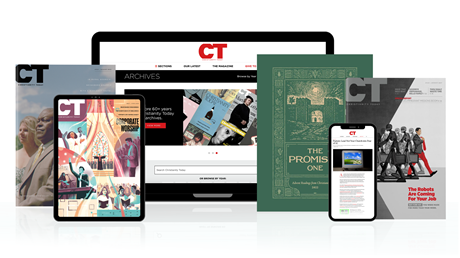 Subscribe to Christianity Today and get access to this article plus 65+ years of archives.
Home delivery of CT magazine
Complete access to articles on ChristianityToday.com
Over 120 years of magazine archives plus full access to all of CT's online archives
Subscribe Now
Sang Putra yang Bangkit
Sang Putra yang Bangkit