Untuk mengunduh kumpulan renungan "Berita Injil di Masa Adven," klik di sini.
Baca Lukas 3:1–6
Dalam imajinasi orang Yahudi, pertobatan adalah sarana memulihkan berkat Tuhan.
Meski pertobatan mengingatkan orang akan dosanya, namun itu tetap merupakan kabar baik. Kita melihat ini dengan jelas di kitab Ulangan. Saat Musa menyampaikan ulang ketentuan kovenan yang dibuat Allah dengan Israel, ia mengingatkan umat Allah bahwa dosa akan selalu menghancurkan mereka. Dengan kesadaran akan bahaya bagi mereka sendiri, ia berkata bahwa mereka "menyangka dirinya tetap diberkati, dengan berkata: Aku akan selamat, walaupun aku berlaku degil" (29:19). Namun terlepas dari yang orang pikir tentang kesenangan dari dosa, dosa selalu menjadi penyebab malapetaka—seperti yang dipelajari Israel dengan cara yang keras.
Pertobatan adalah panggilan untuk berbalik dari dosa kita dan beralih kepada Tuhan. Dengan kata lain, pertobatan adalah panggilan untuk berbalik dari sikap menyakiti diri sendiri dan beralih pada penyelamatan diri. Pertobatan adalah tindakan yang menyelamatkan nyawa.
Tetapi sebagaimana pesan Yohanes mengingatkan kita, perubahan ini hanya dimungkinkan karena Allah mengirim "firman" kepada "Yohanes, anak Zakharia, di padang gurun" (Luk. 3:2). Kabar baik yang diberitakan adalah bahwa Tuhan sendiri telah mempersiapkan jalan bagi umat Allah untuk kembali kepada-Nya. Selama masa Adven, kita mengingat bahwa pertobatan menjadi mungkin karena Allah membuat firman itu menjadi manusia—dan mengutus Dia untuk menyatakan, melayani, dan menyelamatkan.
Kita sering tergoda untuk membayangkan dunia kuno di Alkitab sebagai dunia yang lebih asing dari dunia kita. Dalam frasa seperti, "Dalam tahun kelima belas dari pemerintahan Kaisar Tiberius" (Luk. 3:1), mengingatkan kita akan kata-kata membosankan dari guru sejarah di sekolah. Tetapi Injil Lukas memperkenalkan kita pada dunia yang bisa dikenali.
Sebuah dunia di mana hasrat untuk kekuasaan, selebritas, dan kekayaan menjadi yang utama. Pada dunia kuno ini, kekuasaan politik dibenarkan. Misalnya, pada 19 Masehi Kaisar Tiberius mengasingkan komunitas Yahudi dari Roma—hanya karena ia menginginkannya.
Selain itu, di dunia ini, kesetiaan beragama dikorupsi oleh kompromi politik. Para arkeolog percaya bahwa mereka telah menemukan rumah Kayafas—rumahnya yang bertingkat, dengan instalasi air, dan lantai mosaik, semuanya itu menyatakan kedekatan sang imam besar dengan pihak yang berkuasa. Sangat mirip dengan dunia kita, dunia ini menunggu untuk diselamatkan.
Yohanes Pembaptis mungkin adalah anggota salah satu komunitas suci yang kecil, yang meninggalkan Yerusalem karena korupsi tersebut. Dari padang gurun, Yohanes memberitakan tentang "baptisan pertobatan untuk pengampunan dosa" (ay. 3, AYT) dan menyerukan dengan keras tentang keselamatan (ay. 6). Sebagai pendahulu Yesus, Yohanes membuka jalan bagi orang-orang untuk melihat apa yang tidak pernah bisa diberikan oleh Roma, terlepas dari segala janjinya.
Jen Pollock Michel adalah seorang penulis, pembaca acara siniar, dan pembicara yang berbasis di Toronto. Ia penulis dari empat buku, di antaranya A Habit Called Faith dan Surprised by Paradox.
Diterjemahkan oleh: Ivan K. Santoso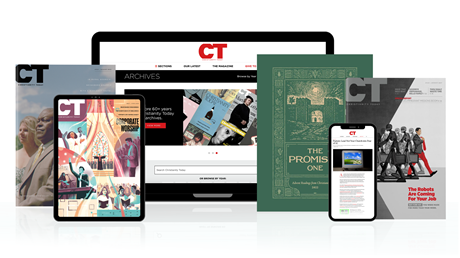 Subscribe to Christianity Today and get access to this article plus 65+ years of archives.
Home delivery of CT magazine
Complete access to articles on ChristianityToday.com
Over 120 years of magazine archives plus full access to all of CT's online archives
Subscribe Now
Pertobatan Menjadi Mungkin
Pertobatan Menjadi Mungkin