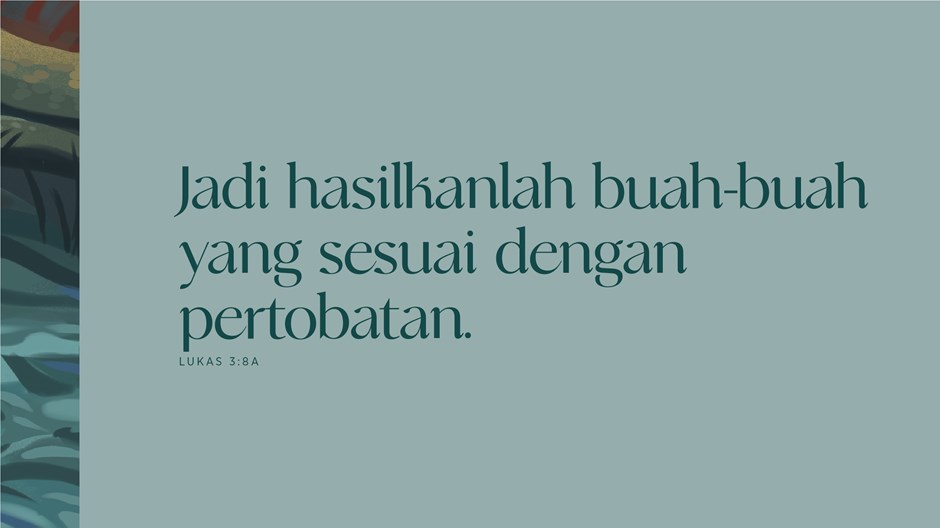 Untuk mengunduh kumpulan renungan "Berita Injil di Masa Adven," klik di sini.
Baca Lukas 3:7–18
Khotbah Yohanes Pembaptis yang berkobar-kobar tentang pertobatan bukanlah "Injil ABC."
Yohanes tidak ingin orang hanya mengaku (A: Admit) dosa mereka, percaya (B: Believe) pada Yesus, dan mengikrarkan (C: Confess) iman mereka kepada-Nya. Menurut Yohanes, pertobatan menghasilkan perubahan hidup. Kasihilah orang miskin! Jujurlah! Jalankan bisnismu dengan integritas! Tidak ada toleransi bagi keagamaan yang main-main. Ikut serta dalam baptisan Yohanes berarti menyerahkan diri pada pembersihan rohani dan moral, dan menurut Lukas, ini adalah "Kabar Baik" (ay. 18, BIS)!
Ketaatan pada Allah selalu menjadi inti panggilan Israel. Status mereka sebagai keluarga Allah tidak bergantung pada performa keagamaan mereka. Sebaliknya, identitas mereka sebagai kepunyaan Allah yang berharga menjadi dasar panggilan mereka untuk taat. Melalui keluarga Abraham, umat Allah mewakili Tuhan di dunia ini: kekudusan-Nya, belas kasihan-Nya, kasih-Nya yang tak berkesudahan, dan kesetiaan-Nya. "Kamu akan menjadi bagi-Ku kerajaan imam dan bangsa yang kudus," kata Allah kepada Musa sebelum memberi Sepuluh Perintah-Nya (Kel. 19:6). Namun Israel gagal dalam panggilan itu, jatuh ke dalam pemberhalaan dan diusir dari Tanah Perjanjian.
Meski mereka akhirnya kembali ke Tanah Perjanjian, pendudukan Romawi masih merupakan bentuk pengasingan. Jadi ketika Yohanes menyerukan pertobatan, tentang berbalik, hal itu mengingatkan mereka akan berkat Tuhan dan panggilan mereka—dan orang banyak berbondong-bondong untuk mendengarkan.
Respons antusias terhadap bahasa Yohanes yang pedas tampak mengejutkan. Ia bukan televangelis yang menawan. Teks khotbahnya tidak dipenuhi basa-basi yang menenangkan; tidak pula menjajakan cara menghindari isu moral atau agar santai terhadap "murka [Allah] yang akan datang" (Luk. 3:7). Khotbahnya jelas berkata: Setiap kalian bersalah atas dosa, dan dosa akan dihakimi. Mengingat budaya kita yang menghargai diri, kita mungkin bertanya, siapa yang mau ikut pembicaraan rohani yang tanpa basa-basi ini. Tetapi, seperti yang kita tahu, jika kanker menggerogoti paru-parumu, Anda ingin kanker itu disingkirkan.
Atau, seperti yang Yohanes katakan, kesehatan rohani tidak mungkin tanpa kapak (ay. 9).
Ada kasih dalam peringatan ini, dan belas kasihan dalam keseriusan ini, serta pengharapan yang melampaui usaha diri sendiri. Allah juga mengutus Pembaptis lain (ay. 16), yang akan memungkinkan pertobatan sejati. "Jika saya diberitahu, berulang-ulang, untuk bertobat, berubah, dan mengarahkan hidup saya kepada Tuhan, tidak akan terjadi apa-apa," tulis Fleming Rutledge dalam buku Advent. "Saya tidak perlu mendengar nasihat untuk bertobat.
Saya butuh kekuatan dari luar diri untuk mengubah saya." Ketika Mesias datang, Ia akan membaptis para pengikut-Nya dengan Roh-Nya, dan tak satu pun dari mereka yang akan tetap sama.
Jen Pollock Michel adalah seorang penulis, pembaca acara siniar, dan pembicara yang berbasis di Toronto. Ia penulis dari empat buku, di antaranya A Habit Called Faith dan Surprised by Paradox.
Diterjemahkan oleh: Ivan K. Santoso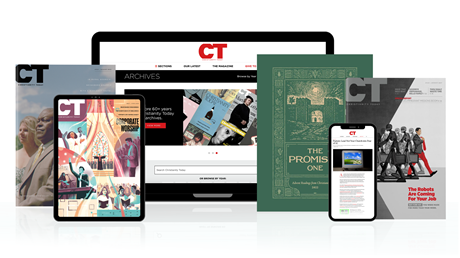 Subscribe to Christianity Today and get access to this article plus 65+ years of archives.
Home delivery of CT magazine
Complete access to articles on ChristianityToday.com
Over 120 years of magazine archives plus full access to all of CT's online archives
Subscribe Now
Kabar Baik yang Serius
Kabar Baik yang Serius