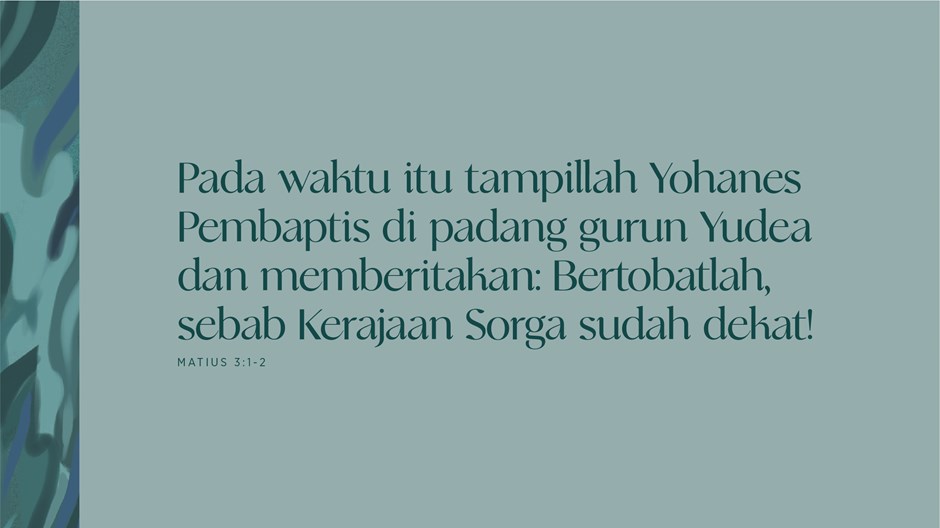 Untuk mengunduh kumpulan renungan "Berita Injil di Masa Adven," klik di sini.
Baca Matius 3:1–12
Penulis Injil Matius menyajikan konteks sejarah pelayanan Yohanes Pembaptis dengan penunjuk waktu sederhana: "Pada waktu itu" (ay. 1). Dengan membaca pasal sebelumnya (sama seperti di Lukas 3), maka kita akan memahami bahwa waktu-waktu itu merupakan masa para pemimpin megalomaniak–seperti raja Herodes Agung yang, dengan haus darah, membunuh banyak anak laki-laki di Betlehem. Setelah Herodes wafat dan putranya naik tahta, Yusuf tetap merasa cemas akan nasib keluarganya dan memindahkan mereka ke Nazaret "supaya genaplah firman yang disampaikan oleh nabi-nabi, bahwa Ia akan disebut: Orang Nazaret" (2:23).
Injil Matius sangat menekankan pemenuhan nubuatan janji Allah. Berulangkali Matius menekankan tentang "Allah berfirman–dan hal itu digenapi." Namun tentu saja pengertian ini sulit dipercaya ketika kenyataan tampaknya menunjukkan bahwa kejahatan sedang menang. Contohnya ketika banyak anak laki-laki mati di tangan seorang raja yang lalim, maka bisakah kita percaya bahwa Kerajaan Sorga sudah dekat seperti yang dikhotbahkan Yohanes Pembaptis (3:2)?
Yohanes Pembaptis menyerupai figur Elia di Perjanjian Lama, dengan berjubahkan bulu unta, makanannya belalang dan madu hutan. Elia juga adalah seorang nabi yang melayani pada masa rezim yang kejam. Raja Ahab, sama seperti Herodes, tega membunuh demi ambisinya.Setelah kemenangan dramatis Elia atas para nabi Baal, ratu Izebel menawarkan hadiah untuk kepala Elia.
Bertobatlah, sebab Kerajaan Sorga sudah dekat. Kalimat ini pada dasarnya merupakan khotbah yang dibawakan oleh semua nabi Allah, dan dengan anugerah Allah, ini perkataan yang muncul di masa kegelapan. Ini adalah sebuah kabar baik: Akan ada pergantian pemerintahan. Pernyataan yang dikhotbahkan oleh Yohanes Pembaptis dan Yesus ini, menjelaskan bahwa Raja yang lain akan segera naik tahta. Seperti yang disampaikan nabi Yesaya ratusan tahun sebelumnya, berbeda dengan pemerintahan raja Ahab atau Herodes, pemerintahan sang Raja baru ini akan menjadi pemerintahan damai sejahtera (Yes. 9:6-7).
Untuk mengikut Yesus yang adalah Raja, bukan sekedar untuk diselamatkan oleh Dia, melainkan juga harus diubahkan oleh-Nya. Menurut rasul Paulus, firman Tuhan memberitahu kita bahwa Yesus "telah menyerahkan diri-Nya bagi kita untuk membebaskan kita dari segala kejahatan dan untuk menguduskan bagi diri-Nya suatu umat, kepunyaan-Nya sendiri, yang rajin berbuat baik" (Tit. 2:14).
Kita tahu cara kerja anugerah Allah yang luar biasa, yang menyelamatkan dan menyucikan ketika umat Allah berbalik dari dosa dan menyerahkan diri sepenuhnya kepada Allah.
Jika Adven merupakan terang yang terbit, maka pertobatan merupakan kebiasaan berjalan di dalam terang itu sehari-hari.
Jen Pollock Michel adalah seorang penulis, pembaca acara siniar, dan pembicara yang berbasis di Toronto. Ia penulis dari empat buku, di antaranya A Habit Called Faith dan Surprised by Paradox.
Diterjemahkan oleh: Joseph Lebani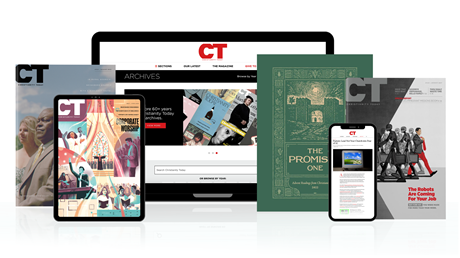 Subscribe to Christianity Today and get access to this article plus 65+ years of archives.
Home delivery of CT magazine
Complete access to articles on ChristianityToday.com
Over 120 years of magazine archives plus full access to all of CT's online archives
Subscribe Now
Anugerah yang Menakjubkan dan Menyucikan
Anugerah yang Menakjubkan dan Menyucikan