Untuk mengunduh kumpulan renungan "Berita Injil di Masa Adven," klik di sini.
Baca Yohanes 1:29–34
Perjanjian Lama penuh dengan para gembala. Abraham adalah seorang gembala, seperti halnya Yakub dan Rahel, serta Musa, raja Daud, dan nabi Amos. Penggembalaan adalah pekerjaan penting karena komunitas umat Allah dalam Perjanjian Lama membutuhkan domba. Mereka membutuhkan anak domba, anak domba yang banyak, untuk memenuhi kebutuhan kurban kepada Tuhan.
Pikiran tentang pembantaian anak domba yang tampaknya tak berujung itu bisa meresahkan bagi kita. Bayangkan betapa meresahkannya bagi mereka yang berpartisipasi dalam persembahan berdarah ini! Namun karena dosa, Tuhan menuntut pengorbanan.
Ia menuntut persembahan seekor anak domba. Tetapi bukan sembarang anak domba.
Anak domba itu harus bersih, tanpa cacat atau cela (Im. 22:21-22). Dengan kata lain, anak domba itu haruslah sempurna.
Meskipun umat Tuhan ditugaskan untuk memilih anak domba yang paling sempurna, anak-anak domba itu tidak pernah cukup sempurna. Pengorbanan anak-anak domba itu menutupi dosa, tetapi mereka tidak pernah benar-benar bisa menghapusnya (Ibr. 10:4).
Setiap tangisan anak domba yang dikorbankan di Perjanjian Lama, dalam beberapa hal merupakan tangisan kerinduan akan Anak Domba Allah yang benar-benar sempurna.
Seruan ini berlanjut dari generasi ke generasi sampai suatu hari, Yohanes Pembaptis melihat Yesus berjalan ke arahnya dan mendeklarasikan, "Lihat, Anak Domba Allah, yang menghapus dosa dunia!" (Yoh. 1:29). Pada saat itulah, Yohanes Pembaptis menjawab pertanyaan tajam yang diajukan Ishak kepada ayahnya, Abraham, yang bergema selama berabad-abad: "Di mana anak domba itu?" Abraham telah menjawab Ishak, "Allah sendiri yang akan menyediakan anak domba itu" (Kej. 22:7-8).
Pada tepi sungai itu, Yohanes Pembaptis menyatakan Yesus sebagai Anak Domba yang disediakan Allah, sesuai janji-Nya. Lihatlah, Anak Domba Allah yang sempurna, yang tak bernoda dan tak bercacat (lih. 1Ptr. 1:18–19).
Kita tidak mencari anak domba lagi. Ia telah datang. Yesus Kristus adalah Anak Domba yang dikorbankan—disalibkan—menggantikan kita (1Kor. 5:7). Ia adalah Anak Domba yang "tertikam oleh karena pemberontakan kita" dan "diremukkan oleh karena kejahatan kita" (Yes. 53:5). Yesus adalah Anak Domba, satu-satunya Anak Domba, yang sekali dan untuk selamanya berkorban karena dosa-dosa kita (Ibr. 10:12).
Yohanes memberi kesaksian tentang fakta bahwa Yesus adalah "Anak Allah" (Yoh. 1:34).
Bayi yang telah lahir, yang dinyatakan oleh Yohanes, juga adalah "Anak Domba, yang telah disembelih" (Why. 13:8). Hari ini, ketika kita menyembah Tuhan, kiranya kita menggemakan kata-kata kenabian dari Yohanes: Lihatlah Anak domba Allah!
Anthony J. Carter adalah gembala jemaat dari East Point Church di East Point, Georgia. Ia merupakan penulis dari beberapa buku, di antaranya Dying to Speak dan Running from Mercy.
Diterjemahkan oleh: Joseph Lebani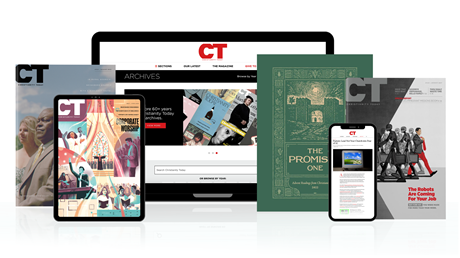 Subscribe to Christianity Today and get access to this article plus 65+ years of archives.
Home delivery of CT magazine
Complete access to articles on ChristianityToday.com
Over 120 years of magazine archives plus full access to all of CT's online archives
Subscribe Now
Lihatlah Anak Domba Allah
Lihatlah Anak Domba Allah