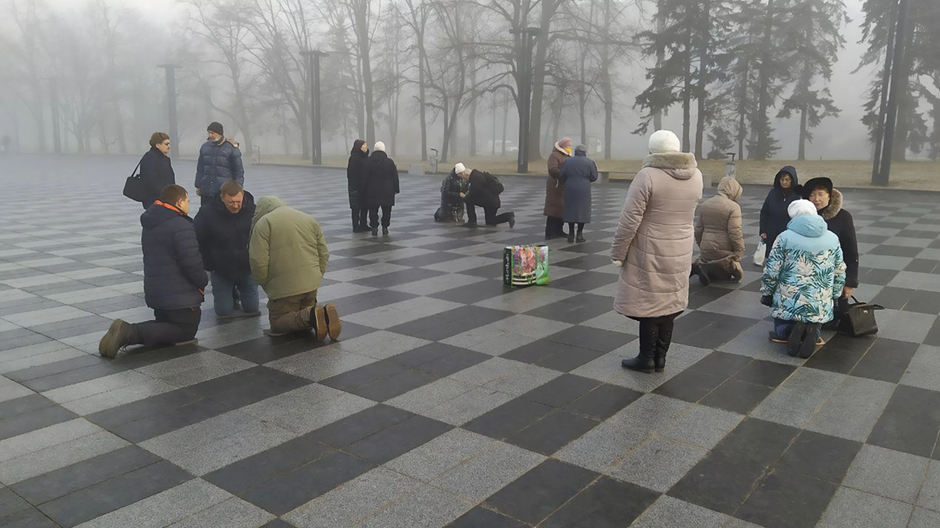 Image: Image: Courtesy of Ukrainian Bible Society
Nas últimas manhãs de domingo na Ucrânia, notícias sussurradas corriam pelas igrejas: Os soldados na fronteira leste têm lançadores portáteis de foguetes. O menino da família Bondarenko foi baleado na perna; dizem que ele não vai andar mais. Você sabia que os Kovals partiram?Algumas perguntas não eram sequer pronuciadas: Será que estaremos outra vez aqui, na semana que vem?
Ontem (23 de fevereiro de 2022), esses sussurros se transformaram em gritos, quando uma série de mísseis atingiu regiões próximas a Kiev.
A invasão coloca a igreja ucraniana no centro do conflito, enquanto líderes cristãos enfrentam o desespero e a incerteza das pessoas. Eles estão de pé, fortes e unidos, ajudando os ucranianos a encontrarem esperança na Palavra de Deus.
Como chefe da Sociedade Bíblica Americana, tenho mantido contato próximo com meu amigo e colega, Anatoliy Raychynets, que atua como vice-secretário geral da Sociedade Bíblica Ucraniana. Nos últimos meses, ele compartilhou relatos difíceis de ler: mães na porta dos hospitais chorando por seus filhos; crianças que não se lembrarão do rosto de seus pais; milhares de pessoas se sentindo sem esperança e aterrorizadas.
Mas Anatoliy também notou outra coisa: líderes da igreja estão trabalhando juntos pela paz, e pessoas estão buscando a esperança das Escrituras.
Na igreja de Anatoliy, as pessoas temem perder tudo. Em resposta a isso, ele tem compartilhado o Salmo 31 com qualquer um que esteja em busca de segurança. Ele relata que as pessoas muitas vezes ficam surpresas ao ouvir palavras que, segundo elas, soam como se pudessem ter sido escritas na Kiev de 2022: "Louvado seja o Senhor, pois ele me mostrou as maravilhas de seu amor quando eu estava em uma cidade sitiada" (v. 21).
Enquanto enfrentam o desconhecido, muitos estão conhecendo a mensagem da Bíblia pela primeira vez. De acordo com Anatoliy, nas últimas semanas, muitos padres e pastores têm ido à loja da Sociedade Bíblica, em Kiev, para comprar Bíblias. A demanda é tão alta que eles ficaram sem exemplares.
Anatoliy diz que este é um de seus maiores desafios: "Precisamos de mais Bíblias".
Outro recurso oferecido pela igreja na Ucrânia é a cura de traumas baseada na Bíblia. Embora tenha começado há apenas seis anos, o programa tem sido incrivelmente eficaz, em especial para os familiares dos que foram mortos no conflito com a Rússia. Ele permite que líderes comunitários guiem pequenos grupos de pessoas ao longo de um processo de restauração.
E agora que o programa está disponível em tantas igrejas, por todo o país, a Sociedade Bíblica Ucraniana não consegue dar conta dos pedidos de recursos e treinamento.
O que, então, podemos fazer para ajudar?
Nossos irmãos e irmãs na Ucrânia precisam de Bíblias para pessoas que buscam consolo em tempos difíceis. Eles precisam de recursos que forneçam o bálsamo das Escrituras para a cura de traumas. E eles precisam que intercedamos por eles.
"Pedimos a vocês, em nome de Jesus Cristo: quem puder orar, por favor, mantenha-nos em suas orações", diz o pastor local Viacheslav Khramov. "Hoje, a guerra começou em nossa terra. Pedimos a todos que podem orar, por favor, que orem por nós. Orem pela Ucrânia. Orem para que vidas sejam poupadas, assim como nossos corpos e almas."
Anatoliy também faz eco a esse apelo.
De tudo o que ele compartilhou comigo, o que mais me inspirou foi a demonstração de solidariedade da igreja ucraniana, que atravessa confissões, fronteiras e divisões partidárias.
"Falamos com nossos colegas na Rússia", ele me disse. "Nós, líderes da igreja, falamos uns com os outros e oramos juntos. Estamos unidos no Senhor".
Esta é exatamente a mensagem do evangelho que devemos enaltecer para um mundo ferido: a Palavra de Deus pode reconciliar inimigos, acabar com o desespero e curar corações que sofrem.
A igreja unida: esta é a visão que vemos brilhando na Ucrânia. Em meio a guerra, política e divisões, a igreja de Jesus Cristo continua pregando o evangelho e edificando o reino de Deus.
Robert L. Briggs é presidente e CEO da American Bible Society.
Traduzido por: Mariana Albuquerque
Editado por: Marisa Lopes
-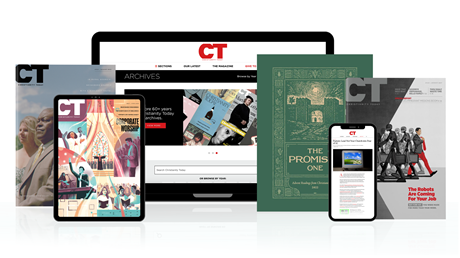 Annual & Monthly subscriptions available.
Print & Digital Issues of CT magazine
Complete access to every article on ChristianityToday.com
Unlimited access to 65+ years of CT's online archives
Member-only special issues
Subscribe
A igreja ucraniana tem usado a arma mais poderosa contra a guerra: a Bíblia
A igreja ucraniana tem usado a arma mais poderosa ...