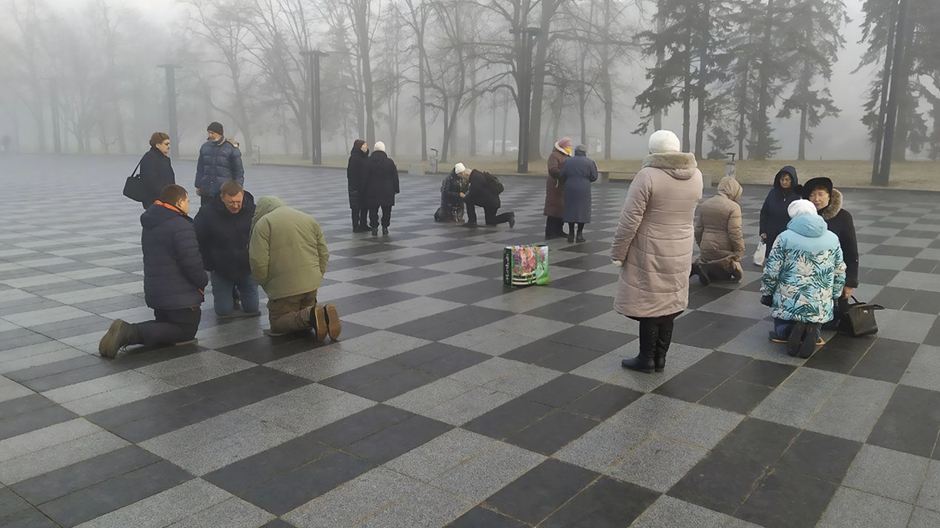 Image: Cortesía de Sociedad Bíblica de Ucrania.
En las mañanas de los últimos domingos en Ucrania, las noticias se han esparcido entre susurros en las iglesias: Los soldados en la frontera del este tienen lanzacohetes portátiles. El hijo de los Bondarenko recibió un disparo en la pierna; dicen que no volverá a caminar. ¿Sabías que los Kovals se fueron? Algunas otras preguntas han permanecido en el silencio: ¿Volveremos a reunirnos la semana que viene?
Ayer, esos susurros se convirtieron en lamentos cuando una serie de misiles cayeron cerca de Kyiv [Kiev].
La invasión sitúa a la iglesia ucraniana en el centro del conflicto, al tiempo que los líderes cristianos tratan de responder a la desesperación e incertidumbre de la gente. Están de pie, unidos y fuertes, y están ayudando a los ucranianos a encontrar esperanza en la Palabra de Dios [enlaces en inglés].
Como director de la Sociedad Bíblica de Estados Unidos (ABS, por sus siglas en inglés), he estado en estrecho contacto con mi amigo y homólogo, Anatoliy Raychynets, quien está sirviendo como secretario general adjunto de la Sociedad Bíblica de Ucrania. A lo largo de los últimos meses, me ha compartido informes que son difíciles de leer: madres que lloran por sus hijos fuera de los hospitales, niños que no recordarán los rostros de sus padres, miles de personas que se sienten desesperadas y asustadas.
Pero Anatoliy también ha observado algo más: líderes de la iglesia trabajando juntos por la paz, y gente buscando la esperanza que ofrecen las Escrituras.
En la iglesia de Anatoliy, la gente teme perderlo todo. Como consecuencia, ha estado compartiendo el Salmo 31 con todos aquellos que están buscando consuelo. En sus informes cuenta que la gente se sorprende a menudo al escuchar unas palabras que, según ellos, parecen haber sido escritas en Kyiv en 2022: «Bendito sea el Señor, pues mostró su gran amor por mí cuando me hallaba en una ciudad sitiada» (v. 21).
A medida que la gente se enfrenta a lo desconocido, muchos experimentan el mensaje de la Biblia por primera vez. Según Anatoliy, en las últimas semanas, sacerdotes y pastores han acudido en masa a la tienda de la Sociedad Bíblica en Kyiv para comprar Biblias. La demanda es tan alta que se han agotado los ejemplares.
Este es, según Anatoliy, uno de sus mayores retos: «Necesitamos más Biblias».
Otro recurso que ofrece la iglesia en Ucrania es un programa de sanación del trauma basado en la Biblia. Aunque comenzó hace solo seis años, el programa ha sido increíblemente eficaz, especialmente para los familiares de los fallecidos en el conflicto con Rusia. Permite a los líderes de la comunidad guiar a pequeños grupos de personas a través de un proceso de restauración.
Ahora que el programa está disponible en tantas iglesias del país, la Sociedad Bíblica de Ucrania no se da abasto para atender las solicitudes de recursos y formación.
Entonces, ¿qué podemos hacer para ayudar?
Nuestros hermanos y hermanas en Ucrania necesitan Biblias para las personas que buscan consuelo en tiempos difíciles. Necesitan recursos que les ayuden a sanar tras experiencias de trauma y que les proporcionen el bálsamo de las Escrituras. Y necesitan que intercedamos por ellos.
«Les pido, en nombre de Jesucristo, que quienes puedan orar, nos incluyan en sus oraciones», dice el pastor local Viacheslav Khramov. «Hoy ha empezado la guerra en nuestro territorio. Pedimos a todos los que puedan orar, que oren por nosotros. Oren por Ucrania. Oren para que se salven vidas, así como nuestros cuerpos y almas».
También Anatoliy se une a esta súplica.
De todo lo que ha compartido conmigo, lo que más me inspira es la muestra de solidaridad de la iglesia ucraniana que trasciende denominaciones, fronteras y partidos.
«Hablamos con nuestros colegas de Rusia», me contó. «Los líderes de la iglesia conversamos unos con otros y oramos juntos. Estamos unidos en el Señor».
Este es exactamente el mensaje del Evangelio que deberíamos magnificar ante un mundo herido: la Palabra de Dios puede reconciliar a los enemigos, echar fuera toda desesperación y sanar los corazones que sufren.
Esta es la visión de la iglesia unida que vemos resplandecer en Ucrania. En medio de la guerra, la política y la división, la iglesia de Jesucristo continúa difundiendo el evangelio y edificando el reino.
Robert L. Briggs es presidente y director general de la Sociedad Bíblica de Estados Unidos (ABS).
Traducción por Sofía Castillo.
Edición en español por Livia Giselle Seidel.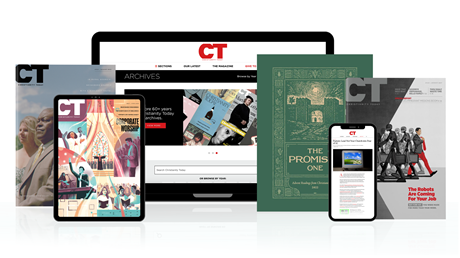 Subscribe to Christianity Today and get access to this article plus 65+ years of archives.
Home delivery of CT magazine
Complete access to articles on ChristianityToday.com
Over 120 years of magazine archives plus full access to all of CT's online archives
Subscribe Now
La Iglesia ucraniana: «Necesitamos más Biblias»
La Iglesia ucraniana: «Necesitamos más Biblias»