- Pour l'Église -
Depuis 1956, Christianity Today cherche à offrir un point de repère mettant en lumière comment les chrétiens peuvent vivre l'Évangile d'une manière bénéfique pour l'Église et la société.
Christianity Today veut persévérer à démontrer, à travers toutes ses publications, comment l'Evangile dans tout ce qu'il a de vrai, de bon et de beau peut non seulement transformer les vies, mais aussi apporter espoir et épanouissement aux individus, aux cultures et aux communautés.
À l'heure actuelle, ce mouvement touche directement chaque mois plus de 4,5 millions de chrétiens engagés.
Christianity Today milite pour l'Église, façonne les débats au sein du mouvement évangélique, met en avant les questions importantes et propose des solutions pratiques aux responsables de communautés.

Image: Source image: Jacek Dylag / Unsplash
Depuis 2020, le projet que nous appelons CT Global vise à développer le travail de Christianity Today au niveau mondial. En travaillant avec des chrétiens situés partout sur la planète, nous voulons contribuer à la création d'un « système nerveux central » pour l'ensemble du corps du Christ, afin de nous encourager mutuellement en partageant les réflexions que Dieu inspire à son peuple et les récits qui témoignent de son œuvre parmi toutes les nations.
C'est en ce sens que nous proposons régulièrement une sélection de nos articles traduits et mis à jour en français et développons petit à petit des projets d'écriture en français qui sont également traduits en anglais.

Image: Source Image: Sage Friedman / Unsplash
Dans l'ensemble de notre travail, nous voulons nous laisser guider par ces valeurs :
Christ prééminent en toutes choses
Un accent clair sur le service chrétien
Un contenu digne de confiance et bibliquement fondé
Une tonalité posée dans une communication alliant conviction et amour
L'excellence journalistique et l'intégrité professionnelle
Une vitalité créative et une humble insatisfaction à l'égard du statu quo
Une équipe qui se développe, diversifiée et engagée
La santé et la solidité financières
Une croissance ciblée et planifiée de manière stratégique
Nous voulons toucher des chrétiens engagés et curieux intellectuellement qui influencent l'Église, leur communauté et la culture au sens large pour la gloire de Dieu.
Nous voulons fournir des informations stratégiques et orienter l'Église dans son engagement au nom de Jésus face aux diverses cultures de notre monde.
Pour être informé de nos nouvelles traductions en français, abonnez-vous à notre
newsletter
et suivez-nous par
Facebook
ou
Twitter
.
[ See all of our French (Français) coverage. ]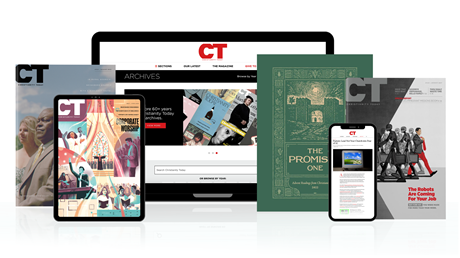 Subscribe to Christianity Today and get access to this article plus 65+ years of archives.
Home delivery of CT magazine
Complete access to articles on ChristianityToday.com
Over 120 years of magazine archives plus full access to all of CT's online archives
Subscribe Now
Qui sommes-nous ?
Qui sommes-nous ?