Image: Stephen Crotts
Baca Yesaya 42:1–14; 49:1–15; dan 60:1–3
Aku ini, TUHAN, telah memanggil engkau untuk maksud penyelamatan, telah memegang tanganmu. Aku telah membentuk engkau dan memberi engkau menjadi perjanjian bagi umat manusia, menjadi terang untuk bangsa-bangsa. Yesaya 42:6
Kita semua pernah mengalami bagaimana rasanya terbangun dalam kegelapan—momen di mana kita akan berusaha meraih alat penerangan agar kita dapat melihat dunia sekitar kita dengan jelas. Mungkin seperti saya, Anda tidak pernah bisa sepenuhnya menghilangkan rasa takut akan kegelapan itu. Kegelapan adalah ketakutan yang universal karena kegelapan dapat menciptakan suatu ruang yang berbahaya, sedangkan terang membimbing kita menuju kepada keamanan. Apalagi sebelum ditemukannya lampu listrik, kegelapan bisa membuat seseorang mengalami serangan dari musuh atau binatang yang berbahaya.
Karena itu, seharusnya tidaklah mengejutkan kita bahwa terang menjadi metafora yang kuat untuk keamanan dan keselamatan dalam kitab Yesaya ketika ia menggambarkan tentang sang hamba Tuhan yang menggenapi peran ini. Kita melihat gagasan ini dalam Perjanjian Baru ketika Yesus digambarkan sebagai "terang dunia" (Yoh. 8:12; 9:5), yang menggemakan deskripsi tentang hamba Tuhan sebagai terang keselamatan bagi seluruh dunia dalam Yesaya 42, 49, dan 60.
Yesaya menempatkan dua gagasan berdampingan satu sama lain saat ia menggambarkan sang hamba Tuhan: keselamatan global yang berasal dari Tuhan dan keintiman yang mendalam dengan Tuhan. Pada satu sisi, hamba tersebut akan membawa keselamatan dalam skala global. Seperti cahaya matahari yang menyinari bumi dari ujung ke ujung, hamba Tuhan tersebut akan membawa keselamatan bagi semua orang, setiap suku, setiap bangsa (42:6; 49:6; 60:3). Keselamatan ini bersifat multietnis, multikultural, dan tersedia untuk semua orang.
Pada sisi lain, ketika Yesaya menggambarkan keselamatan ini—terang yang global dari hamba tersebut—ia juga menambatkan visi yang luas ini dalam keintiman yang mendalam dengan Allah. Tuhan membentuk hamba tersebut di dalam rahim ibunya (49:5), mengerang seperti perempuan yang melahirkan demi keselamatan umat-Nya (42:14), dan mengingat umat-Nya seperti seorang ibu menyusui yang mengingat bayinya (49:15 ).
Kita juga dapat melihat kombinasi keselamatan global dan keintiman pribadi ini di dalam Yesus. Yesus adalah pribadi yang membawa terang, yang menghormati perjanjian yang dibuat Allah dengan umat-Nya (42:6). Terang ini memberikan kemerdekaan kepada mereka yang mengalami penawanan (42:7) dan menarik bangsa-bangsa dan raja-raja keluar dari kegelapan mereka menuju terang Yesus (60:2–3).
Terang Yesus juga memberikan harapan yang personal dan khusus bagi mereka yang duduk di ruang bawah tanah yang gelap menunggu pembebasan mereka dan bagi mereka yang mengalami kebutaan (42:7). Terang ini bersinar di hamparan luas di seluruh dunia dan mengintip ke celah terkecil dari rumah kita masing-masing. Inilah Yesus yang kita nantikan selama masa Adven: terang berkilauan yang menerangi dan menguatkan semua orang di seluruh dunia, serta lilin yang menyala di setiap kehidupan kita, yang mengingatkan kita akan kedekatan Tuhan.
Beth Stovell mengajar Perjanjian Lama di Ambrose Seminary. Dia adalah rekan editor Theodicy and Hope in the Book of the Twelve dan penulis dari tafsiran yang akan terbit Minor Prophets I dan II.
Diterjemahkan oleh Janesya S.
-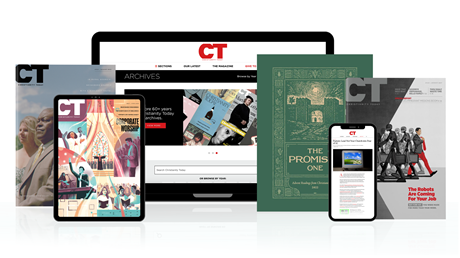 Annual & Monthly subscriptions available.
Print & Digital Issues of CT magazine
Complete access to every article on ChristianityToday.com
Unlimited access to 65+ years of CT's online archives
Member-only special issues
Subscribe
Keselamatan dan Kasih
Keselamatan dan Kasih