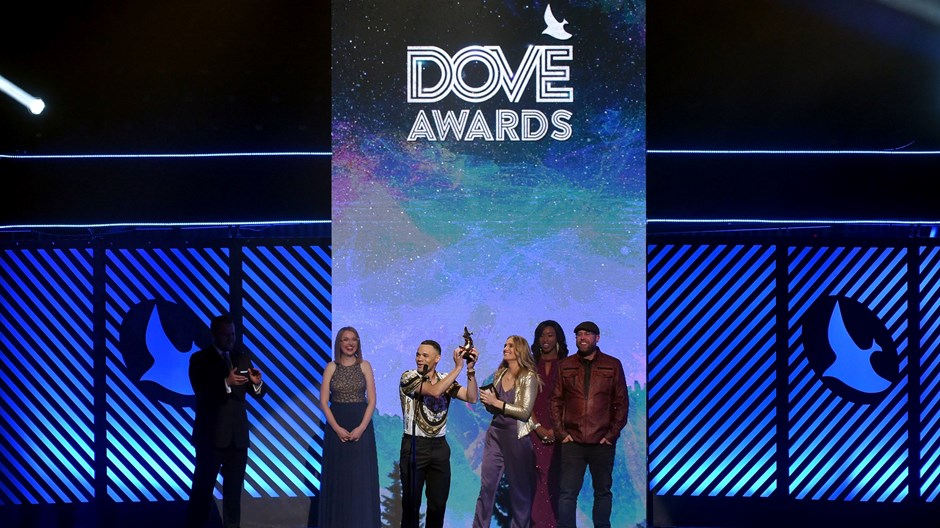 Image: Jason Kempin / Getty Images
In the joke about how you get to Carnegie Hall, the punchline is "practice, practice, practice." But how do you get to one of the biggest stages in Christian music: the Gospel Music Association's (GMA) Dove Awards?
For over a half century, the annual ceremony in Nashville has featured the top artists in Christian and gospel music. In a realm where music isn't just entertainment—it's also spiritual formation for millions of listeners—the recognition is significant. It can boost the platform of up-and-coming musicians and designates artists as respected and endorsed by the Christian music industry.
So how do you decide if a song is eligible for a Dove Awards nod?
The awards contain categories across genres—rock, rap, country, worship, and more—and the association emphasizes its desire to celebrate "our rich musical diversity."
"We've seen the sound evolve over the years, and as each new sound comes to the surface, the people vote," said Jackie Patillo, GMA president since 2010.
"It's about the music," she said. "As it stands, our criteria and submission process would allow any song with a Christian worldview."
The GMA has a Trinitarian Christian statement of faith, with its final point emphasizing spiritual unity among believers (John 13:35). But the association doesn't have specific requirements for what makes a "Christian worldview" in the music it features and recognizes.
As some younger artists are trying to make their way as Christian musicians outside the typical screening of radio play and Christian labels, more questions have come up about who belongs in the Christian music industry and who gets to define it.
Indie musicians are bypassing traditional gatekeepers with their viral social media fame. Grace Baldridge, a genderqueer and nonbinary singer who performs under the stage name Semler, campaigned for a Dove Awards nomination this year but fell short and plans to attend Tuesday's ceremony as a guest.
It's not a surprise that few indie artists earn Dove recognition. To make it through the submission process, musicians often need to have established their place in the Christian music industry already. Nominations for Dove Award categories like Song of the Year are "based on sales, airplay and church performance." (The GMA uses data aggregated from Christian Copyright and Licensing International [CCLI], Nielsen Music Connect, Broadcast Data Systems, and SoundScan.)
Other categories rely on votes from committees of professionals or current GMA members—people who work full-time in Christian and gospel music, in many cases for radio networks and labels—to determine nominees.
The GMA website advises individuals applying for individual membership, "Pursuing a career in the Christian music world is difficult because there is not one clear path that guarantees success." The organization encourages aspiring artists to get involved in music leadership in a local church and to begin by promoting their music independently on social media, citing Luke 16:10, "whoever can be trusted with the little things can also be trusted with much."
While the Christian music industry has always been competitive, artists trying to break in sense a closing of the ranks as it becomes harder to access inner circles of songwriting teams and label representatives. If an aspiring artist calls Capitol CMG, for example, a series of prompts in the phone system leads to a message stating that the label does not accept unsolicited demos and directs the caller to the GMA and the Christian Musician Summit, an annual songwriting conference.
Dove Award-winning songwriter Krissy Nordhoff told CT earlier this year that it is becoming rarer for labels and producers to look at unsolicited demos; getting music in front of an industry insider usually requires a personal connection. There are exceptions, like this year's nominee for Best New Artist and Songwriter of the Year, Anne Wilson, who was discovered on YouTube by an industry executive.
The struggle to make the right industry connections to get record deals, radio play, and awards is not exclusive to the Christian music industry. But unlike mainstream music, the challenges of breaking through as a new artist also come with ideological expectations and standards. Even in the case of the GMA, evangelism is the first point in its mission.
In his book, God Rock, Inc., ethnomusicologist Andrew Mall suggests that inclusion in the Christian music market depends on the participant's behavior and beliefs just as much as, if not more than, aesthetic quality or characteristics.
So while the GMA may make the Dove Awards open to any song that reflects a Christian worldview without evaluating the behavior or particular beliefs of the songwriter or recording artist, the industry and its audience perform their own vetting processes that often preclude an artist even being considered.
Sometimes these vetting processes occur inside the industry, between artists themselves, or between artists and their labels.
Maverick City Music recently chose to split with artist Dante Bowe (both were nominated for Dove Awards this year) over concerns about Bowe's "inconsistent" behavior. Maverick City didn't specify what the singer did to raise concerns. In 2003, Michael Passons of the vocal group Avalon was asked to leave when he refused to continue undergoing "reparative therapy." Passons publicly came out as gay in 2020.
Contemporary Christian music artists Sandi Patty and Amy Grant famously experienced major career disruptions during and after their divorces. Grant's career rebounded over time.
Hillsong Worship has recently been criticized as allegations of moral failings of leadership and unethical practices in the church have come to light, though currently it doesn't appear that audiences or the industry are pulling away from the organization. Hillsong artists are among the nominees, performers, and presenters at this year's awards.
The "ethical boundaries" of the Christian music industry, argues Mall, are neither top-down policies developed by executives nor responses to audience pressure. Gatekeeping in the industry is an ongoing and evolving negotiation between market realities, aesthetic trends, and consumer pressure.
Currently, Christian musicians like Semler are challenging those boundaries. They use language that listeners of mainstream Christian music will find familiar and relatable. Their 2021 song "Raise Up" goes: I have told you that I am the way, the truth, and the life. I am justice. I am all that is right.
Baldridge categorized their demo, Preacher's Kid, as Christian on iTunes. Although the release sat in the top two spots on the iTunes Christian charts for a couple weeks last year, none of its tracks made it into rotation on Christian radio. In addition to being queer, Baldridge is an independent artist with no label support, and Preacher's Kid has two tracks designated as "explicit."
Baldridge told CT that they don't expect to change everyone's mind about the inclusion of queer Christians in the industry. But they do hope to convince critics that LGBT Christians have valuable art and insight to contribute. "What we're after is being afforded a space at the same table," they said.
"I really do think we deserve to be there," Baldridge said about this year's award show. "I'm still really inspired to knock at this door."
Ricky Braddy, director of music and arts at GracePointe Church in Nashville, says that there is a long list of queer-affirming people in the Christian music industry who are hoping to see a shift toward inclusion. Braddy, who began performing as a Southern gospel artist at age six and appeared on NBC's The Voice, came out in 2019.
LGBT artists like Baldridge and Braddy said they know affirming Christians in the industry who aren't open about their stance for fear of judgment. It's part of why Braddy expects the industry will eventually platform more queer artists, even if primarily for financial reasons.
"It's either going to go there, or the whole thing will just die," Braddy said.
CCM icon Amy Grant spoke of her LGBT-affirming stance last year in an interview on Apple Music's Proud Radio. Grant was prominently featured in the documentary The Jesus Music, and her stance hasn't called into question her position as an industry giant.
Historically, once artists have come out publicly—Jennifer Knapp, Vicky Beeching, Ray Boltz—they find themselves moving on from Christian music.
While research shows evangelical support for same-sex marriage is growing, the core audience for Christian radio skews conservative and is more likely to hold traditional stances on marriage.
Weekly churchgoers, whose worship song selections determine CCLI rankings, are among the only groups who oppose same-sex marriage, according to a 2022 Gallup poll.
While the Christian music industry may decline to define theological boundaries for artists, churches and ministries can be quicker to speak up or take action when a song's message or a particular artist raises theological concerns. Prior to coming out, Beeching said speaking up for LGBT rights led some conservative churches in America to "boycott" her songs, which cost her royalties.
Sean Nolan of The Gospel Coalition criticized Baldridge's efforts to break into the Christian music industry.
"In the end, to demand inclusion in Christianity without submitting to Christ the Lord doesn't work. Christian identity without repentance is a fraud," wrote Nolan. "If Semler is serious about wanting to retain the Christian title—and I pray she is—the path will be through Christ's authority and his scars, not hers."
It remains to be seen how an industry that aims to be a big tent for the wide-ranging music of the global Christian faith will handle artists whose stances on LGBT issues differ. Will it strive to welcome diverse views in this area, as it does for questions of theology and musical taste?
"We tend to live in our own silos," said Patillo of GMA, who declined to comment on individual artists. When "we gather as an industry, we bring together artists from every genre. They get to appreciate the art of one another. You're gonna hear something that you love … you're also being exposed to God's diverse kingdom."
Kelsey Kramer McGinnis is a musicologist, educator, and writer. She holds a PhD from the University of Iowa and researches music in Christian communities.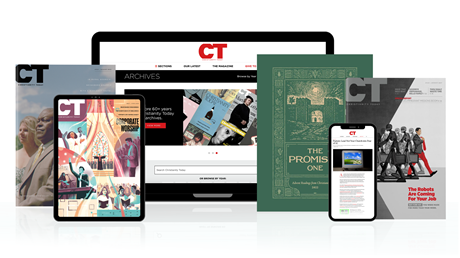 Subscribe to Christianity Today and get access to this article plus 65+ years of archives.
Home delivery of CT magazine
Complete access to articles on ChristianityToday.com
Over 120 years of magazine archives plus full access to all of CT's online archives
Subscribe Now
How Do You Get to the Dove Awards?
How Do You Get to the Dove Awards?