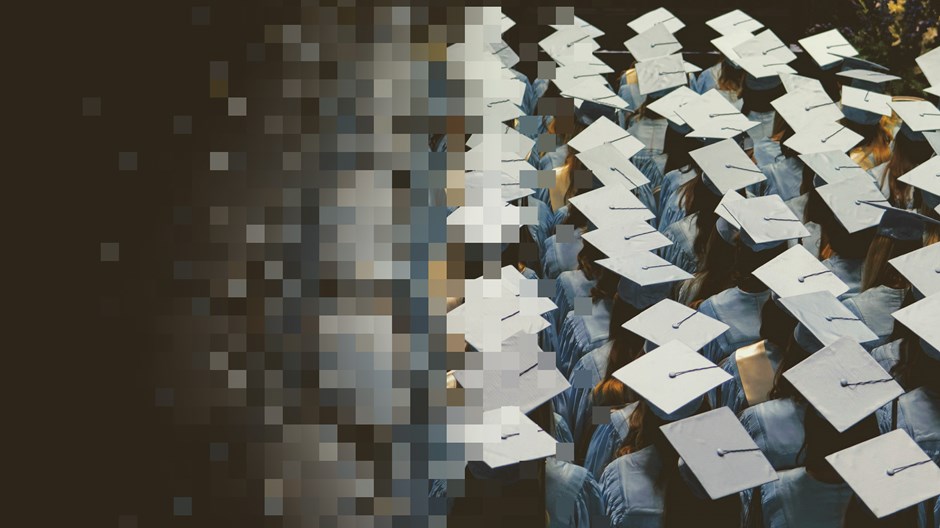 Image: Illustration by Christianity Today; Unsplash / Joshua Hoehne
Hugo Paredes is the first in his family to go to college. But he doesn't physically go to the college.
Point University, the evangelical school in Georgia he attends, is about 100 miles from the Rockmart Chick-fil-A where he works as director of operations. But the 32-year-old hops online between busy shifts serving chicken sandwiches, navigating management issues, and scheduling employees for the week to come.
Paredes is one of the 1,200 online students enrolled at Point, taking advantage of his franchise owner's subscription to the college, which enables employees to take online classes for free as a benefit of their job. He expects to complete his bachelor's degree in business in two more years.
"They've helped me change my life," Paredes said. "I wish I could be a full-time student, but just the opportunity to be in the program is a blessing."
Across the country, evangelical colleges and universities like Point have been creatively and aggressively expanding online education. College presidents and administrators believe this is one of the best strategies to overcome enrollment challenges facing higher education and, at the same time, increase the availability of Christian education and widen their schools' impact. Critics, on the other hand, say online degrees undercut quality and worry these programs diminish the value of a Christian liberal arts education.
Many schools shifted more online during the pandemic. But it wasn't entirely new terrain. A substantial number of schools affiliated with the Council for Christian Colleges & Universities (CCCU) have offered online education for more than a decade. Back in 2013, roughly 13 percent of all students at CCCU schools were exclusively enrolled online. By 2018, nearly 1 out of 5 CCCU students were attending online. Data from 2022 and 2023 are not yet available, but it's possible that up to a third of students at evangelical colleges are not physically at their schools.
Christian schools reporting substantial enrollment growth frequently credit the expansion of online options. Abilene Christian University, affiliated with the Churches of Christ, has seen five consecutive years of enrollment growth, and now 32 percent of the school's nearly 6,000 students are online. Thirty percent of the 1,700 students at Northwestern College, a Dutch Reformed school in Iowa, are online. At Indiana Wesleyan University, an early adopter of online education, three times more students are logging on to class remotely than are visiting the Indiana school's 11 in-person locations.
Colorado Christian University has achieved record enrollment growth for 13 years in a row. The nondenominational school currently has about 2,000 students on campus and 8,000 online.
"With the interest in online learning and the flexibility of it—for adult learners especially—there's not a growth limit," said Colorado Christian chancellor Donald Sweeting.
Maintaining enrollment numbers plays a large part in keeping colleges financially solvent. Most colleges saw large enrollment declines during the peak of the pandemic, but many saw decreases before that too. Sixty-five percent of CCCU-affiliated schools saw traditional undergraduate enrollment drop between 2014 and 2018, and higher-education experts predict many schools will fall off a "demographic cliff" in 2025 and beyond, as the pool of potential college students shrinks because of declining birthrates.
"Finding growth through undergraduate enrollment is very challenging," said Brandon Huisman, vice president for enrollment and marketing at Dordt University and vice chair of the CCCU's commission on innovative enrollment strategies. "We've had steady growth … and a lot of that is thanks to online."
For some Christian college faculty, however, the shift online seems like it comes at the cost of other commitments.
"The motivation behind the growth seems to be almost entirely economic," Chris Gaumer, a former English professor at Liberty University, told The New York Times. Liberty now has more than 115,000 online students, compared to 15,800 on campus, prompting questions about recruiting tactics.
John Hawthorne, a retired sociology professor and Christian university administrator, said evangelical schools have historically emphasized personal and spiritual formation. The move to online models can make that aspect of education more challenging.
"Online, almost by definition, pushes you further down that transactional line," he said. "And I think that runs counter to the whole Christian formation conversation."
A number of schools have also outsourced parts of their online programs to ed tech companies. For example, more than 50 evangelical colleges have contracted with Acadeum, a for-profit online learning platform. Others, including Liberty, use third-party marketing and recruitment that sometimes downplays any religious distinctives.
"That gets you two steps removed from your core mission as a Christian college," Hawthorne said. "One step removed because you're online, a second step removed because you're no longer marketing and recruiting."
Colleges acknowledge the challenges of staying on mission. But administrators also say going online is a way to offer affordable Christian education to more people, reaching those who could never enroll in a residential program.
"We're called as Christians to help people where they are," said Nanci Carter, online registrar at Lipscomb University. "The online piece allows us to provide that bridge. It just extends our mission and lets us reach more people and change more lives with education."
Many online programs also cater to adults—nontraditional students seeking a bachelor's degree at a later time in life or people pursuing graduate degrees. Northwestern College's online programs, for example, are almost entirely for master's degrees. Most of Dordt's online students are also completing graduate-level education.
And the programs still integrate faith and learning. The faculty and advisers are almost always Christian, and courses frequently require some theological reflection. Online students may also participate in spiritual life through virtual chapels, emailed prayer requests, and one-on-one interactions.
"Online education is a method and an option that allows the Christian universities … to fulfill their mission to a broader group of students," said Joe Bakker, Dordt's director of online education, who is writing a dissertation about online programs.
Research shows the vast majority of academic leaders believe online education is a part of their school's future, Bakker said. And faculty who have participated in web-based education tend to be supportive. But the shift online for such faculty can be difficult.
"Most of us have been in institutions where we pretty much only focused on the residential, traditional student, so to move into a segment of the market that's different can cause us to have some anxiety," said Phil Schubert, president of Abilene Christian University. "The more we've been willing to do that, the more we see that it can be done really well."
That doesn't mean, however, that there are no reasons to be cautious. Schubert said Christian schools especially must ensure that growth doesn't come at the cost of students' spiritual formation—online or in person.
"We've got to ensure that our ability to deliver a quality, Christian-values-infused experience remains strong," he said, "and sometimes growth can threaten that."
At Colorado Christian, Donald Sweeting says that evangelical institutions like his need to hold on to "the great tradition of Christian higher education" as they continue to grow and expand online options.
"Christian schools have a robust sense of purpose that takes us beyond revenues and operational details," Sweeting said. "It's really easy to get consumed with the operational side of university, for sure. … But as a Christian college president, the purpose of the university is much grander
than that."
Hannah McClellan is a reporter in North Carolina.
Have something to add about this? See something we missed? Share your feedback here.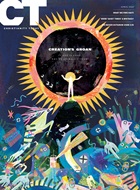 This article is from the April 2023 issue.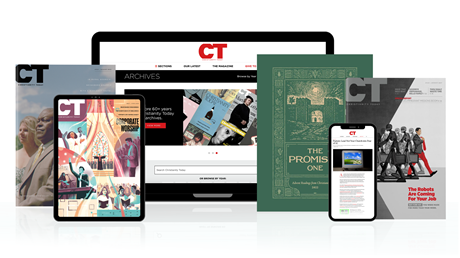 Annual & Monthly subscriptions available.
Print & Digital Issues of CT magazine
Complete access to every article on ChristianityToday.com
Unlimited access to 65+ years of CT's online archives
Member-only special issues
Subscribe
Degree by Digital Degree, Christian Colleges Go Online
Degree by Digital Degree, Christian Colleges Go Online