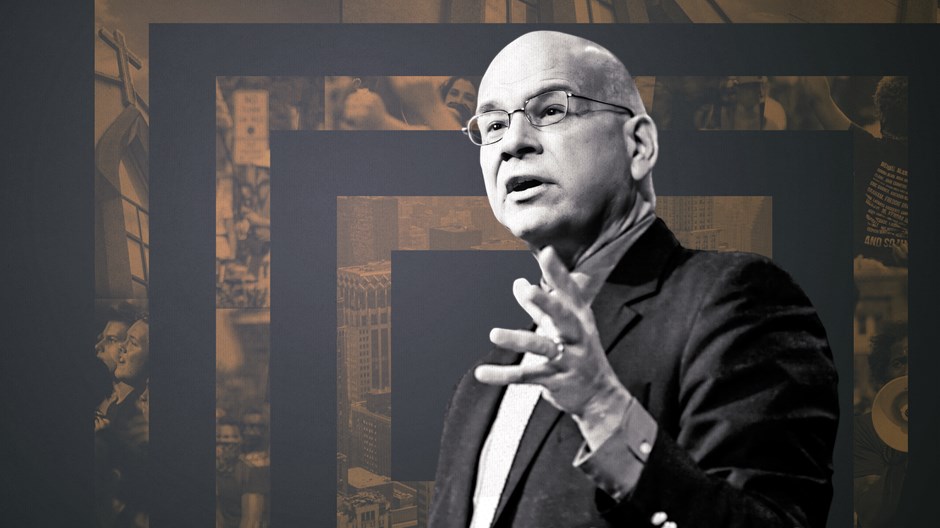 Image: Illustration by Rick Szuecs / Source images: Wikimedia Commons / Aaron C / Daniel Gutko / Daniel Tseng / Gayatri Malhotra / Nathan Mullet / Unsplash
Hardly anyone could be more qualified than Timothy Keller to receive the Kuyper Prize for Excellence in Reformed Theology and Public Witness. It should have been the culmination of a remarkable career.
Keller applied Reformed theology to the heart of American culture while preaching at Redeemer Presbyterian Church in Manhattan, which he planted in 1989 with his wife, Kathy. Keller's writing introduced Kuyper's theology of vocation—his vision of God who claims "every square inch" of creation for his glory—to new generations of Christians around the world.
But the reaction from many Princeton Theological Seminary (PTS) students and alumni revealed just how much American culture had shifted since 1989 when Keller stepped down from the pulpit in 2017. Keller's views on women's ordination and homosexuality countered the prevailing norms at PTS and other mainline seminaries, not to mention the broader culture.
By this evolving standard, Abraham Kuyper wouldn't have been eligible for his own award. Under pressure from various advocacy groups, PTS leaders rescinded their decision to grant Keller the 2017 Kuyper Prize (which has since been hosted by Calvin College). The renowned pastor seemed poised to become yet another casualty in the ever-expanding culture wars.
Or not.
Keller did not receive the prize, but he agreed to give the lectures anyway. PTS did not want to reward him, but he still tolerated them. And for all the preceding protest, enthusiastic applause greeted Keller when he stepped to the podium on April 6, 2017. PTS president Craig Barnes got the message once again when he returned to dismiss the crowd.
I didn't attend the PTS lectures, but I understand the surprising affection for Keller.
As a teenage evangelical convert in the late 1990s, I knew my faith was not welcome in the halls of power, whether that was in the classrooms of an elite private school or in the offices of the US House of Representatives. I never expected my zeal for Christ would make me popular or famous or rich. I just wanted to be faithful to God and obedient to his Word no matter where he led. I wanted to share my faith without reserve, even among hostile crowds.
And in 2007, I found an exemplar who modeled how to do that in America's most secular settings. Timothy Keller shared the gospel boldly in the idioms of his day, without demeaning or demanding anything but faith and trust in our faithful, trustworthy Savior.
When the tragedy of 9/11 gave way to a new and more virulent outbreak of the culture wars, Keller demonstrated a different way. As an associate editor for Christianity Today in 2007, I reported on the first public event of The Gospel Coalition (TGC), which Keller cofounded. My initial read of TGC's Theological Vision for Ministry, drafted by Keller, set forth an agenda I could follow as a young Christian coming of age in this contentious 21st century.
Keller centered me on the gospel of Jesus, which "fills Christians with humility and hope, meekness and boldness, in a unique way." The biblical gospel isn't like traditional religion, which demands obedience for acceptance, or like secularism, which we've seen make American culture more selfish and individualistic.
The gospel, Keller taught with a nod to his late friend Jack Miller, says, "We are more sinful and flawed than we ever dared believe, yet more loved and accepted in Jesus than we ever dared hope."
Steady amid hostility
Rare among preachers, Keller could engage the heart as much as the head. His books introduced me to social critics whose writing I could barely comprehend. But somehow, Keller's books also struck me as profoundly simple in their consistent emphasis on the gospel of grace.
You can see this dynamic at work in his PTS address, which engaged with Lesslie Newbigin's 1984 Warfield lectures at PTS. In these lectures, which became the 1986 book Foolishness to the Greeks: The Gospel and Western Culture, Newbigin argued for a missionary encounter with Western culture, which had become post-Christian. I don't know many Christian leaders who can simultaneously claim the heritage of Abraham Kuyper, famed Old Princeton theologian B. B. Warfield, and missiologist Lesslie Newbigin.
But that was Keller's gift. It's no cliché—he never stopped learning or growing. In my book, Timothy Keller: His Spiritual and Intellectual Formation, I describe his intellectual and spiritual development as rings on a tree.
Keller retained the gospel core he learned from mid-century British evangelicals such as J. I. Packer, Martyn Lloyd-Jones, and John Stott. He grew to incorporate such varied writers as Charles Taylor, Herman Bavinck, N. T. Wright, and Alasdair MacIntyre. And he somehow synthesized them with Kuyper, Warfield, Newbigin, and dozens more in the middle.
Keller's final task, the great unfinished project he left to us, was charting a course for mission in the 21st-century West that bore scant resemblance to the middle-class context in Allentown, Pennsylvania, where he grew up in the 1950s.
Keller didn't even believe his own successful ministry in New York would offer much guidance for the generations that would succeed him. Keller followed Newbigin, who identified the post-Christian West as the most resistant, challenging missionary frontier of all time.
None of the traditional Christian reactions to culture would suffice as the basis for an effective missionary program under these contemporary conditions. If anything, these responses could only warn Christians of what not to do. Christians must not withdraw like the Amish, pursue political takeover like the Religious Right, or assimilate like the mainline Protestants.
Keller matched these categories to his friend James Davison Hunter's workTo Change the World: "Defensive Against" (Religious Right), "Relevance To" (mainline), and "Purity From" (Amish). Hunter proposed "faithful presence within" as a more promising alternative, which Keller adopted as his own perspective in Center Church.
As many American Christians began to shift their social and political tactics in 2016, Keller came under increased criticism and scrutiny from fellow evangelicals. But anyone who followed his work over the decades could see that he was not the one who had changed.
Keller did not court such opposition. Anyone working with him could attest to his extreme aversion to conflict. In all our personal conversations, I cannot recall hearing a single critical comment from him directed toward a fellow believer.
His steadiness under this growing hostility gave courage and comfort to younger leaders who became disillusioned by the fall of so many of our former heroes. Even I worried about uncovering unflattering secrets when I began writing his biography. Instead, talking to dozens of Keller's close friends and family members who knew him from childhood only confirmed my personal experience of him.
But growing closer to Keller didn't lead me to idolize him. It simply allowed me to witness 2 Corinthians 4:7 in action, a flawed vessel carrying the most valuable treasure—nothing less than the surpassing power of God.
Love the local church
Keller may have demurred at his ability to anticipate new challenges for the late-modern West. But he still laid out an agenda that could radically reshape evangelicals' priorities—if only they would turn off the cable news and listen. Keller's PTS lectures proposed seven steps for a missionary encounter in the post-Christian West.
First, he called for public apologetics in the vein of Augustine's City of God. For this, readers could start with Keller's Making Sense of God, one of his overlooked classics. Second, he proposed a third way between the mainline concern for social problems and the evangelical concern for spiritual problems: Justification must lead to justice. Third, he challenged Christians to critique secularism from within its own framework, not from an outward construct. Borrowing from Daniel Strange, Keller called this process "subversive fulfillment."
Fourth, as Keller had insisted so many times before, he encouraged laity to integrate their faith with their work. Non-Christians must see the difference faith makes in day-to-day living. Fifth, he encouraged Americans to learn from the global church. Keller admitted in his 2017 PTS lecture that conservative evangelicals in the United States put too much faith in their own methodology and struggle to see the kingdom of God apart from American national interest.
Sixth, Keller highlighted the difference between grace and religion. As Richard Lovelace showed Keller in his first class at Gordon-Conwell Theological Seminary in 1972, missionary encounters that produce social change depend on grace, not on the rules of religion. Only grace brings spiritual transformation. Apart from the Spirit of God, we're helpless to effect lasting change in our fallen world.
Keller would have excelled as a professor if he'd stayed at Westminster Theological Seminary instead of moving to New York with his young family and planting Redeemer. He made enough money on his books and speaking that he would never have run out of venues inviting him to pontificate. But God called Keller to pastoral ministry, and that is what so often set him apart.
Even when Keller chastised evangelicals, he spoke and wrote as a pastor with love for his flock. Keller's only mentor, Edmund Clowney, helped him to love the local church, warts and all. As easily as Keller quoted obscure academics or New York Times columnists, he aimed to build up the local church. And in the explosive early growth of Redeemer church, and again in the dark days after 9/11, Keller witnessed the Spirit moving in unexpected and powerful ways.
Seventh, and lastly, Keller left American evangelicals with a vision for Christian community that disrupts the social categories of our culture. These thriving communities lend credibility to the transformative power of the gospel.
Keller cited the work of Larry Hurtado in Destroyer of the gods: Early Christian Distinctiveness in the Roman World. In this incisive study, Hurtado showed how the persecuted early church wasn't just offensive to Jews and Greeks. It was also attractive. The first Christians opposed abortion and infanticide by adopting children. They did not retaliate but instead forgave. They cared for the poor and marginalized. Their strict sexual ethic protected and empowered women and children.
Christianity brought together hostile nations and ethnic groups. Jesus broke apart the connection between religion and ethnicity when he revealed a God for every tribe, tongue, and nation. Allegiance to Jesus trumped geography, nationality, and ethnicity in the church. As a result, Christians gained perspective so they could critique any culture. And they learned to listen to the critiques from fellow Christians embedded in different cultures.
Instead of delivering this lecture at PTS, Keller could have challenged the administration and canceled his talk. This would have gained greater attention and support from his fellow conservative evangelicals. He could likely have raised more money for his ministry too. But Keller put his teaching into practice. He had told Christians for years that the gospel offers a distinct alternative to the intolerance of secularism and the tribalism of religion.
I don't yet see widespread evidence that evangelicals have taken Keller's advice or followed his example. Intolerance has been met with intolerance, hostility with more hostility.
But I suspect, if the Holy Spirit blesses us with another awakening, our churches will look more like what Keller envisioned—where grace will once more find a way through the tangles of religion and secularism.
Collin Hansen serves as the vice president of content and editor in chief of The Gospel Coalition and is the author of Timothy Keller: His Spiritual and Intellectual Formation.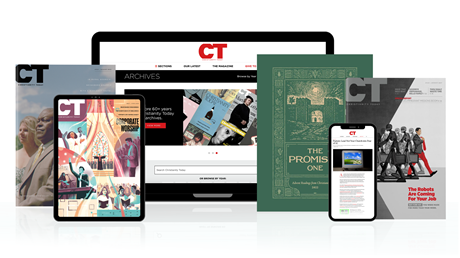 Subscribe to Christianity Today and get access to this article plus 65+ years of archives.
Home delivery of CT magazine
Complete access to articles on ChristianityToday.com
Over 120 years of magazine archives plus full access to all of CT's online archives
Subscribe Now
Tim Keller Practiced the Grace He Preached
Tim Keller Practiced the Grace He Preached