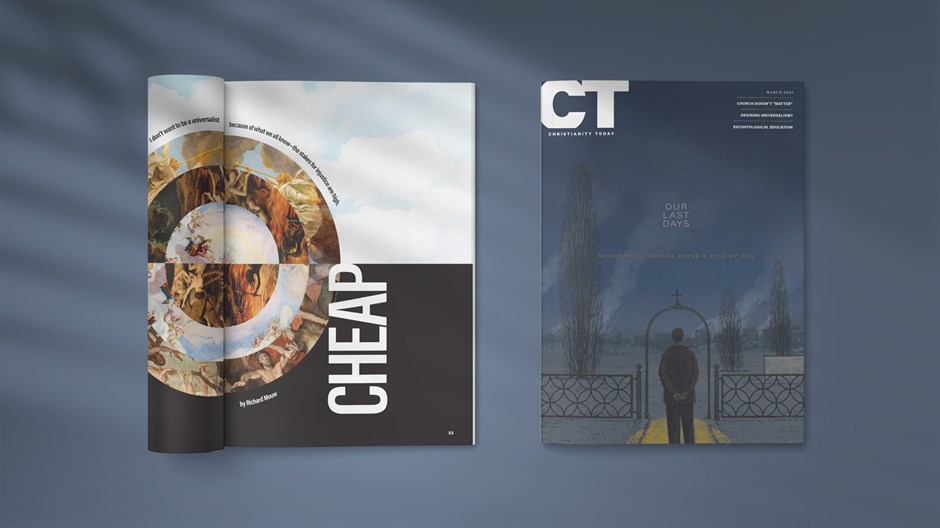 Our March cover story, "Ministers in Ukraine Are 'Ready to Meet God at Any Moment,'" featured the stories of pastors risking everything to serve their fellow Ukrainians on the frontlines of war. Reader Bob Davies, of Seattle, wrote to us, "The bravery and steadfast faithfulness of Christians who have chosen to remain in Ukraine despite the dangers is a wake-up call to those of us in the West who have it so easy in comparison."
Several other articles also captured our readers' attention, especially "I Don't Want to Be a Universalist," by Richard Mouw. "To wish universalism were true would be to pray God would be less than who he is. And this brings him no glory at all," said Jim Turnbo of Beaumont, Texas, agreeing with Mouw's analysis.
Others felt Mouw should have discussed more historic and contemporary arguments for the ideas he discredits. "The universalism described here is not something I recognize as a historical theologian of early Christianity who studies many of the major theologians in this tradition like Origen and Gregory of Nyssa," Amy Hughes, a professor at Gordon College, tweeted. "To say that either of these theologians or recent theologians 'make no effort' to reconcile the Bible with the resolution of evil is inaccurate at best."
"Let's Rethink the Evangelical Gender Wars," one of our March columns, also prompted conversation on social media. Responders were encouraged to see CT editor in chief Russell Moore's "willingness to grow and change … and to SAY that he has done so," as one Instagram commenter put it.
Readers also praised "Words Are Holy. So Why Don't We Talk Like They Are?", Paul J. Pastor's op-ed on the decrease of "sustained, thoughtful engagement with well-crafted language." "It seems incumbent upon the Christian worldview to acknowledge and articulate this problem while vigorously working to correct our culture's course," said Brian Champion of San Angelo, Texas.
Many of you have told us that you read your copy of CT long after it arrives in the mail. In this section, we will offer further jumping-off points for discussion, additional viewpoints to ponder, and reflections from our editors and staff. And as with anything you read in these pages, we'd love your feedback about it!
Kate Lucky
senior editor, audience engagement
After COVID-19, news of sexual abuse in churches in so many denominations, plus January 6, I have not been able to rejoin a church. My original reason to go was to worship Jesus, but it seemed that so many churches have lost their way with drama, business philosophies, what to offer people to get them into the church building, and political involvement.
My eyes watered with the sentence where the fishermen left their boats and simply sat with Jesus and ate with him. The simple communal experience of sitting and being with Christ—how awesome! I will keep that picture as the perfect moment of worship. I pray Christ will lead me to such a church where I feel I am worshiping with others who desire to worship our great God. I can't wait to get to heaven to spend eternity communing with him.
L. Jean Clark
Leesburg, FL
This topic is of course controversial, challenging, and a minority position. Yet this essay was long on ad hominems and short on actual argument. Professor Mouw seems to believe that universalists cannot make their case from Scripture and theology; they are primarily motivated by sympathy for their unsaved loved ones.
When forced to take on a real theological opponent, David Bentley Hart's That All Shall Be Saved, Mouw even there fails to take seriously Hart's exegesis of Scripture. Mouw also fails to consider how what he calls Hart's account of God through eternity finally rewarding human "reasonableness" before divine grace is in fact Hart's portrait of divine infinite love in the mystery of salvation, reconciling Godself to the disordered passions of sinful humans, through the unmatched reconciling power of Christ.
Of course, Mouw sees fit to stage the archfiend of history, Adolf Hitler, to inspire our disgust with universalism's good-intentioned but unbiblical and unseemly theology. It seems therefore the case that no conceivable response can explain any possible justice or goodness in the face of such evils. In the end, it appears that Mouw must dismiss the case for universalism because it demands a scale of divine compassion, grace, and mercy inconceivable on human terms. An odd thing, I find, coming from a Reformed theologian and philosopher.
Mike Kugler
Orange City, IA
I think my personal visit to Nepal added weight to my article. Meeting and interviewing several Christian leaders (men and women) and closely observing their culture helped me write with boldness and clarity. Because they saw me face to face, they were not hesitant to share their experience with me and did not consider me a complete stranger. I met several women leaders, as well as regular churchgoers, and built good contacts for future stories.
I was also privileged to attend Sunday worship in Kathmandu, where the church was packed with worshipers, and I got permission from the church administrator to take photos.
The church in Nepal is relatively young compared to others in South Asia, but it has stories that need to be told that have the potential of encouraging and enriching the global body of Christ. I have come away from this piece with a firm conviction of concentrating more on Nepal in the future.
Surinder Kaur
South Asia editor
Have something to add about this? See something we missed? Share your feedback here.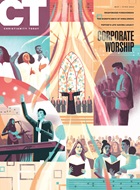 This article is from the May/Jun 2023 issue.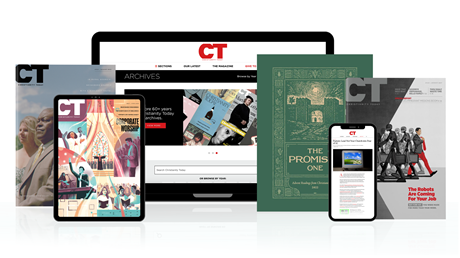 Annual & Monthly subscriptions available.
Print & Digital Issues of CT magazine
Complete access to every article on ChristianityToday.com
Unlimited access to 65+ years of CT's online archives
Member-only special issues
Subscribe
Look Who's Talking
Look Who's Talking