Image: Alan Light / Flickr
El Dr. Carlos Campo es Presidente de Ashland University y fundador de la Coalición de Fe y Educación para la NHCLC. Fue el primero en su familia que asistió a una universidad y recientemente compartió su historia en la conferencia 2016 Prepárate, "Educando Latinos para el América del Futuro."
Siéntase en libertad de compartir la historia inspiradora del Dr. Campo con estudiantes y padres de familia durante el Domingo de la Educación.
Ninguno de mis padres se graduó de la escuela secundaria. Mi papá fue un músico Cubano y mi mamá una cantante y se conocieron en el programa de televisión de Jack Paar. Era una vida vibrante, excitante y diferente. ¡No supe que tan diferente era hasta que me di cuenta que no todo mundo tenía cantantes, músicos y actores talentosos visitando su casa!
Era un hogar vibrante, pero tenía todo en mi contra cuando se hablaba de mi graduación de la escuela secundaria. Lo que tenía a mi favor, eran mis padres que tenían altas expectativas para mi éxito. Mis padres me hicieron creer que yo podía hacer cualquier cosa. Que todo era posible y que la educación—incluyendo la graduación de la universidad—sería parte de mi futuro. Mi papá era quizás muy parecido al tuyo o a tus abuelos en que creía que era su deber asimilarse a la cultura Norteamericana de una manera muy especifica. El vio que el inglés era el idioma de poder, el idioma de comercio. Sintió que para nosotros tener éxito, teníamos que asimilarnos y someternos por completo al idioma del inglés. Y lo hice. Yo fui aquel niño, mentalmente y emocionalmente dividido como muchos de primera y segunda generación de Latinos, sentados en el salón de clase pensando, "me llamo Carlos Campo, pero no me siento como un hispano." Mi apellido latino fue un regalo que mi padre me dio, pero no se sintió así en ese momento. No dominaba bien el español. No tenía el color de piel de mi padre, ese color bello café con leche. Sentía que si mi nombre fuera Bill o Tom, "pudiera desaparecerme dentro de la cultura Norteamericana por completo y deshacerme de ser Latino; entonces iba a poder encajar."
Mi experiencia dio un giro completo años después cuando empecé a enseñar en una universidad comunitaria y vi muchos rostros cafecitos en mi salón. Les preguntaba, "¿por qué? ¿Por qué hay tanto Latino en mi salón?" Respondieron, "vimos tu nombre en el catalogo, así que llegamos." Me asombré. El apellido latino que no valoré cuando era joven, vino a ser una invitación para estos estudiantes que pensaron, "quizás el sabe algo de nuestras vidas, de nuestra lucha." Fue un bello momento. Mis estudiantes me ayudaron a retomar mi cultura Latina y me dieron un sentido de orgullo.
Ame a estos estudiantes y me entristecía cuando sabía de estudiantes que habían trabajado arduamente en la escuela preparatoria, pero descubrieron al querer ingresar a la universidad que no podían por falta de documentación. Otros simplemente no estaban preparados para el rigor del trabajo universitario. Me acuerdo mi primera reunión de administración. Empecé a dialogar con personas que estaban discutiendo los temas mayores que contribuían al éxito de los estudiantes. En esa reunión, pensé, "si dejo el salón de clase y me hago parte de la administración, quizás pueda tener un mayor impacto sobre estudiantes Latinos, y más estudiantes en general, proveyendo mejor acceso y oportunidades y todo lo que eso conlleva."
Por la gracia de Dios, fui decano interino de una universidad, la universidad más grande del Sur de Nevada, y he tenido el privilegio de ser el Presidente de dos universidades.
Tengo dos temas importantes para compartir con padres de estudiantes al nivel de K-12. Primero, cada estudiante tiene que ser desafiado en el salón de clase a un alto nivel. Tenemos que preparar a cada estudiante efectivamente para la univerdidad y la vida, y las expectativas altas son el primer paso para cumplir esto. Puedes ser el primero en tu familia en graduarte de la escuela preparatoria. Puedes ser el primero en graduarte de la universidad y seguir con estudios de nivel de maestría y doctorado.
Segundo, te invito a recordarte que tu herencia Latina es un regalo. Va contigo a tu vida de universidad y profesional. Abrázala porque no te es estorbo; enriquece tu vida en maneras que quizás no entiendas por muchos años más. Dios milagrosamente teje nuestras historias juntas para Su gloria y Sus propósitos, rico o pobre, café y negro, y rojo, y amarillo, y blanco, de todas las partes del mundo.
Eres creado singularmente con propósito, y tanto tu herencia como tu educación te llevaran al cumplimiento de tus sueños actuales y los que todavía no logras soñar. Hace años atrás, un mentor me dijo, "Carlos, tenemos que enseñarle a nuestros jóvenes a que sueñen en grande. Tenemos que expandir su entendimiento de lo que actualmente pueden lograr."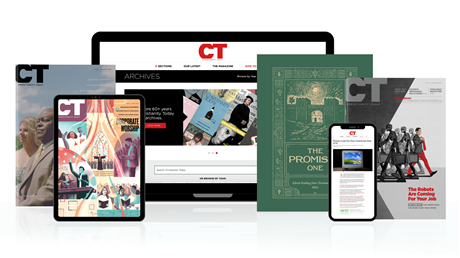 Subscribe to Christianity Today and get access to this article plus 65+ years of archives.
Home delivery of CT magazine
Complete access to articles on ChristianityToday.com
Over 120 years of magazine archives plus full access to all of CT's online archives
Subscribe Now
El primero en mi familia que se graduó de la universidad
El primero en mi familia que se graduó de la universidad