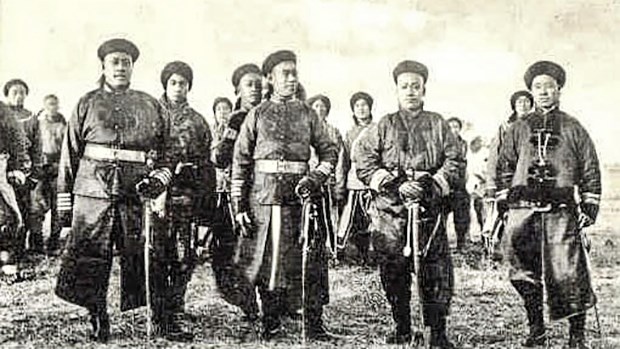 Había una vez en una tierra lejana, un niño de 4 años que se convirtió en emperador. Al principio su tía le ayudó a reinar, pero al cumplir los 18 años, él asumió el control, y quería cambiar muchas cosas. Imitando a otros países, fundó una universidad. Él simplificó las nóminas del gobierno para eliminar los trabajos fáciles. Ansiaba tener un parlamento, y aun decretó un edicto para proteger a los ciudadanos cristianos. Pero el emperador no vivió feliz para siempre. Su tía y su pandilla no querían tanto cambio.
Ellos tramaron un golpe de estado y regresaron al poder.
Ahora vino una sequía enorme, y la gente comenzó a tener hambre. Su tía culpó a los extranjeros que habían ayudado al joven emperador. Los dioses de sus antepasados estaban negando la lluvia, dijo ella, hasta que todos los extranjeros y todos los que seguían religiones extrañas fueran desterrados.
Un grupo de campesinos entrenados en kung fu también culpaban a los extranjeros por sus problemas. Estos campesinos imploraron a los dioses que los poseyeran y los hicieran invulnerables a las balas de los extranjeros. La tía del emperador decretó que si ellos atacaban y mataban a los extranjeros, ella se haría la distraída. Y así destruyeron las vías férreas y las líneas telegráficas que habían sido construidas por extranjeros y asesinaron a cuanto extranjero y cristiano pudieron.
Los países de donde los extranjeros habían venido estaban enojados. Ellos mandaron sus fuerzas armadas para restaurar el orden. Demandaron indemnización por la propiedad y la gente que perdieron. La tía del emperador tuvo que escaparse y esconderse. La xenofobia—odio, repugnancia u hostilidad hacia los extranjeros—resultó ser una mala estrategia política.
Al final del siglo 19, ocho naciones tenían un número considerable de empresarios y diplomáticos en la China. Sus vías férreas y líneas telegráficas modernas habían incrementado mucho la enorme comunicación interna del país. Sus misioneros, educadores, y obreros de salubridad habían servido a la gente china por siglos. Muchos chinos se habían convertido al cristianismo.
El Levantamiento de los Bóxers (1899–1901) fue un atentado para purgar al gobierno de la influencia foránea. Los Bóxers, o miembros de la Sociedad de los Puños Enhiestos, literalmente de los Puños Justos, sitiaron por 55 días el barrio de los extranjeros en Beijing. Un gobernador provincial masacró 44 misioneros protestantes—hombres, mujeres, y niños—después de inducirlos a su capital bajo promesas de seguridad. El número final de víctimas: 136 misioneros protestantes y 53 niños; 2,000 protestantes chinos; mucho más de 200 cristianos rusos ortodoxos; 30,000 chinos católicos.
Siguieron repercusiones drásticas. Alrededor de 20,000 soldados invadieron a la China y aplastaron la rebelión. Muchos extranjeros—principalmente soldados y empresarios, pero también algunos misioneros—participaron en saquear. Los gobiernos, compañías, y agencias misioneras que perdieron gente y propiedad exigieron indemnizaciones enormes. Sus exigencias pusieron a una dinastía ya inestable en peor condición y crearon más resentimientos.
Hudson Taylor, fundador de China Inland Mission (CIM), se mantuvo separado. CIM perdió más gente que ninguna otra agencia: 58 adultos y 21 niños. Aun así, Taylor rechazó cualquier indemnización por las pérdidas del grupo para así mostrar la "humildad y mansedumbre de Cristo." Esto impresionó a los chinos. Pero los periodistas americanos se enfocaron en los extranjeros occidentales codiciosos. En la mente del pueblo, las misiones cristianas y el imperialismo occidental se entrelazaron firmemente.
Cincuenta años después, los líderes chinos cristianos todavía estaban viviendo con las consecuencias del Levantamiento Bóxer y ondas interferentes de nacionalismo chino. Después de la revolución comunista, muchos cortaron las ligaduras con las iglesias occidentales, prometiendo que las iglesias chinas serían antiimperialistas, antifeudales, y anticapitalistas. Desafortunadamente, esas promesas favorecieron la xenofobia de sus jefes políticos.
Hoy en día, los líderes de la China han decidido formar parte de la economía mundial, y la iglesia china oficialmente reconocida ya no se deja llevar por la xenofobia. Los descendientes de esos líderes de la iglesia china de mediados del siglo aprecian las contribuciones de los misioneros. Ellos reconocen que la solidez de la iglesia en gran parte se debe a la dedicación de aquellos que dieron sus vidas en 1900 y los muchos otros que sirvieron después de ellos—incluyendo al cofundador de Christianity Today, L. Nelson Bell.
El odio a los extranjeros, sin embargo, ha resurgido alrededor del mundo. La xenofobia fue mala política en la China del siglo 19, y es mala política hoy. La retribución fue mala religión entonces, y es mala religión hoy. ¿Cómo hubiera cambiado la historia de la China si todos los misioneros cristianos hubieran respondido tan gentilmente como lo hizo Hudson Taylor?
David Neff es el anterior editor de Christianity Today.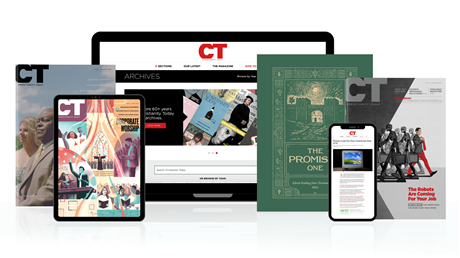 Subscribe to Christianity Today and get access to this article plus 60+ years of archives.
Home delivery of CT magazine
Complete access to articles on ChristianityToday.com
Over 120 years of magazine archives plus full access to all of CT's online archives
Subscribe Now
Hudson Taylor y el poder de la mansedumbre
Hudson Taylor y el poder de la mansedumbre