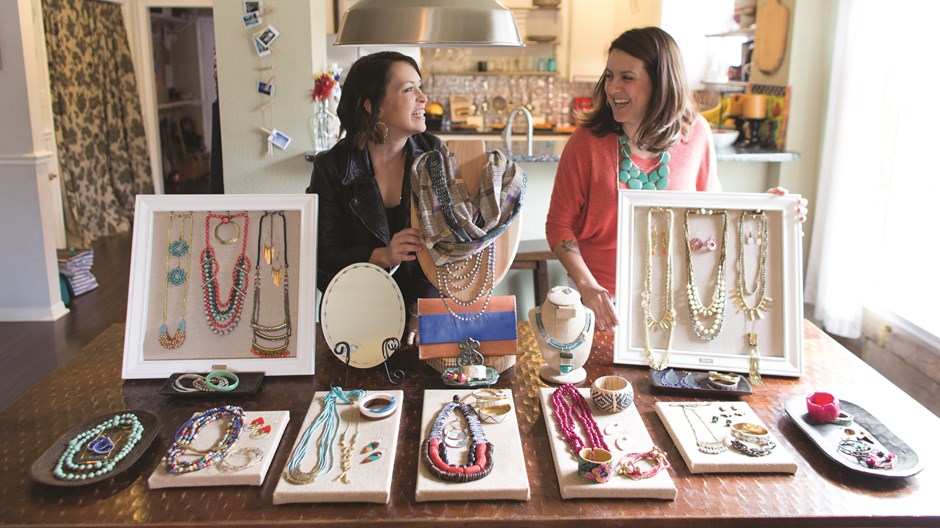 Image: Courtesy of Noonday Collection
Jessica Honegger comenzó a vender joyería del comercio justo (fair trade), hecha a mano, para ayudar a solventar los gastos de adoptar a su hijo de Ruanda. Cinco años después, su recaudación de fondos se ha convertido en una de las compañías de más rápido crecimiento en los Estados Unidos—lo suficientemente para ser la 3ª en Inc.'s list de las compañías de más rápido crecimiento dirigidas por una mujer, y la número 45 en general.
Con 950 "embajadores" haciendo demostraciones en hogares para vender joyería y accesorios eclécticos, Noonday Collection, con sede en Austin, vendió $11.8 millones en el 2014. Todos sus productos son hechos a mano por empresas de artesanía en 13 países.
La mayoría de los embajadores son mujeres cristianas, y llevan a casa una comisión entre el 20 y 25 por ciento. Al igual que Honegger, la cuarta parte de ellos costean sus propias adopciones; el año pasado, la compañía dio $120,000 a familias en proceso de adopción. Otros usan los ingresos para proporcionar fondos para proyectos de la iglesia, viajes misioneros, y otras obras de caridad.
"Yo lancé Noonday Collection…sin saber que se convertiría en una compañía viable pero casi sabiéndolo por dentro, en ese lugar profundo donde Dios te susurra," dijo Honegger de 39 años de edad.
Después de un viaje a Uganda en el 2010, Honegger y su esposo, que se conocieron mientras trabajaban para Food for the Hungry, sintieron el llamado a adoptar. Con ya dos hijos, ella comenzó a vender joyería hecha por artesanos ugandeses para conseguir más ingresos. Honegger ganó como $4,000 en su primera demostración, y dentro de poco, otras mujeres comenzaron a tener sus propias reuniones y hacer pedidos. Una vez que las ventas sobrepasaron su capacidad, ella enlistó a Travis Wilson, un amigo con una Maestría en Administración de Empresas de Wharton y con experiencia en microfinanzas, como codirector ejecutivo.
Aún con un socio, un negocio en auge, y ayuda de sus amistades, Honegger confiesa que no fue fácil. Ella anduvo en busca de mujeres cristianas colegas con hijos pequeños que dirigieran nuevas empresas que le inspiraran. "No tenía a nadie," dijo ella. "Estaba leyendo Lean In y Tina Fey y Brené Brown. Pero en mi interior pensaba, '¡Ayúdeme alguien!' Ahora estoy feliz de poder posiblemente preparar el camino [para otras mujeres]."
Estamos viendo más empresas de "emprendeduría social" que incluyen un componente filantrópico. Dada tu misión, ¿por qué es importante para ti ser una empresa con fines de lucro en vez de una organización benéfica?
Creo en los negocios. Dios utilizó su poder para crear al mundo y a nosotros, y Él nos pide que usemos nuestro poder creativo para ir y crear más del mundo. Así que dejó este mundo sin explotar y sin desarrollar para que nosotros lo aprovecháramos y desarrolláramos.
Nuestros socios artesanos son empresarios también. Están aprendiendo a cómo desarrollar una empresa, cómo crear gerencia media, y cómo crear trabajos en su comunidad que sean dignos y buenos. Para mí, es un intercambio equitativo.
Como líder de una empresa que hace y vende productos del comercio justo, ¿qué te gustaría que los clientes sepan en una economía que en muchas maneras no está diseñada en el comercio justo?
Soy capitalista. Le llamo capitalismo compasivo. Así que no es que el comercio justo no sea capitalismo. Hay personas muy talentosas viviendo en áreas de pobres recursos en el mundo, y todo lo que necesitan es acceso al mercado. Y yo voy a comenzar algo para ellos. Todo fue crear acceso al mercado para la gente menos representada y asegurar que cuando los artesanos desarrollen sus empresas, lo hagan de una manera hermosa.
¿Cuáles son los más grandes desafíos para ti como una mujer cristiana involucrada en un negocio y empresa?
Todos somos creados a la imagen de Dios para trabajar. Algunas veces eso significa quedarse en casa con los hijos, y ese es tu trabajo por una temporada. También puede significar ser la directora ejecutiva de una empresa….Yo sabía que en la subcultura cristiana el asunto ese de las mujeres dirigiendo, trabajando, puede ser un problemas en si, pero en general tampoco hay tantas empresas de propiedad femenina como las hay de propiedad masculina…. Ha sido un camino difícil. Sin lugar a dudas luché con el equilibrio, la culpabilidad, vergüenza y todo eso. Pero mucho de eso era por no tener un nivel de confianza total en lo que Dios me había creado para hacer.
Háblame de las mujeres que son embajadoras Noonday.
Ellas son sumamente motivadas por cuestiones de justicia. Ellas la pasan bien con otras mujeres. Son relacionales. Buscan una manera de no tan sólo donar dinero a una organización o a una entidad benéfica, sino ser una parte activa en desarrollar un mundo próspero. Son mujeres que ya están practicando el liderazgo en sus comunidades, ya sea en sus iglesias o en sus escuelas, pero que quieren influenciar y canalizar su pasión. Y obviamente a muchas mujeres les fascinan la moda y aprecian la estética.
¿Dónde ves a Noonday en relación a la tendencia del mercadeo multinivel?
Lo que estamos haciendo es muy distinto, creo que esa es la razón por la que hemos crecido tan rápidamente. Muchas de estas mujeres han sido abordadas por otras empresas de ventas directas porque ellas son extrovertidas y son influyentes o tienen ese potencial para ser muy buenas para las ventas. No tenemos la estructura de compensación sólida que otras empresas de ventas directas tienen, y tampoco tenemos esta habilidad de desarrollar equipos de multinivel. La forma principal en la que somos distintos es que la gente está haciendo esto para tomar parte en desarrollar un mundo próspero. Con nosotros, ellas están siendo motivadas para desarrollar ese mundo próspero y menos por el dinero.
¿Quién te ha inspirado a lo largo de tu jornada?
Mis primeros socios en Uganda, Jalia y Daniel, eran muy pobres cuando me asocié con ellos hace cinco años, y ellos eran los que hacían todo. Ahora supervisan un taller de 100 empleados. Ella y yo caminamos una jornada muy similar de tener que desarrollar un negocio cuando éramos madres jóvenes. Comparando esa experiencia con mi propia experiencia de dirigir un negocio aquí en América con certeza me ha proporcionado una cantidad inmensa de estímulo e inspiración.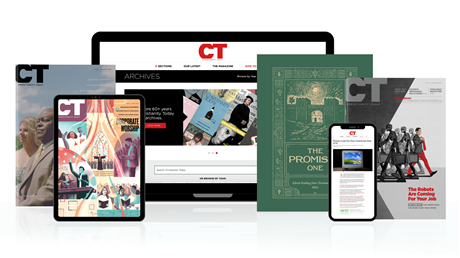 Subscribe to Christianity Today and get access to this article plus 65+ years of archives.
Home delivery of CT magazine
Complete access to articles on ChristianityToday.com
Over 120 years of magazine archives plus full access to all of CT's online archives
Subscribe Now
La Colección Noonday: Donde la declaración de la moda se encuentra con la declaración de misión
La Colección Noonday: Donde la declaración de la ...