La Dra. Andrea Ramírez, Directora Ejecutiva de la Coalición de Fe y Educación, recientemente invito a la Dra. Almarie Munley para conversar sobre los estándares educativos para estudiantes K-12.
Almarie E. Munley, Ph.D., es Decana del University College en Hampton University. Es una educadora y conferencista que ha sido invitada a compartir sobre el tema de liderazgo en varias universidades prestigiosas alrededor del mundo. Nacida en Guatemala, obtuvo su licenciatura de la Universidad Del Valle de Guatemala. Recibió su maestría y doctorado de Regent University.
La Dra. Munley ha servido como Decana en Hampton University y del equipo fundador del Consejo Asesor de Liderazgo para la Coalición de Fe y Educación. Trabajó como parte del equipo en el Estudio Global, un estudio reconocido dentro del ambiente de líderes y educadores en el campo de liderazgo. Estoy deseosa de escuchar el mensaje que quieres compartir con nuestros lectores hoy.
Gracias. Estos son tiempos muy emocionantes para estar en el campo de la educación. Unos de los mensajes claves que comparto es que cualquier cosa que tengas, TODO lo que se te ha dado, TODO lo que se te ha permitido hacer, ofrécelo a otros. Regálalo. La educación se queda contigo toda la vida. Entonces ¿qué harás para regalarlo? ¿Qué haré yo como mujer latina para regalar todo lo que he aprendido y experimentado?
Tengo una creencia firme que juntos podemos hacer más que como individuos, entonces me encanta ver el cuerpo de Cristo unido, en particular la comunidad Latina, diciendo, "este tema de la igualdad en la educación nos importa cómo evangélicos latinos." ¿Por qué te importan los estándares educativos y que dichos estándares sean elevados y equitativos, y la igualdad en la educación en general? ¿Por qué toca esto tu corazón?
Mi deseo y pasión sobre la educación tuvo su inició en Guatemala. Fui la directora asistente para un programa nacional de alfabetismo para la Muchacha Indígena. Este es un grupo de mujeres jóvenes en nuestro país que jamás serían educadas, jamás. Y si logran obtener algo de educación, será el equivalente del primer grado. Haber iniciado mi labor en ese proyecto durante los primeros días universitarios me dio la pasión para decir," todos merecen una oportunidad. Todos tienen el mismo derecho de saber." Dios lo dice en Su palabra. Claramente lo dice. Su palabra nos da este ánimo para conocer sabiduría e instrucción, para entender palabras de visión, para recibir instrucción, para dar a los simples prudencia, conocimiento y discreción a la juventud. Vi tanto resultado en este proyecto que mi corazón deseó ver a un número cada día mayor de muchachas a quienes se les brinda ayuda para poder aprender.
Como una Latina en un puesto alto de liderazgo, ¿cuáles obstáculos te ha ayudado el Señor a superar? ¿Qué consejo le darías a latinas que están luchando quizás por ser la única latina donde se encuentran? Recibí anoche un texto de alguien que está en otra parte del país y me dijo, "soy la única mujer en este cuarto, ¿qué hago?"
Eso sucede con frecuencia en ámbitos de la educación superior. Es interesante. Recibo textos de colegas diciendo "¿qué se siente estar en ese lugar?" He estado en el Concilio del Decano y fue interesante. Era la única latina, incluso, la primera decana Latina nombrada a una universidad históricamente Afro Americana, la gran universidad que es Hampton University. Pero entendemos que no se trata de hacer historia, sino se trata del legado que dejas en esas posiciones de influencia.
A mis colegas y líderes latinas, no te concentres en los obstáculos que quizás encuentres. Enfócate en la oportunidad que la situación te presenta. Si hay estrés o presión, piensa "¿qué puedo hacer para distraer de ese estrés?" Quizás enfrentes actitudes como, "es una mujer latina. Es joven." No te limites por eso. Que tu legado te dirija. ¿Qué es lo que haces y que es lo que haces bien? ¿Qué es tu habilidad y cómo lo haces? Otros lo verán.
El mundo necesita personas dedicadas a la igualdad en la educación. Queremos excelencia. La gente se dará cuenta. En ese salón de conferencias, quizás seas la única. En veces me pellizco y pienso "¡Guau! La única mujer en esta mesa directiva y mujer latina."
El Señor está eligiendo a diferentes latinas para abrir la puerta y luego dejarla abierta. Cuando inicié mi doctorado, conocía a tres latinas con PhD y me uní a ellas porque pensé "el Señor permitió que lograran esto y preparó el camino para ellas. Fue difícil pero lo lograron con Su fortaleza." Creo que el Señor está llamando a más personas en casa y más mujeres para obtener una educación a nivel universitario y maestría y doctorado porque para muchos, al hacerlo, podrán amar al Señor con la totalidad de su mente. Esto significa diferentes cosas para diferentes personas, pero yo creo que hay más latinas que quizás estén leyendo esto y pensando "necesito estar disponible al Señor y preguntarle lo que significa para mi vida que yo le ame con toda mi mente."
Así es, las personas pueden descubrir su pasión que Dios les ha dado. La educación cambia vidas. Lo vi en mi país, Guatemala. Amo mi país. Amo lo que vi y los cambios que vi en las vidas de las mujeres con las cuales trabajé. No tiene que parar en la escuela secundaria. Continúa. Tienes que elevar los estándares para tu comunidad. Cambias tú misma, cambia tu familia y cambia tu comunidad. Imagínate, Dra. Ramírez. Podemos cambiar la nación.
De eso es lo que estamos hablando, ¿no? Estamos hablando de ser agentes de cambio. Necesitamos que toda mujer latina sepa que es parte de este grupo. Puedes lograr tus sueños. No permitas que nada te detenga. Nada es imposible. Lo podemos lograr. Podemos con la ayuda del Señor.
Gloria a Dios. Sé una persona que cambia las cosas. Dios tiene un plan para ti, y nuestra oración es que seas motivada a iniciar tu camino.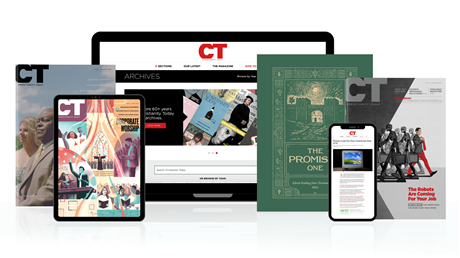 Subscribe to Christianity Today and get access to this article plus 60+ years of archives.
Home delivery of CT magazine
Complete access to articles on ChristianityToday.com
Over 120 years of magazine archives plus full access to all of CT's online archives
Subscribe Now
Las mujeres latinas y las oportunidades educativas
Las mujeres latinas y las oportunidades educativas