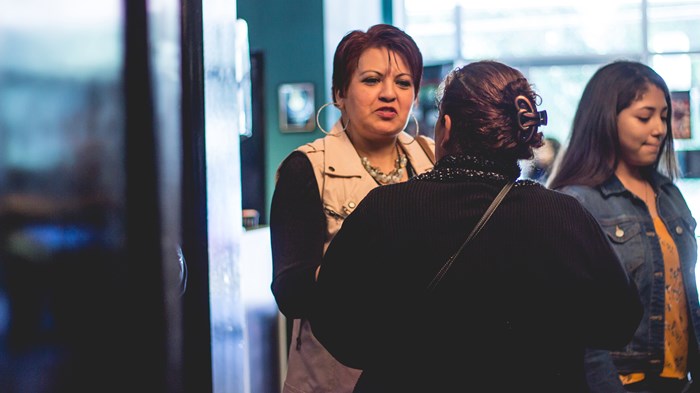 When I said "I do" to my husband, I was aware of taking on the new titles of wife, daughter-in-law, and sister-in-law; however, nobody warned me I would also be taking on the new title of "hermana" ("sister") in the church. I grew up with the cultural norm of addressing older women in the church as "sister." Before the eyebrows rise, let me establish that "older" does not mean old in age, rather more experienced or mature in the faith. The "sisters" were those involved in coordinating women's Bible studies, weekend retreats, and cooking meals for the sick. I did not anticipate that when I married, I was classified as a "sister." While being called a "sister" was new for me, serving in women's ministry was not. I am grateful for the women in my life that understood the discipleship model of Titus 2 and invited me to become part of the women's ministry leadership team while I was still a single woman. Even then, this was a cultural shift for me, as I once believed women's ministry was for the "sisters".
There is not an exact standard for how one receives this title; yet a cultural classification of womanhood seems to exist when one becomes a wife. A young girl moves from children's ministry to youth ministry based on school grade level. However, once a young woman graduates from high school, she is often considered a "youth" until marriage. Some Hispanic churches have ministries for young adults, but this ministry is often combined with the youth. This cultural perspective sends the message that women's ministry is for the married or those who are mothers. Challenges arise when younger women do not have a place at the table of women's ministry. Oftentimes, we witness young women leave the Hispanic church in pursuit of a church with a college and career ministry or leave the church altogether. Limited opportunities for ministering to young women contribute to the generational gap in Hispanic churches. Younger women, married or single, need a place at the table alongside older women. When this happens, we share in the joy of the Psalmist David – "Behold, how good and how pleasant it is for brethren to dwell together in unity!" (Psalm 133:1). I witnessed three major changes that transformed my perspective on how Hispanic women engage in women's ministry together.
1. Invite Young Women to the Leadership Team
A church that ministers to women of all ages should include both younger and older women in leadership. When I was first approached about serving in women's ministry leadership, I hesitated to accept because I felt it was not my place yet. Although I grew up in the church and led the young adults' Sunday School, I assumed I would serve in women's ministry later in life. What the other women in leadership saw was the need for younger women to engage in ministry. They wanted to teach and admonish the young women (Titus 2:4).
When this leadership is in place, young leaders should not exclusively reach out to young women and older leaders exclusively reach out to the older women. The purpose and end goal is unity among all women in the church. Younger representation not only brings a different generational perspective to the table, but also provides an opportunity to teach young women the qualities of a sound church.
2. Affirm the Gifts of Younger Women
Paul understood the difficulties that his son in the faith, Timothy, would encounter because of his spiritual youth. However, Paul still encouraged Timothy to use his gifts and "let no one despise [his] youth." (1 Timothy 4:12). As an older man in the faith, Paul affirmed the gifts of Timothy, a younger man in the faith. Likewise, when Paul writes to Titus regarding the ministry in Crete, he speaks of the teaching relationship between older and younger women in the faith (Titus 2:3-4).
Younger women may need guidance in using their spiritual gifts. Older women in the faith have an opportunity to come alongside younger women and show them how to use their gift. Both my mother and my childhood pastor's wife saw the gift of leadership in me. These two women stood by my side to disciple me and teach me how to use that gift for God's glory. Younger women around us need to hear affirmation for their spiritual gifts and be provided with opportunities to use them.
3. Cultivate Community among Women of all Ages
When Mary learned of her pregnancy from the angel Gabriel, she went with haste to Elizabeth and remained with her for three months (Luke 1:39, 56). Why did this young woman have urgency in going to a woman who was advanced in years? It is because Mary knew the words of blessing and teaching she would receive from Elizabeth. This is the kind of community we need in our churches. We need older women with a willingness and ability to teach younger women. We also need younger women with a willingness to learn. This teacher-learner community provides such edification and unity among the church.
My prayer is that the discipleship model found in Titus 2 will be found in our Hispanic churches today. I am grateful for the "sisters" who first invited me into women's ministry leadership, affirmed my gift of leadership, and cultivated a sense of community in me. What joy it would be to see more young women experience this discipleship so that we may all continue in the work of ministry, for the edifying of the body of Christ (Ephesians 4:12).
Irene Gallegos is the Director of Women's Ministry at Getsemani Baptist Church in Fort Worth, TX.