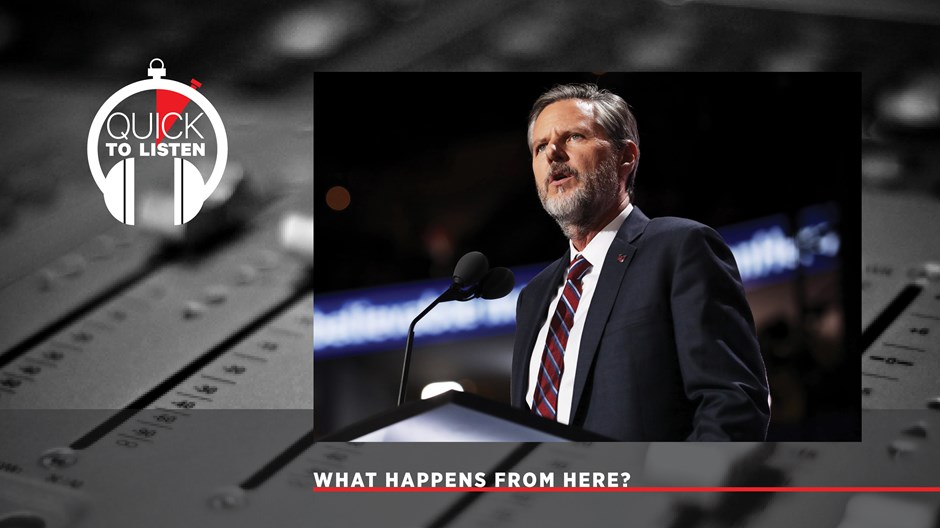 Image: Chip Somodevilla / Staff / Getty
Subscribe to this Podcast:
Last week, a Houston Chronicle reporter tweeted an image from Jerry Falwell Jr.'s instagram. The image showed the Liberty University president posing with his arm around a woman at a party with their zippers down and midsections exposed. By Friday, Falwell Jr. agreed to take an immediate and indefinite leave of absence from Liberty University, which he has led since 2007 as president and chancellor.
As CT's reporting noted:
During his tenure—succeeding his father and the school's founder, Jerry Falwell Sr.—the younger Falwell has expanded Liberty into one of the biggest Christian colleges in the world, now reporting an enrollment of over 120,000 students. But his leadership has also drawn controversy, including around his politics—such as his friendship with President Donald Trump—and personal life—like photos of him and his family at a Miami nightclub.

In June, Falwell apologized for a tweet that included an image of the yearbook photo from Virginia Gov. Ralph Northam's blackface scandal. Dozens of black alumni said he should "withdraw the racist tweet" and resign to focus on politics.
This week on Quick to Listen, we wanted to discuss how Liberty University and its president fit in the larger landscape of Christian higher ed.
Bill Ringenberg is faculty emeritus at Taylor University, where he was a longtime history professor and Associate Dean of Academic Affairs, and the author of The Christian College: A History of Protestant Higher Education in America and The Christian College and Academic Freedom. He joined global media manager Morgan Lee and editorial director Ted Olsen to discuss where Liberty is positioned the Christian higher ed world, how athletics make a difference in how the school sees itself, and why it took a photo on Instagram for Liberty's board to react to Jerry Falwell Jr.
Take Quick to Listen's survey!
What is Quick to Listen? Read more
Rate Quick to Listen on Apple Podcasts
Follow the podcast on Twitter
Follow our hosts on Twitter: Morgan Lee and Ted Olsen
Music by Sweeps
Quick to Listen is produced by Morgan Lee and Matt Linder
The transcript is edited by Bunmi Ishola
Highlights from Quick to Listen: Episode #225
How would you define Christian higher ed? What counts as a Christian institution?
Bill Ringenberg: Well, I would say those institutions that, both on the institutional level and the level of the faculty members employed, have a worldview which sees the Christmas story and the Resurrection story at the heart of human history, the central event in all of human history being in the coming of God to a world and Christ. And then within that context, the scholars who embraced that worldview seek to understand this God and the world that he created as well as they possibly can.
There are different kinds of Christian higher ed institutions. Could you breakdown the families within Christian higher education?
Bill Ringenberg: The Council of Christian Colleges and Universities (CCCU) is sort of the overall umbrella organization of Christian liberal arts colleges, which there may about 200 members now. The Bible colleges, which probably number of between 100 and 200, are later in origin. They, like the 20th-century fundamentalist colleges such as Liberty, are in response to the secularization movement in Christian higher education.
People are surprised sometimes to learn that at one point, up to the post-Civil War period, to be a college at all in America was to be a Christian college. That was true with very few exceptions—maybe Thomas Jefferson's University of Virginia and possibly Ben Franklin's University of Pennsylvania were more or less secular, but they were outliers. They were exceptions.
There are Bible colleges, Christian liberal arts colleges, graduate theological seminaries. There are 200 to 300 Roman Catholic colleges. Almost all liberal arts institutions. Those are the major groups of religious higher education in America.
Some have identified up to 900 religiously-affiliated institutions. That's probably on the high side, but there are a lot of them and a lot of them are small. In the aggregate, they're smaller than the much larger state universities and secular institutions.
Is there a different story between the Bible college institutions that came about in the 20s and 30s and the fundamentalist ones that came later in the 40s and 50s?
Bill Ringenberg: The Bible college movement was both a response to secularization in higher education and also the growth of interests in the late 19th century in foreign missions. The Bible colleges had to do a role as an undergraduate theological professional institution. They trained domestic ministers and trained overseas missionaries.
Moody in Chicago, Nyack in New York, and Biola in Los Angeles were among the very earliest of these this type of institution, beginning just before and around the turn of the 20th century.
The fundamentalist movement produced some colleges too. They came a little bit later. The mainline denominational schools were still in the process of moving toward secularization from the 1920s to the 1960s. After about 1960, if a college was going to move secularly it had probably done so by then.
The surviving Orthodox Christian liberal arts colleges were demoralized. They had lost many of their best institutions, their best-funded, their most affluent institutions. They were licking their chops and they had to sort of regroup. And they were doing that during the last generation of the 20th century.
Liberty comes along as a part of that response to secularization. There are other fundamentalist colleges at that time, many of them taking advantage of popular media— radio and television—some of them taking advantage of the ministry of well-known evangelists and use using those influences to found colleges that developed from personalities, people more known for religion rather than academia. And the fundamentalist colleges have suffered to this day from that. Are they churches? Are they religious institutions? To what extent are they academic institutions? Are they pure in their intellectual, open search for truth?
The Christian liberal arts colleges explain the search for truth as the search for God, and they seek to be very broad, open, and not particularly defensive in that search. The Bible colleges are a little more specialized and have a limited curriculum, some of them a little more narrow in their willingness to look broadly at the search for God and truth in his world.
So the Bible colleges and the fundamentalist colleges—and this varies, depending on the school—have always been a little bit suspect as to whether they are truly acknowledging the spirit of intellectual, open inquiry in the search for God, as opposed to simply having things defined and telling the students what to believe rather than help them to learn how to ferret out truth for themselves, even while starting with the common base that the Christian institutions have always had in the central primary Christian verities.
What type of students ended up coming to Liberty and schools like it in their early days? And how did these fundamentalist colleges go about marketing themselves?
Bill Ringenberg: Well, being a fundamentalist institution, they appeal to that market. I think they appeal to some of the same people that had been going to a place like Bob Jones University or Pensacola Christian College in Florida.
Liberty has grown in size beyond Bob Jones. Bob Jones has suffered an enrollment because of Pensacola Christian College which was founded by Bob Jones graduates, who I think were a little bit suspicious about whether Bob Jones itself was pure enough.
Pensacola Christian College was successful by being able to make their product affordable. Liberty has done it somewhat like its sister college Indiana Weslyan has done, by finding a marketing niche. In the case of Indiana Wesleyan, it was their regional learning centers, where they took the college to the people, something called theological education by extension. It would take the college to the people who don't find it convenient or affordable to drop out of work to attend a residential college.
Falwell's school did that through marketing their online program, which was not unique or even original to them, but they're the ones who developed it to the greatest extent. So for all of the critique that I would have to offer Liberty, I do salute them for finding a way to make that happened.
I wish we had a Christian college that could help to find a way to make a fine product that comes out of a place like Wheaton or Calvin to be more affordable. There isn't a lack of Christian families that would like to send their students to a good Christian college, but there is a lack of those who feel like they can afford the high tuition costs for doing so. And we haven't been very creative in figuring out ways to make more options. At least among the premier or Christian liberal arts colleges, we offer mostly a Cadillac model and we need to figure out a way to have some Ford and Chevrolet models.
Pensacola Christian College, as with Liberty, has some serious deficiencies, but I salute them for figuring out a way to keep the costs down. Now, whether that has been at the expense of academic integrity and academic quality, I will leave others to pass judgment on that. And they're probably questions to be raised, but at least they've provided a model that is doable.
And if the virus isn't going to catch up with us in Christian college education, it's the issue of pricing ourselves out of the market that may catch up with us in the near future. So we may have to go to the drawing board and be a little more creative.
For students of Liberty University, was Jerry Falwell, Sr.'s association with the school seen as a positive? Or was that something that was just kind of incidental?
Bill Ringenberg: Oh, I'm sure it was very positive for those who followed his widespread radio ministry. began his radio ministry. A lot of people saw this as one of the safest colleges. Some probably even saw it is about the only really trustworthy Christian college to go to.
What do you see as the role of sports at Christian liberal arts colleges? What did Falwell Sr.'s focus on being in Division I sports mean for Liberty University's growth and vision?
Bill Ringenberg: I'm sure that emphasis on athletics at Liberty was a development of the interest, some might say fixation, of a Jerry Falwell, Sr. He did have a focus on bigness, and so does Jerry Falwell, Jr. Big is better. And a lot of Christian colleges would look askance at that and say, big in what area?
Bigness isn't necessarily bad, but it's not necessarily good. And bigness, especially as practiced at Liberty and as practiced in a lot of independent Christian churches and colleges, carries a variety of temptations because oftentimes when independent goes with big, there oftentimes is an accountability problem.
Family empires are risky business, whether they're churches or Christian colleges. Inherited positions of leadership, as opposed to selection by merit, are also risky. Personality-based leadership is often risky for not providing accountability. We're mortals, and we Christians are still sinners. We're redeemed sinners, but power is heady stuff. Whether it's power in terms of having big-time sports or power in terms of being the biggest Christian college.
Probably the single biggest problem that Jerry Falwell, Jr. has faced is the lack of accountability. He has this big empire and these thousands of people whose employment is dependent upon him. Who's going to be the prophet Nathan to call out the David when he sins? Not too many are willing or confident to be willing to do that. And yet every leader needs that.
One of the greatest things in my mind about Billy Graham is his humility. Way back before he became so big, but was starting to see the possibility of that, he said he was scared to death. He knew the history of revivalists and he was scared to death that he would do something to dishonor the cause of Christ. So he built in some checks of accountability, a board that would be independent and he would be subject to. That was most wise.
Jerry Falwell has needed that and is suffering because he hasn't had that.
Both Falwells were involved in scandals and were controversy, but for Falwell, Jr., why did you think it took so long for him to be held accountable? Is there something shifting in that neighborhood and evangelicalism overall? What does it indicate that this Instagram picture was a bridge too far?
Bill Ringenberg: Yeah, that's an excellent question and I have a theory on that. The picture in question from the yacht is so such a highly visual and graphic thing that it reminds me of the impact that television played in the civil rights movement, the Vietnam war, and even more recently in the Black Lives Matter issue.
When you can see something gross happening visually, it has a greater impact as opposed to simply reading something in the newspaper that may be a little bit ambiguous. It might be explainable. But that picture, that's right in your face. If you could be denying it before, denial is no longer possible.
And I'm amazed that Falwell would allow that to go online. I'm less shocked by the issue of morality than the issue of it's such a dumb thing to do. But who knows? Maybe his mind is working more and more like that of his mentor and model in some ways, President Trump. Where you think you are invincible or something. One of the things that can come with too much power and not enough accountability, I suppose.
Is it is a Liberty University, and specifically the Jerry Falwell Jr. model, close enough to the broad movement within Christianity? Or how wide the divide between mainstream evangelisms and the CCCU world and Falwell's Liberty University?
Bill Ringenberg: The CCCU schools are surely embarrassed by Falwell. While I have a lot of respect for the media, they haven't done us a favor in terms of lumping together the Libertys and the Wheatons, the Falwells and the Grahams.
But when you come to some of the big picture items, like the movement towards secularization and higher education, then we probably need all the partners we can get, including the still fairly devout Roman Catholic colleges. So where do you draw your line?
I like to have a big tent as much as possible. And I would include Liberty in my tent when push came to shove, yet I would also to have dialogue with them and try to help them get better. The evangelicals have their problems, the secular institutions have their problems. There are a limited number of people in the middle that are doing really well in intellectual openness, intellectual honesty. So we all have problems. I like to wrap my arms around the whole world and embrace them.
I'm one of those who hopes that everybody will be ultimately reconciled to God sooner or later. So my instinct is to wrap my arms around the whole world, including the Falwells. And if you have that posture of the embracing everybody and wanting the best for everybody, then you can be a little freer to kindly, but firmly to tap them on the shoulder when they need that.
Falwell, Jr. has agreed to take an indefinite leave from Liberty University. What are your predictions about what happens from here? What do you think will happen to the reputation of Liberty University?
Bill Ringenberg: There may be a difference between the short run and the long run. And it probably will be a big difference depending on how the trustees handle the situation. Can they afford to bring him back? Can they afford not to? I don't know the mindset of the constituency for the Liberty people to be able to answer that as well as I'd like to.
It's going to hurt and probably hurt quite a bit in the short run. But a lot depends on how the trustees handle that. There should be some significant censuring of the actions. And I think they'll need to be explicit and overt in that respect. They're kind of the key players for the next chapter of this situation, I think.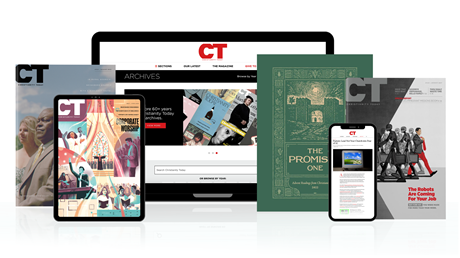 Subscribe to Christianity Today and get access to this article plus 65+ years of archives.
Home delivery of CT magazine
Complete access to articles on ChristianityToday.com
Over 120 years of magazine archives plus full access to all of CT's online archives
Subscribe Now
Why Liberty Finally Reacted to Jerry Falwell Jr.'s Antics
Why Liberty Finally Reacted to Jerry Falwell Jr.'s Antics