Abortion
The Didache, one of the earliest Christian writings, commands, "You shall not murder a child by abortion nor kill that which is born." But when the Supreme Court ruled on Roe v. Wade in 1973, most evangelicals considered abortion a Catholic issue. By the 1980s, largely due to the efforts of Francis Schaeffer, C. Everett Koop, and others, it became the centerpiece of evangelical social action. Christians continue to debate what drives abortions in the U.S. and abroad and how best to end them.
Featured Articles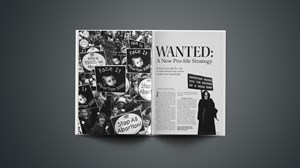 Wanted: A New Pro-life Strategy
Twenty-five years after Roe, and 37 million abortions later, we have to admit we are losing the fight.
loading more