More Characteristics of High-Definition Evangelism
What gospel-centered evangelism looks like in a multiethnic context.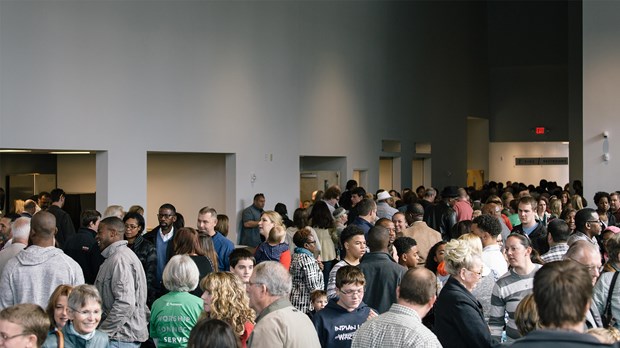 Image: Brandon Robinson
A few weeks ago, I shared three characteristics of high-definition evangelism. Today, I want to continue that conversation with three more ideas to help you be intentional in reaching out to a multiethnic world.
In the earlier article, I shared how gospel-centered vision, worship and discipleship shape high-definition evangelism in our communities. The stakes are high. Only six percent of churches in America are considered growing and with a shift in demographics that is reshaping communities to be more multiethnic that ever, we need to up our game to be worthy of our calling in Christ to be fishers of men.
Let's look at three more characteristics of churches that will impact their communities and increase the kingdom of God on earth.
1) Evangelism must be rooted in gospel-centered serving.
When Transformation Church first came to Indian Land, S.C., we said, "If our community doesn't get better, then we shouldn't be here." One of the most effective ways we have found to impact our community is through serving our public schools. In four years, we have adopted four public schools.
We serve them by having teacher appreciation lunches, mentoring students, grief counseling, funding leadership programs with financial resources and people, and feeding more than 125 families per weekend through our backpack meal ministry. Through serving our schools, we've seen students, administrators, parents, and teachers come to faith in Christ and serve at the church.
What if every Jesus-centered, gospel-of-grace-loving, local church in America adopted public schools? The ramifications would be epic.
2) Evangelism must be rooted in gospel-centered living.
We don't have an evangelism training class at Transformation Church. When the woman at the well in John 4:4–42 encountered Jesus, she immediately ran back to her city and shared her experience with Jesus. We call that a grace story. We want people to simply share their grace stories as the Holy Spirit provides opportunity to do so. We equip people to intercede, invest, and invite.
We teach that before you talk to someone about Jesus you should talk to Jesus about that someone. We teach to simply love people, share your grace story, and add value to the lives of others regardless of the response. Also, we teach them to invite the lost people in their spheres of influence to a weekend service. I firmly believe that the same gospel that justifies the sinner is the same gospel that sanctifies and glorifies the saint.
Lost people need Jesus.
Saved people need Jesus.
We never outgrow the gospel: we grow deeper into the gospel.
We never outgrow the gospel: we grow deeper into the gospel.
Pastors ask me, "Is Transformation Church seeker-sensitive," and I say, "We are Jesus-sensitive." When glorious, beautiful King Jesus is lifted up, "He will draw all men unto Himself" (John 12:32). Jesus finds the lost and builds the believer. We also believe that reaching the lost must go beyond having concert-style worship experiences. Church is more than a weekend event. Church is a community of people living out the Great Commission as missionaries who have been transformed by Jesus.
3) Evangelism must be rooted in gospel-centered reliance on the Holy Spirit.
We have never had enough money to accomplish the vision God has laid before us. Our lack of resources has taught us how to rely on the infinite resources of God the Holy Spirit. Pastor, your financial lack may be the very advantage that takes the church you serve to greater effectiveness. We've found the bigger the risk we take to reach lost people, the more lost people come to faith through the ministry of our church and the more financial resources God provides to get it done.
I hope these characteristics of high-definition evangelism inspire you and your church to reach new levels of influence and impact in your local communities as we reach a hurting world.
Marinate on that.
To learn more about my forthcoming book, The High-Definition Leader: Building Multiethnic Churches in a Multiethnic World, click here!