A New Kind of Leader, Part 2
Are today's pastors more like CEOs than shepherds?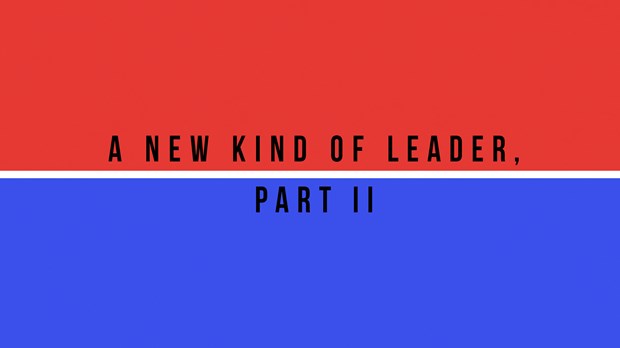 Image: Erick Hodge
Last week I began a series on the Beatitudes and leadership called "A New Kind of Leader." You can read the earlier post here.
After attending and speaking on the church leader conference circuit since 2008, I have begun to wonder if we are trying to create CEOs of businesses who sell a product named Jesus. The employees in this business are the congregation, and the consumer (a lost person) is told that the product named Jesus will give them peace, joy, blessings, and everything else the American Dream promises.
Congregations become a sales force instead of a missionary movement.
Congregations help fulfill the pastor's vision instead of joining Jesus on his mission.
Congregations become shareholders of a business instead of taking hold of the reality that they are the church.
Humble shepherds
When I meet pastors from places like India and countries in Africa, I don't meet CEO-types with swagger. I usually meet humble shepherds with deep scars. One of my friends that I admire deeply is Dr. Célestin Musekura. He is the president and founder of African Leadership and Reconciliation Ministries (ALARM, Inc.). He specializes in communal forgiveness, servant leadership, and justice administration. Through ALARM, he has planted hundreds of churches in Rwanda and Sudan, and he has trained thousands of leaders in justice and reconciliation, including government officials. He once told me he was tortured by rebels in Rwanda for three days. Members of his team regularly face physical, emotional, and mental attacks. Dr. Musekura is the type of shepherd we American pastors need to learn from. There's a huge difference between growing a homogenous megachurch in a fast-growing American suburb and building churches made up of people who hacked each other's relatives to death during the Rwandan genocide. In our American churches, we need to look closely at our brothers and sisters around the world and learn from their leadership styles and servant hearts.
What do people in God's kingdom look like?
In Matthew 5:1–9, Jesus describes what humanity looks like at its best––what "kingdom-of-God" people look like in real life. If God's people are to look like kingdom people, then we need leaders who embody the kingdom of God. I want to be this kind of leader, what I call "the blessed leader."
1. Blessed leaders are clothed in humility. The more we are in awe of Jesus, the less impressed we'll be with ourselves. Blessed leaders make much of Jesus, not themselves, because they realize their spiritual poverty has been met by the unsearchable riches of Christ (Eph. 3:8). Blessed leaders let their congregations know that they need Jesus just as much as the congregation.
Humble leaders point to Jesus and others when success occurs. But, when failure knocks on the door, they open it and take responsibility.
Blessed are the poor in spirit, for theirs is the kingdom of heaven (Matt. 5:3)
2. Blessed leaders are close to the flocks that God has called them to shepherd; they hurt when God's people hurt. Blessed leaders minister grace to God's people beyond the pulpit. A heart that lacks empathy and compassion is not the heart of shepherd. Jesus preached to big crowds, but he discipled 12 men and touched the wounds of hurting people. Pastor, if you are not touching the bleeding wounds of hurting people, you are not shepherding people. Call yourself a speaker, not a shepherd.
Pastor, if you are not touching the bleeding wounds of hurting people, you are not shepherding people.
One of the aspects of Transformation Church that I am so excited about is our pastoral care ministry. For us, pastoral care means that pastor/elders have trained small-group leaders to care for the congregation. It means that we have over 50 people in the congregation trained in soul-care who walk alongside hurting people. Pastoral care also means that I, along with several other pastor/elders, counsel hurting people and that we have partnerships with mental health professionals. People are hurting, and the local church must be a hospital for the hurting so God's people can get well.
We need shepherds who mourn for their hurting congregations.
Blessed are those who mourn, for they shall be comforted (Matt 5:4).
We need a new kind of leader. On Thursday, I will continue these thoughts in another post.
Marinate on that.