A New Kind of Leader, Part 4
Are we hungry and thirsty for the wrong things?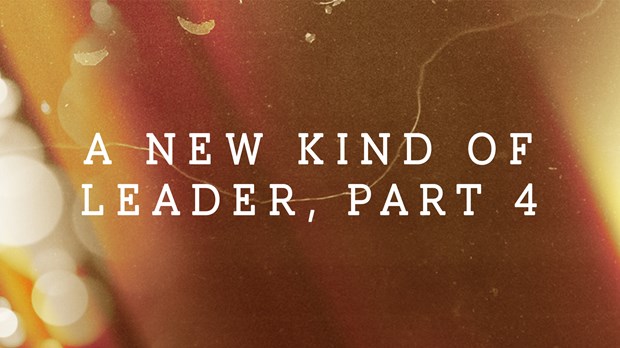 Image: Erick Hodge
This post is part of a series on the Beatitudes and leadership called "A New Kind of Leader." You can read the earlier posts here: Part 1, Part 2, Part 3
In Matthew 5:1–9, Jesus describes what humanity looks like at its best––what "kingdom-of-God" people look like in real life. If God's people are to look like kingdom people, then we need leaders who embody the kingdom of God. I want to be this kind of leader, what I call "the blessed leader." We have looked at several qualities of a blessed leader including: humility, compassion, and a valuing of people over production. Today, we will explore another characteristic.
Are we hungry and thirsty for the wrong things?
In leadership circles within the evangelical pastor world, I hear lots of talk about "building your platform" or "developing your brand." I understand the importance of stewarding your gifting for God's glory. I have written two books, and I have a third­­ book—The High Definition Leader: Building Multiethnic Churches in a Multiethnic World—and a Bible study, Crazy Grace For Crazy Times, being published in the fall. From these experiences, I know that it is important and necessary to spread awareness about something you are not only passionate about, but believe has the power to transform people's lives. But there is a great danger in hungering and thirsting for a platform, as it can lead to idolatry and ruin. Blessed leaders must find ways to have balance.
The blessed leader hungers and thirsts for righteousness, not a platform. In the first-century Jewish world, to hunger and thirst for righteousness meant, first and foremost, to long for God himself. God himself––the Father, Son, and Holy Spirit––satisfies the blessed leader, not the applause of men, Sunday morning attendance records, or 100,000 Twitter followers. In a world that fights for our affections, it is vital for leaders to have their ears attuned to God's voice.
In a world that fights for our affections, it is vital for leaders to have their ears attuned to God's voice.
"For the Lord your God is living among you. He is a mighty savior. He will take delight in you with gladness. With his love, he will calm all your fears. He will rejoice over you with joyful songs" (Zeph. 3:17, NLT).
The sheer amazement of God and his steadfast, unending, soul-satisfying love is enough: "As a deer pants for flowing streams, so pants my soul for you, O God. My soul thirsts for God, for the living God (Ps. 42:1, ESV) and "Your words were found, and I ate them, and your words became to me a joy and the delight of my heart, for I am called by your name, O LORD, God of hosts (Jer. 15:16, ESV).
Be hungry and thirsty to see God's kingdom come to earth
In his commentary on the Sermon on the Mount, New Testament scholar Scot McKnight describes these types of leaders as those who love "God and others, they are willing to check their passions and will in order to do God's will, to further God's justice, and express their longing that God act to establish his will and kingdom."
The church needs a new kind of leader, the blessed leader.
Blessed are those who hunger and thirst for righteousness, for they shall be satisfied (Matt. 5:6).
Marinate on that.