Are We Preaching 'Self-ism' or Christianity?
Do we point people to the larger purposes of salvation?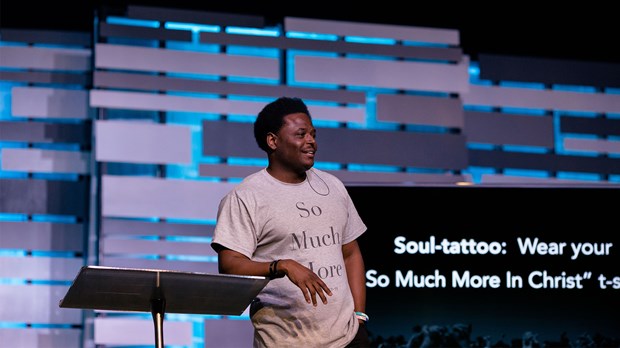 Image: Erick Hodge
In recent months, I have been blessed with opportunities to speak to thousands of church leaders at venues as diverse as a Willow Creek conference in Erfurt, Germany, the Kainos conference in Memphis, Tennessee, and Exponential East in Tampa, Florida, from which I am writing this blog.
I am both amazed and surprised that God has allowed me to be in a position to influence leaders within his "Big C" Church. I do not take this responsibility lightly. But I am concerned about something I see a lot.
As a fellow elder/pastor, I have concerns about the types of disciples our churches are producing. To me, it seems like we have a lot of "self-ism" disguised as Christianity in churches. It's almost as if Jesus exists to help keep our middle class, American Dream lives together. It's as if Jesus revolves around us and our purposes whereas the biblical gospel is clear about us centering our lives on Jesus and his redemptive purposes for humanity (see 1 Peter 2:9–10). So, what does that mean? Let's look more closely at God's redemptive purposes for humanity.
Why does salvation exist?
Salvation is not just so that we can go to heaven and avoid hell. It exists because God wants a multiethnic family, a bride for his son Jesus, and a temple to dwell in.
It exists because God wants a multiethnic family, a bride for his son Jesus, and a temple to dwell in.
1) God wants a multiethnic family.
From the Old Testament to the New Testament, salvation is a story of God's unrelenting love and passion to have a family that displays his character and glory throughout the earth. Galatians 3:7–9, ESV says:
"Know then that it is those of faith who are the sons of Abraham. And the Scripture, foreseeing that God would justify the Gentiles by faith, preached the gospel beforehand to Abraham, saying, 'In you shall all the nations be blessed.' So then, those who are of faith are blessed along with Abraham, the man of faith".
The nations, or ethnic groups, are the family for which God has eternally longed. It's you! It's me! The gospel of Jesus creates a new humanity and a new family (see Ephesians 2:14–16). As we peer into eternity future, we see that God keeps his promise to Abraham, and he does get his family through the redeeming work of Jesus:
"And they sang a new song, saying,

'Worthy are you to take the scroll

and to open its seals,

for you were slain, and by your blood you ransomed people for God from every tribe and language and people and nation,

and you have made them a kingdom and priests to our God, and they shall reign on the earth.'

Then I looked, and I heard around the throne and the living creatures and the elders the voice of many angels, numbering myriads of myriads and thousands of thousands, saying with a loud voice,

'Worthy is the Lamb who was slain,

to receive power and wealth and wisdom and might

and honor and glory and blessing!'" (Rev. 5:9–12, ESV).
2) God wants a multiethnic bride.
God wants a bride for his son. Just as the first Adam had a wife, the last Adam, Jesus, has a bride called the church:
"Husbands, love your wives, as Christ loved the church and gave himself up for her, that he might sanctify her, having cleansed her by the washing of water with the word, so that he might present the church to himself in splendor, without spot or wrinkle or any such thing, that she might be holy and without blemish" (Eph. 5:25–27, ESV).
The church is the bride of Jesus. This is a term of intimacy—"into me you see"—when you gaze into Jesus' eyes of eternal grace, you are transformed into his image (see 2 Corinthians 3:18). Together, we are the bride of Jesus. We follow him, and he leads us by his steadfast love.
3) God wants a temple.
God wants a temple to dwell in. For the Jews, the temple is where heaven and earth meet. In the temple is where sins were forgiven, where praises were sung, and where the Holy of Holies was located. Now, in Christ, Asians, Latinos, white people, black people, and everyone else can become God's multiethnic living temple:
"So then you are no longer strangers and aliens, but you are fellow citizens with the saints and members of the household of God, built on the foundation of the apostles and prophets, Christ Jesus himself being the cornerstone, in whom the whole structure, being joined together, grows into a holy temple in the Lord. In him you also are being built together into a dwelling place for God by the Spirit" (Eph. 2:19–22 ESV).

"Or do you not know that your body is a temple of the Holy Spirit within you, whom you have from God? You are not your own, or you were bought with a price. So glorify God in your body" (1 Cor. 6:19–20, ESV).
As we lead our churches this week, this month, this year, let's ask if we are preaching "self-ism" or Christianity. Are we pointing people to the larger purposes of salvation—building God's family, preparing Christ's bride, and restoring God's temple? Or are we ultimately teaching people that Jesus primarily exists for them and their purposes?
Marinate on that.