New beginnings.
First day of fourth grade--new school, new clothes, and the nervous hope for new friends to fill in for the ones she left behind in Georgia. This morning was my oldest daughter's first day of school. We were both nervous, she was brave, and I was proud. She marched in like a trooper and ready for the adventure. I'm not sure why--but moments before she got out of the car, she asked me the date. Then it hit me...
I committed my life to Christ 30 years ago today (a few years after this photo was taken!).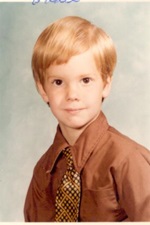 It was at a youth camp in Central Florida. While the band played "Turn Your Eyes upon Jesus," I did. And I threw my life and hopes "upon Jesus" too.
As I was getting my tires fixed after dropping off my daughter, I wrote a few of these thoughts out... they are not proofed well, but they are a few thoughts that came to mind on my spiritual birthday.
A few things surprised me on the journey:
1. I thought I would have been more holy by now--that I would have overcome the flesh, be more consistent in my spiritual walk, and just be a better Christian. But, I have learned that Paul was right in that "the very things I want to do I just don't do" (see Romans 7:15). Keith Green used to sign a song based on Romans 7 that I listened to as a new believer--I would passionately sing the part "Lord it seems so sad, why am I so bad, when in my heart I only want to be like you..." As I grew in understand of the scriptures I have learned that does not change until I am set free from the "body of this death" (Romans 7:24).
2. Although I shouldn't be, I am surprised at how many believers I know are not "more holy by now." A few years after becoming a Christian I began to see that many of my early Christian heroes had clay feet. And, for that matter, so many of the Christian leaders I fellowship with today are insecure, selfish, and driven by agendas other than the cross--like I am at times. I guess it should not surprise me as I read the New Testament. They had their issues, too.
3. I am surprised with how many of my self identified "Christian" friends are, well, not Christians "anymore." There was a song by Sweet Comfort Band that "comforted" me through the realization. They sang, "You led me to believe... you've changed your way of thinking now but I know what is true, and I will keep on holding on to all the things you led me to believe." I know so many former pastors and Christians who claim to be neither today. It breaks my heart. It reminds me of Paul's admonition to finish the race (2 Timothy 4:7).
4. I thought it would be easier to be a Christian. Honestly, that is what they told me--if I gave my life to Christ it would be happier and more fulfilled. Well, I am not sure it always has been. At times, I believe it would have been easier to not be a Christian. I can't say I have been happier as a follower of Christ, though I can say I have often felt that "peace that passes all understanding" (Phi. 4:7).
5. I never imagined I would be in ministry (and particularly in denominational life). I always thought pastors were lazy because they only worked on Sunday (that idea was soon "corrected" when I began pastoring). God has a great sense of humor.
6. I did not think that community would be so important in my Christian life. My early faith was quite solitary, perhaps because of the home situation where I came to Christ. I have learned that being a Christian is not a solo thing and that is made it both harder and richer.
7. I am surprised at how little I understood the gospel when I became a Christian, and how that gospel would become so important later. I wish I had known more about the cross and the saving life of Christ. I think my Christian life would have been much less "try harder" and much more "trust Jesus."
7.a. Although it does not really count as a "surprise" like the others, I am surprised at how many references I made in this to Christian music in this post. My early Christian life was greatly shaped by Keith Green, Steve Camp, Servant, Sweet Comfort Band, Larry Norman, and many others of their kind. I can remember going to "Jesus Festivals" to hear great teaching from some men who have today become my friends. I don't listen to Christian music much today... but it sure shaped me in those early days.
8. Mostly, I miss the simplicity of my early Christian life. In 1977, we just knew we loved Jesus, loved to worship, loved other Christians, and loved the lost.
Later today or early tomorrow I will post my "Monday is for Missiology" post and begin a conversation about the use of the word "missional." Honestly, this post is something of a precursor to the missional one... can we refocus our lives and churches on God, His mission, and his Kingdom? I believe we can... if we will be more like Jesus.
Here are the full lyrics to Keith Green's "I Want to Be More Like Jesus":
As each day passes by,
I feel my love run dry.
I get so weary, worn,
And tossed around in the storm.
Well I'm blind to all his needs,
And Im tired of planting seeds.
I seem to have a wealth,
Of so many thoughts about myself.
I want to, I need to, be more like Jesus.
I want to, I need to, be more like Him.
Our fathers will was done,
By giving us His Son,
Who paid the highest cost,
To point us to the cross.
And when I think of him,
Taking on the whole worlds sin,
I take one look at me,
Compared to what Im called to be.
I want to, I need to, be more like Jesus.
I want to, I need to, be more like Him.
Remember, there's no greater love,
Then to lay down your life for a friend.
The end of all my prayers,
Is to care like my Lord cares.
My one and only goal,
His image in my soul.
Yes my weakness is revealed,
When by his stripes I'm healed.
He's faithful and he's true,
To complete the work he begins in you.
The Exchange is a part of CT's Blog Forum. Support the work of CT. Subscribe and get one year free.
The views of the blogger do not necessarily reflect those of Christianity Today.