In January, I was blessed to preach at the Wesleyan National "Gathering" in Orlando, FL.
I made some new friends there and they invited me to teach at Indiana Wesleyan University in Marion, IN. The school is quite impressive. (They tell me it is the fastest growing Christian university in the country.) They call themselves "warm hearted evangelicals," and I have found them to be that very thing.
We have a good group of passionate leaders from 5 different denominations in class.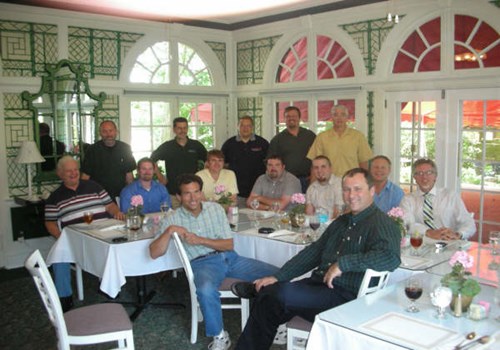 Below is the course description. It is very similar to the course I taught at Reformed Seminary earlier this month and somewhat similar to a course I co-taught at New Orleans Baptist Theological Seminary in May.
Please be sure to note the use of the new boss' book, Simple Church. It is the greatest book ever written. (I am not sure he reads the blog, but better to be safe than sorry.)
And, of course, all biblical references will come from Lifeway's HCSB, my new favorite Bible translation.
:-)
The course lasts one week and ends on Friday.
The biggest change from the other courses was a one day seminar on church revitalization built around Comeback Churches: How 300 Churches Turned Around and How Yours Can Too.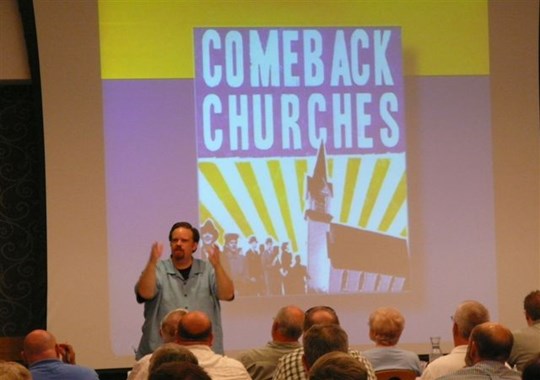 Mike Dodson, my co-author taught yesterday on church revitalization.
Today, we are shifting from the Comeback Churches focus to some more historical and academic analysis of the church and God's mission, tracing the missional church idea through the history of Christian missions.
COURSE SYLLABUS
MIN 597: Advanced Issues in Ministry Practice:
Come Back Churches: Growing a Missional Church
Indiana Wesleyan University
Ed Stetzer
July 30-August 3, 2007
COURSE DESCRIPTION
Transformational ministries in today's rapidly changing culture require churches that are "missional" from a biblical, theological, and cultural perspective. This course will help you better understand the cultural context in which you serve and teach you how to apply biblically faithful and culturally relevant missiological strategies to your ministry. Special attention will be given to North American cultural shifts, the missional/sending nature of the church, effective communication in various cultural contexts, and emerging ministry patterns in North America.
COURSE READING
Each student should read 1500 pages of new reading and write a one-page standard book report on each book or article over 50 pages in length. The book reports are due on the second day of class, July 31, 2007. Please follow attached reading report format.
Required: (If not previously read)
Hirsch, Alan. The Forgotten Ways: Reactivating the Missional Church. Brazon Press, 2007. 304 pp. ISBN 10158743
Hunter, George G., III. Radical Outreach: Recovery of Apostolic Ministry and Evangelism. Nashville: Abingdon Press, 2003. 226 pp. ISBN 068707441
Keller, Tim. "The Missional Church." [article online] available at: http://www.redeemer2.com/resources/papers/missional.pdf
Lewis, Robert. The Church of Irresistible Influence. Grand Rapids: Zondervan, 2003. 224 pp. ISBN 0310250153
McNeal, Reggie. Practicing Greatness: 7 Disciplines of Extraordinary Spiritual Leaders. Jossey Bass, 2006. 192 pp. ISBN 0787977535
Rainer, Thom S., Eric Geiger. Simple Church: Returning to God's Process for Making Disciples. Broadman and Holman, 2006. 272 pp. ISBN 0805443908
Stetzer, Ed and David Putman. Breaking the Missional Code. Broadman and Holman, 2006. 250 pp. ISBN 0805445362
Stetzer, Ed and Mike Dodson. Comeback Churches: How 300 Churches Turned Around and Yours Can Too. Broadman and Holman, 2006. 224 pp. ISBN 0805
Towns, Elmer, Ed Stetzer, and Warren Bird. 11 Innovations in the Local Church: How Today's Leaders Can Learn, Discern and Move into the Future. Regal Books, 2007. 256 pp. ISBN 0830797863
Recommended Reading: (In the event that you have not reached your 1500-page new reading quota, and/or for additional study)
Barna, George. Revolution. Ventura, CA: Tyndale, 2005.
McIntosh, Gary, ed., Evaluating the Church Growth Movement: Five Views. Grand Rapids: Zondervan, 2004.
Rainer, Thom. Breakout Churches: Discover How To Make The Leap. Grand Rapids: Zondervan, 2005.
Towns, Elmer and Ed Stetzer, Perimeters of Light: Biblical Boundaries for the Emerging Church, Moody, 2004. (201 pages)
The Exchange is a part of CT's Blog Forum. Support the work of CT. Subscribe and get one year free.
The views of the blogger do not necessarily reflect those of Christianity Today.