My Lutheran friends rebuked me yesterday.
I promised them a blog post on "The Baptist and the Bishop," based on my conversation with Robert Newton and some good natured ribbing about our different denominations.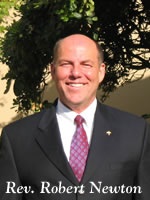 But I am a little behind... this blogging thing is more work than I imagined.
I promise I will write that post on the plane home today.
According to the folks here at the conference, Newton is the LCMS thought leader on the missional church. (I interviewed him as part of my research on the missional church.)
Newton emphasized that the Great Commission is the most important, not one of the important, parts of the missional church focus.
See his course on the missio dei here... good stuff.
More soon... but I love talking mission, missional, and missiology with missiologists...