I just got back from Phoenix. The Assemblies of God Church Planting Summit was a great experience. The Christian Post has the story here.
On the plane back, I wrote a bit about my friends in the Assemblies of God, returning a favor from Earl Creps blog here.

The Assemblies of God has a bold vision, called MX9, that they will have 1000 church plants planned or underway by 2009. This is a great step forward... and a great increase over where they are now.

I have a long term friendship and an appreciation for the Assemblies of God leadership. Earlier this summer, I spoke at the General Assembly of the Assemblies of God in Indianapolis at the request of Steve Pike, who is their church planting movement leader (and an all around great guy, having planted a strong church in Colorado and now investing his life in planters).
This year's convention was a bit more interesting than usual as the General Superintendent and movement statesman, Thomas Trask, suddenly resigned a few months prior. (The suddenness was for all good reasons.) Thus, the position was open and an election had to be held.
They elected George Wood--who has cast a bold and exciting new vision. I have not met yet George, but they are very excited that he is speaking at the church planting summit today.
Here are a few Assemblies of God fun facts just for you:
• Fact #1: Blogs are playing an increasing role in their denomination. One of their best known "reformist" blogs is futureag.blogspot.com. To my knowledge, they do not have any "establishment" blogs. (If there are, let me know and I will add them.)
• Fact #2: One of the more controversial discussions in their movement is the desire by some (particularly the reformists) to downplay what others consider a central Pentecostal distinctive--that the Baptism of the Holy Spirit manifests itself with the "initial physical evidence" of speaking in tongues. You can read that debate here. Should be interesting...
• Fact #3: While on the topic of distinctives, you might find it odd that, while speaking at the Assemblies of God Theological Seminary on the subject of the "Future of Church and Mission," I briefly mentioned the important of doctinal distinctives (and talked about my own denominations distinctives). I did this after a question from a student about why we can't tear down all the denominational walls and just work together. You can listen to those talks here to see how it fit. (The Pentecostal Evangel turned my lectures there into an article in their pastors' journal.)
I explained that I thought it was a mistake for us to pretend that we do not have differing views on certain issues that make it hard for us to cooperate in local church planting. We can cooperate on church systems training, evangelism campaigns, prayer, and so many other things... but that breaks down in local church planting. For example, at the first baptism you have decide if you need a "cup" or a "tub." (Or, in the case of my A.G. friends, when we start talking about the Baptism in the Holy Spirit... which we believe occurs at conversion and they believe occurs later.) But, it does not mean we can't work together.
• Fact #4: When the General Superintendent position is open, they have an election. Now, unlike in some denominations, there is no politicking, endorsements, or metaphorically "smoke filled" rooms. Instead, they just keep voting until the Spirit picks the right leader--and that took 6 (that's right, 6) ballots. Yikes.
• Fact #5: When we did the research on church planting that involved 12 denominations, networks, and movements, the Assemblies was one of the participating denominations. Their church plants stood out for their evangelistic effectiveness. When I asked Steve Pike, their national church planting director, why their church plants were more evangelistically effective. He quipped with a smile, "because we speak in tongues." We laughed. When he made that quip to the Executive Presbyters of his movement, they agreed--and increased his funding. Glad we could help!
• Fact #6: According to new research, Assemblies of God people have better hair.

• Fact #7: Mark Batterson is the author of the recent book, In a Pit with a Lion on a Snowy Day based on an obscure reference in 1 Chronicles 11:22 "Benaiah son of Jehoiada was the son of a brave man from Kabzeel, a man of many exploits. Benaiah killed two sons of Ariel of Moab, and he went down into a pit on a snowy day and killed a lion" (HCSB).
Mark is an Assemblies of God pastor at National Community Church reaching a group of young professionals in the District of Columbia using movie theatres and a very well done "third place" called the Ebenezer Café. (I interviewed Mark for our Leadership Network church planting research--he blogged about it here.) LifeWay is publishing his new resource kit through Threads Media. Be sure to get more information by clicking the graphic: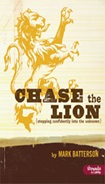 .


Fact #8:
Two of the well known leaders in the Assemblies of God are both named James Davis. And they are identical twins. They must have great appreciation for their parent's creativity.
I found this out when I met James Davis(at left) while speaking to the Georgia District of the Assemblies of God and I asked some things about his ministry--and then he told me that was his brother, James Davis(at right), who is now leading the Second Billion Initiative. I must confess it took some convincing for me to believe that James was not James.)
• Fact #9: I taught at the Assemblies of God Theological Seminary early this year and spent some time with the President, Byron Klaus--who is a Southwestern Baptist Theological Seminary graduate and keeps up with (and says good things about) his friend Paige Patterson, whose seminary has taken a position against some practices associated with Pentecostal Christianity. I think it is important to note that people can still be friends even when they disagree.

Fact #10: One of my favorite Assemblies of God stories involves my friend Alton Garrison. He is the former head of U.S. Missions for the movement (they don't like to be called a denomination). He is currently the Assistant General Superintendent, having been elected to the position this summer. A while back I preached at First Baptist of Branson, Missouri, just down the road from their headquarters. Alton came over that morning to visit the church--and it was his 52nd birthday. So, I had him stand, introduced him to the church and said, "It is Alton's 52nd birthday and he could not think of a better place to spend it at First Baptist." Alton told all his staff the next day and did not lose his job!
• Fact #11: The Assemblies of God people told me that Earl Creps is the Ed Stetzer of their movement. I don't know that what means, but now I know you should pray for Earl more. Grin. (By the way, Earl partly blames me for his leaving the seminary to plant a church in Berkeley--but I think it was the Holy Spirit.)
I always appreciate the Assemblies of God as they are a lot like my own denomination, just with some "extra" stuff. They have a similar sociological background, a high view of scripture, a passion for evangelism and church planting, a vision for the future. They also have distintives that matter to them, just as I do. And, finally, they have just about the same rules of my denomination - but they do seem a lot happier about them!
And, one confession: I do appreciate and relish the fact that I am blogging extensively on church planting and the Assemblies of God after several days of Calvinism blogs. It is good for all involved to see how God is at work in different parts of His Church.
So, all you Calvinists don't get too freaked out reading about REAL Arminians. I will be posting more about the Calvinism research Monday-- including Nathan Finn's written presentation.
The Exchange is a part of CT's Blog Forum. Support the work of CT. Subscribe and get one year free.
The views of the blogger do not necessarily reflect those of Christianity Today.