Sep 28, 2007
Friday is for Friends - Mark Driscoll
Mark Driscoll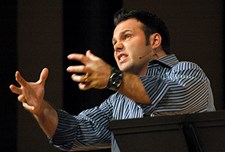 I always enjoy teaching with Mark Driscoll. This week was no exception. We did two Q&A panels, one at the Acts 29 bootcamp and one at the Convergent Conference.
It is always interesting to read how people report these things... and one blog called us "Bert and Ernie."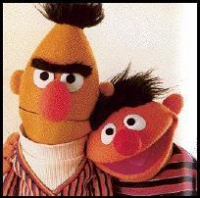 I'd prefer a different comparison, but I am glad to call him friend.
Mark did his usual good job and, as expected, stirred up some controversy. This time, he called out three emerging church leaders for theological problems and the blogs are aflutter with discussions, debate, and winks.
Danny Akin

I was honored to spend some time at Convergent with Danny Akin at SEBTS. Danny has continued to display courage and integrity-- a nice combination we could all use.
I was most impressed with his sons: when a man's sons love their dad, mom, and Jesus, they are doing something right-- and two of his sons and their wives are about to serve as missionaries with the International Mission Board.
Danny is talking about a "Great Commission Resurgence" and I'm in.
Church Planting with NAMB, Richard Harris, and Eric Ramsey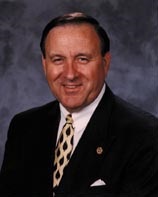 Richard Harris, from the North American Mission Board, has a nice quote in the most recent Christianity Today story on church planting. Eric Ramsey does as well, but I could not find a dapper picutre of him like I could for Richard. CT lists Richard in his old job and Eric with his old employer (as they recently did with me), so we need to see those CT stories up sooner!
It is good to see church planting receive such prominence. When I planted my first church in inner-city Buffalo back in 1988, people wondered if I could not find a real job. Now, some are concerned that church planting not overshadow established churches. How things have changed.
Steve Murrell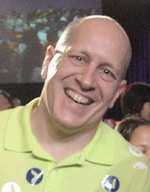 I met Monday with Steve and other leaders from Every Nation to consult with their network leadership.
Steve talks about our meeting here. Steve has a fascinating story. He went to the Philippines as a short term missionary and now pastors a megachurch in Manila. He lives half the year there and the other half in the states. He is a gifted and humble guy whose blog is worth the read.
David Landrith

David and I went to lunch this week--and I found I he is a great guy. David pastors the 4000 weekly attendance Long Hollow Baptist Church, but he comes across as a regular guy who loves Jesus and wants to reach the lost. We visited the church a few weeks ago, which led to this post.
David has a powerful vision and is a great communicator... combined with a gracious and humble spirit. I really like him... if I could just get past all the Tennessee football references! Grin.
David even blogs.
David does a lot of great things, but one surprised me. You don't hear too many contemporary church pastors addressing controversial (but important) issues. And, David does.
His recent messages include why baptism is required for church membership, alcohol, and on the need to be in community. Good stuff.
NAMB's Missional Network

This afternoon, I returned from the Missional Network meeting in Tampa, FL. I do like that NAMB is trying to engage leaders from all kinds of scripturally sound churches. We need all hands on deck for the Great Commission!
Mike Cogland is working hard and this was the first of several events. There are a few more coming up this fall: one in Baltimore (October 23, 24) and one in Philadelphia (December 14).
Mickey Noel and Biblical Seminary

Mickey Noel asked, and I agreed, to lead a D.Min. seminar for Biblical Seminary in Hatfield, PA in February 2009. Mickey is a great guy-- having formerly served as director of church planting for the Christian Missionary Alliance and now leading the Biblical Semiary D.Min. program.
Biblical has been working hard to engage in the missional conversation. I recently led their faculty retreat and found a group of men and women wrestling through what it means to be "missional."
We had a passionate discussion, talking though some of the theological commonalities and differences in our missional approach, and agreeing on the need for a robust theology leading to missional engagement.
I am honored that they would ask me to come and lead a class. I will be teaching Feb. 9-13, 2009 and the class will be "Entering the Missional Conversation."
Support our work. Subscribe to CT and get one year free.