Click here for the news release.
Here is my commentary:
The End of the Beginning?
This chart has brought solace to many Southern Baptists for a long time: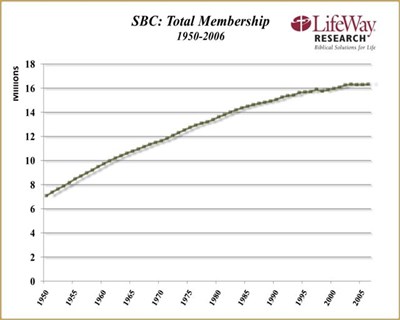 (for a full size version click here.)
It shouldn't, really.
The growth of the 50s has progressively slowed. Membership is clearly moving to a plateau. Many have predicted that membership (an inflated statistic anyway) would soon began to decline, but the statement, "Southern Baptists are a declining denomination" was not "officially" accurate.
Until today.
Some might want to point to the good news (attendance up slightly, more churches, etc.). However, you cannot miss the fact that a dubious historical milestone has been reached--and it needs to be noted in denominational and church offices across the country.
Some might say it's "only one year," and they would be technically right. But, briefly dwell on the top of that graph. Reality is we have peaked.
Baptisms are at their lowest levels since 1970 with seven of the last eight years showing annual declines. Even though some might hope the decline in membership numbers is due to lack of reporting, the inescapable conclusion is that baptisms by individual churches is falling off. (LifeWay Research will provide more analysis in the next month.)
For now, Southern Baptists are a denomination in decline. Some of you were born into an SBC church; others of us chose it of our own accord. Either way, it is dear to us all. Our responsibility before God is, then, to urgently consider how we should respond. Yes, most of our response should be personal and lived out in our local churches--this is a local church issue. But if we are choosing to partner in this network of churches, and the network is faltering, it will also take some joint action. As such, I offer a few suggestions.
We've heard unfamiliar rumblings the last few years. Concerned voices have warned of a day which has now arrived.
Three issues rise to the top. First, we have to deal with the continued loss of SBC leaders. As we have recently reported in Facts & Trends, we have witnessed a serious (and increasing) depopulation of young leaders at our convention. Also, ethnic leadership remains absent after decades of ethnic change in America. Vacant seats still exist at the SBC table for the ethnic and generational diversity that matches the America we are attempting to reach. The departure by the future leaders of our convention has led to fewer church plants, missionaries, and energetic pastors to lead our faltering churches. We must retain these leaders not because we need them for our churches. We need them to reach the lost whom our churches have yet to touched.
A second issue is the infighting which defines so much of the SBC--its meetings, its churches, and its blogs. It is public knowledge that we do not always settle our differences amicably. The national caricature once again colors many local scenes where First, Second, and even Third Baptist Churches exist in one town because of past infighting. Satan has used our incessant bickering over non-essentials to promote his last great mission on earth--to keep lost people lost.
The communities in which we live simply do not want to hear what we have to say when we can speak kindly to one another. If the focus of every SBC meeting is a new controversy to be debated, new parameters to be narrowed, and new issues to be fought, the trend toward decline will only accelerate.
The third, and most important, issue is our loss of focus on the Gospel. I find it difficult to even say such a thing, but, I believe it to be true. We must recover a gospel centrality and cooperate in proclaiming that gospel locally and globally. David Dockery and Timothy George pointed the way with their helpful booklet, Building Bridges, in last year's SBC messenger's packet. They called for a unity around the Gospel, and the time grows increasingly urgent.
The Conservative Resurgence failed to produce a Great Commission Resurgence. It restored our denomination's value of Scripture but application is often absent, at least in the area of evangelism.
If we commit ourselves once again to the Gospel which guided the Apostles and the early church, then perhaps we can reply to Christ's call made to the church of Sardis in Revelation 3.
I know your works. You have the reputation of being alive, but you are dead. Wake up, and strengthen what remains and is about to die, for I have not found your works complete in the sight of my God. Remember, then, what you received and heard. Keep it, and repent. If you will not wake up, I will come like a thief, and you will not know at what hour I will come against you.
We have much to complete and it is not found in the mere retention of a denomination.
First, we must remember what we have heard; the Gospel is sufficient. That Gospel was worth fighting for and now it is worth living for.
Second, we must repent of what we have been. We have built factions on differences which are but a sliver of life: young vs. old; doctrinal distinctions built on a hair's difference; worship models. And, all the while, the pride of each faction has swelled. We must decide to lay down our arms against fellow Baptists who share the same doctrinal confession and worship, reach the lost, or do their ministry in a different manner.
Thirdly, we must wake up to what we are to do. God has chosen the church (not the denomination) to make known His manifold wisdom (Eph. 3:10). Our denomination is only as strong as our churches and these statistics remind us our churches are in trouble.
My prayer is that, unlike the church at Sardis, we are far from dead. However, it is obvious to us now that we are slumbering in the light. It is time for us to once again rise to a new day. The temptation will be that the news of the day will result in a new denominational obsession to fix the problem with a new plan. It won't work. Instead we must refocus on the Divine Obsession (Luke 15), the obsession with lost people.
Cal Guy explained:
We apply the pragmatic test to the work of the theologian. Does his theology motivate men to go into all the world and make disciples? Does it so undergird them that they, thus motivated, succeed in this primary purpose? Theology must stand the test of being known by its fruit. (Calvin Guy, "Theological Foundations," in Donald A. McGavran ed., Church Growth and Christian Mission, William Carey Library, 1976 reprint, page 44)
The promise of the Conservative Resurgence was to reestablish our unwavering belief in the inerrancy of scripture. Once we had our theology in order we were supposed to reach the world--but that theological change has not birthed a missional fruit. Now is the moment for us to hone our vision and take on a bigger battle--we must battle to build upon our Conservative Resurgence and make it a Great Commission Resurgence.
If we don't, why did we bother with the Conservative Resurgence in the first place?
The Exchange is a part of CT's Blog Forum. Support the work of CT. Subscribe and get one year free.
The views of the blogger do not necessarily reflect those of Christianity Today.