At each of my sessions at the Exponential Conference, I promised to share my PowerPoint and other resources with the attendees. Then, things got a bit backed up as we released some evangelism research, some SBC denominational commentary, and then an interview with Tim Keller.
Well, here are the promised PowerPoints and research. If anything is missing, please let me know below and I will respond as soon as I can. Tomorrow I will be in Springfield, MO with the North American mission and discipleship departments of the Assemblies of God and I will be unavailable.
First, the research I presented at the opening session on reproducing churches is here.
I led a pre-conference session on Monday and Tuesday. Click on the presentation title for each of these presentations:
I hope to post soon:
Mark Reynolds, Church Planting Internships, Redeemer Church's Fellows Program
Here are the other presentations I did in two other tracks:
Roadmap in the Pre-Launch Track

Transitions to Missional in the Missional Track

Movemental Christianity in the Missional Track
I suggested those wanting to raise funds check out NAMB's Support Development School and other resources. You can find them here.
I mentioned (in many different sessions) the following research projects which you can download here:
The "State of Church Planting" reports are listed below for your convenience. You can download them from the Leadership Network website at the links below.
The Christian Post reported on the research.
If you haven't seen them already, check out:
You can also access all the Leadership Network downloads at www.leadnet.org/churchplanting.
The NAMB research I mentioned was done at the Center for Missional Research.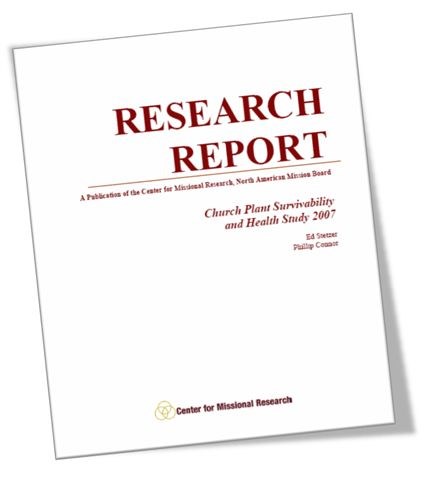 You should visit their site-- you can download over 2000 research presentations on a myriad of topics. The CMR web portal is one of the things I was most excited about when I worked at NAMB. (PeopleGroups.info was another).
Here is a rundown of what church planting research you can download.
First, is the full report of the Church Planting Survivability and Health study, a study involving 11 denominations and networks. You can download a presentation of that study here.
Second, are four articles that came from that study.
Third, is a research that looked at denominational "best practices" that led to higher church planting survivability and health. To do this, we did more in-depth analysis of several denominations to look for best practices. When we found a practices that was "statistically significant," we reported it and then I asked representatives to present what they did at last year's National New Church Conference in Orlando.
So, you can find the full report here and a PowerPoint of that data here.
Finally, you can find my presentation of the best practices research that I recently gave at the NAMB State Summer Leadership Conference. It is a big download, but you can get it here.
In that presentation, I combined the presentations of 4 denominational leaders who shared their best practices in the areas we found statistically significant. Each network or denominational leader presented their overall church planting system, then presented their specific best practice as determined by our research. Each of them gave their permission to share their presentation. The presenters were:
Steve Childers presented the Presbterian Church in America assessment system.
Rod Koop presented the Foursquare peer support / mentoring system.
George Klippenes presented the Evangelical Free team approach and funding system.
Steve Pike presented the Assemblies of God community minsitry approach.
Tom Nebel and Gary Rohrmayer presented the Baptist General Conference training for local church giving.
At LifeWay Research, we are oversampling several additional groups to build on this study. We are also beginning a church planter assessment research project. Contact Lifeway Research if you are interested.
Thanks for coming to the Exponential Conference!
The Exchange is a part of CT's Blog Forum. Support the work of CT. Subscribe and get one year free.
The views of the blogger do not necessarily reflect those of Christianity Today.