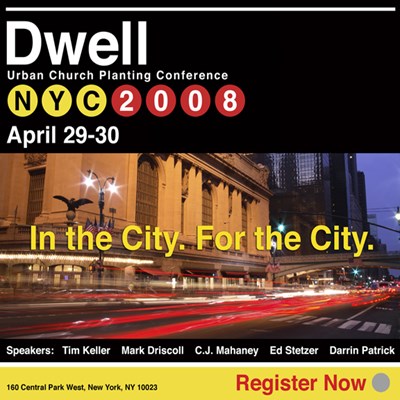 Monday:
Had a great day with a group of pastors from the Fellowship of Evangelical Baptist Churches of Canada. Tonight was dinner on the lower East Side with a group of folks, but closest to me was my wife, Donna, Tim and Cathy Keller, Tullian Tchividjian, Matt Chandler, Ed Marcelle. I will have much more to blog later, but I still have not blogged about last week, so check back soon!
--------------------------------------------
Updated Tuesday afternoon:'
Had a great morning listening to C.J. Mahaney talk about "Watching Your Life and Doctrine. I have listened to C.J. for decades. A a teenager, I remember hearing him speak at "Jesus" Festivals," a mix of Christian rock and teaching. He had a great impact on my life 25 years ago and it is good to see him still at it now.
I spoke on "Dwelling in the Kingdom Mission" and gave away our new book, Compelled by Love: The Most Excellent Way to Missional Living (more book info here). I think they are planning to post the audio and I will link it here when they do.
A couple of people asked me to link to the the book I mentioned in my presentation. It was The Kingdom of Christ: The New Evangelical Perspective, by Russell Moore. I believe it is a significant book describing the emerging evangelical consensus on the Kingdom of God.
Eric Mason talked last, but certainly not least. He spoke on "Dwelling Incarnationally" with passion and a life that back it up.
The afternoon is a NYC experience with a series of options. (I chose the option of hanging out with Donna.) Tonight, we hear Mark Driscoll.
Tomorrow, it is Tim Keller.
Updated Tuesday night:
Driscoll gave an inside look into how he prepares to preach. In his "Dwelling in the Text" presentation, Mark outlined the 6 questions he employs for each text he studies. The last is my personal favorite: "How is Jesus the hero?"
After giving a list of ways we can see Jesus in the Old Testament, he gave this as a summary statement something like:
If Jesus is not the reason you go to the scriptures, then he will oppose you in everything you do.
Updated Wednesday morning:
Darrin Patrick led the first session at Dwell this morning and spoke on "Dwelling with non-Christians." With evangelism taking so many forms, he gave a great reminder that personal encounters will not always "just happen." We must be intentional in creating natural relationships with unbelievers by finding common interests. So help people see that the situation of your life may be similar to theirs but our answer in the gospel... and is much different than what they have known.
Updated Wednesday afternoon:
Tim Keller brings it...
In his first of two sessions today, he addressed "Dwelling in the Gospel." Keller proposes that there is only one gospel but it is preached in different forms. His shorthand for the gospel is: manger-cross-crown.
I appreciate that he brings balance to the components of incarnation, substitution, and eschatological in his definition of the gospel. Additionally, he aptly points out that we have a tendency to camp out on only one of the three. Keller's encouragement to us is to deliver the full message to each person eventually - but remember that it will likely take more than one conversation or sermon.
Driscoll's second session:
Driscoll's second session today was an overview of Nehemiah's ministry. He moved through the entire book with the perspective of him planting a church in an urban center. Some of his key insights revolved around being sure of your calling, God's timing of the work, and the need for the planter to defend God's people without hesitation. Nehemiah wisely pointed the people to the scriptures and then held them accountable in chapter 13 to the covenant they made in chapter 10.
Keller's second session:
In the final session of Dwell, Tim Keller discussed the issue of "Persuasion" in the urban context. Our temptation is often to immediately poke holes in others' belief framework. Keller suggests a four-step approach.
1. Listening
2. Entering the framework
3. Challenging the framework
4. Changing the framework
One of his great points in this process is to look for the overlap in the lost's beliefs with biblical truth due to the common grace of God. Then, challenge the conflicting places throughout the rest of their framework. For the communicator (preacher or personal witness), anticipate the objections and be prepared to give a reason for our hope. The ultimate goal is to de-stabilize their framework of beliefs and re-establish equilibrium through the gospel.
And that wraps the conference... heading home.
The Exchange is a part of CT's Blog Forum. Support the work of CT. Subscribe and get one year free.
The views of the blogger do not necessarily reflect those of Christianity Today.