One of the big questions is this: is the 2007 SBC membership decline a "blip" or a trend. The news story does not say. However, in my commentary, I imply it is.
Here is why.
As the graph below illustrates, the SBC has had a growing membership count for decades, but only marginal growth since 2000. From 2000 through 2006, the growth has been close to a plateau, registering .68, .58, .53, .42, .39, .02 and .22 percent respectively. You can graph those years pretty easily and see the trend. Not surprisingly, this year we declined.
Some have said this is the first membership decline ever. That is not true. There was one in 1998 and there have been others decades before. However, I believe this time is different. I believe that, unless we have a significant intervention, we have peaked, at least in regards to membership.
As this graph from my earlier post demonstrates, we saw a decline of 1.02% in 1998, much larger than the 0.24% decline in 2007. (Look closely at the graph below.) As argument goes, if we recovered then, we can do so now as well.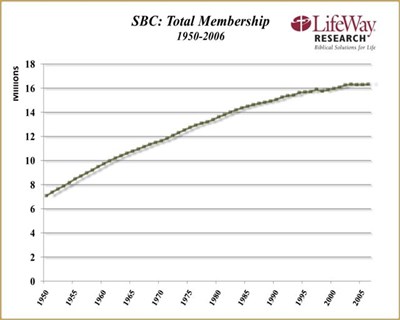 (for a full size version click here.)
Probably not (and I use that word "probably" very intentionally).
Thom Rainer explained:
Although we pray God will bring revival and change, the trajectory is not positive. If current trends don't change, it seems we are about to enter a period of declining membership.
Why does Thom Rainer say such a thing?
Well, he has seen this: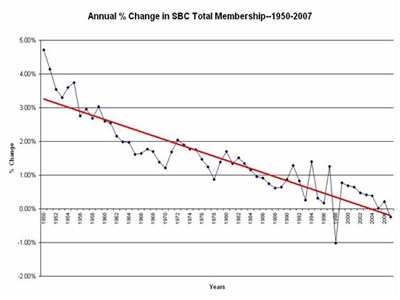 Click here for a full sized version.
Cliff Tharp prepared it for us on Thursday. As the graph in percent change above demonstrates, our year-to-year growth has been in a constant trended decline, not for one year, but for decades--this is not a one year blip, this is a 50 year trend.
The trend line shows the percent growth each year, and it actually reached a virtual "0" a couple years ago. In other words, reality is catching up with the trend. Commenting on this trend in 2005, Cliff Tharp, LifeWay's well known statistician, wrote two prophetic papers, warning of imminent decline.
You can download the papers on membership and baptisms.
In the membership paper, he made the following observations:
1) Trends in Membership (both Total and Resident) are becoming very flat,

2) Total Membership is dangerously close to beginning to decrease,

3) The gap between Total Membership and Resident Membership is widening.
When combining this trend with the baptism declines of 7 of the 8 last years and many other trends, the situation is not good.
My friend Chuck Lawless, Dean of the Billy Graham School of Missions, Evangelism, and Church Growth at Southern Seminary explained:
The data show that churches in the Southern Baptist Convention are in maintenance mode at best and headed toward decline. Too much is at stake for us to sit by and fade into irrelevance in North America. We desperately need God to move us, change us, and redirect us to Great Commission obedience.
Put simply, membership may go up next year, but the trend points to the negative. It probably won't go up. But, even if it does, I believe we will have more declining than growing years over the next decade. Unless the trend changes, membership has peaked.
Some have asked me about the 1998 drop in membership. It is that drop that kept me from saying, the "first ever" drop, in my commentary. However, there is some question about the 1998 data.
LifeWay's Cliff Tharp explained:
In 1998 the SBC statistics reflected a 1.02 percent decrease in Total Membership (-162,158) and a very minor drop in the total number of churches (-17). At least two factors may have impacted this. First, it seems that there may have been corrective activity in the area of assuring the accuracy of reporting the status of churches (disbanded, merged, no longer SBC, etc). Software had begun to be used widespread a couple of years earlier and errors may have occurred in this area of reporting. The fact that the number of churches increased in 1999 and subsequent years would tend to support this interpretation. Second, for the collection of 1998 statistics, seven state conventions began to use their own forms and processes. The impact of this upon statistics is not known. It is obvious that for several years after this occurrence, the numbers for these two items recovered and increased. The developments of 1998 should be seen, and interpreted, in the broader context of the growth/decline of Southern Baptist numbers.
So, some would argue (and with some merit), that there was not really a decline in 1998. After all, the line just "ticks" down and continues in the same path back up. There is a good chance this is just a change in reporting methodology (Cliff showed me his thick file from that year).
For a number of reasons, 1998 seems to have been an unusual year, but really does it matter? The reported numbers that year went down, but a year is not a trend, in 1998 or 2007. We must instead focus on the various components of decline - lowering baptisms and lowering year-to-year growth that this most recent drop in church membership represents. We are in a multi-decade trend that points to a future with more declining years ahead.
Phillip Connor, former Research Manager at NAMB and now a Fellow with the Center for the Study of Religion at Princeton University, explained:
However, if truth be known, the Southern Baptist Convention should be less concerned by one negative year in membership growth. Measurement dips like this one happen all the time. In fact, the SBC membership trend passed into negative territory a few years ago. What is more concerning is the gradual decline in year-to-year percentage growth.
Indeed.
I have shared my opinion on the needed solutions (and, it seems, a few of you have agreed). Others will share theirs... and that is good. But, the fact is that we don't need to say this is not real. It's deadly real and has eternal significance. If trends continue, we are entering a period of decline and we need to repent and ask God for His power to change.
The good news is this... God is still faithful.
-----------------------------
Note: Feel free to comment in the threads, but know that I will be unavailable to respond as I am in Manhattan for several days. Thanks.
The Exchange is a part of CT's Blog Forum. Support the work of CT. Subscribe and get one year free.
The views of the blogger do not necessarily reflect those of Christianity Today.