J. Lee Grady, editor of Charisma magazine, is often a voice of reasoned critique when his movement needs some correction. (You have seen me cite him before, click here.). This is true of him once again, and this recent article is a must read. But before I share a bit from Grady's article, let me give you a little background just in case you haven't heard of the Lakeland revival and the surrounding controversy.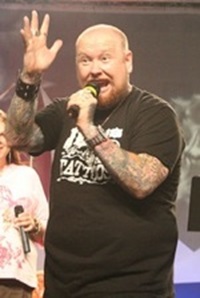 On April 3, 2008 Canadian evangelist Todd Bentley was invited to speak to the Ignited Church of Lakeland, FL. Though he was only scheduled to be there for 5 days, he remained for 3 months during what he considered to be the biggest pentecostal revival since the Azusa Street revival. To put it mildly, the "Lakeland revival" has been controversial. Claims of people being raised from the dead? Violent healing? Now it appears Bentley is stepping down after filing for separation from his wife and admitting to an inappropriate relationship with another woman. Grady asks some hard questions in his article.
Why did so many people flock to Lakeland from around the world to rally behind an evangelist who had serious credibility issues from the beginning?

To put it bluntly, we're just plain gullible...

A prominent Pentecostal evangelist called me this week after Bentley's news hit the fan. He said to me: "I'm now convinced that a large segment of the charismatic church will follow the anti-Christ when he shows up because they have no discernment."

Why did a group of respected ministers lay hands on Bentley on June 23 and publicly ordain him? Did they know of his personal problems?

...No one in ministry today should be out on their own, living in isolation without checks, balances and wise counsel. It was commendable that [C. Peter] Wagner reached out to Bentley and that Bentley acknowledged his need for spiritual fathers by agreeing to submit to the process. The question remains, however, whether it was wise to commend Bentley during a televised commissioning service that at times seemed more like a king's coronation.

In hindsight, we can all see that it would have been better to take Bentley into a back room and talk about his personal issues.

...I trust that Wagner, Ahn, Johnson and Arnott didn't know of Bentley's problems before they ordained him. ... But I believe that they, along with Bentley and the owners of God TV, owe the body of Christ a forthright, public apology for thrusting Bentley's ministry into the spotlight prematurely. (Perhaps such an apology should be aired on God TV.)
Grady cites C. Peter Wagner. If you have been reading the blog, you will remember two recent posts on apostles, here and here that mention Wagner. In both cases, I shared a bit about Wagner so the timing of my post and the timing of this incident prompted this blog entry.
Well, Wagner recently brought what they call "apostolic covering" to Bentley. During a publicized gathering on June 23rd Wagner explained what this covering ceremony was all about (youtube). He said, "This is a ceremony celebrating the formal apostolic alignment of Todd Bentley." He explains that alignment is a kind of adjustment, or putting things in order. Bentley was asked if he recognized the apostolic authority of the apostles who were present, and when he did Wagner says that this will be a formal "commissioning" equivalent to offering the the right hand of fellowship as the apostles did to Paul in Jerusalem.
Wagner continued by proclaiming,
This commissioning represents a powerful spiritual transaction taking place in the invisible world. With this in mind, I take the apostolic authority that God has given me and I decree to Todd Bentley:

Your power will increase.
Your authority will increase.
Your favor will increase.
Your influence will increase.
Your revelation will increase.

I also decree that:

A new supernatural strength will flow through this ministry.
A new life force will penetrate this move of God.
A government will be established to set things in their proper order.
God will pour out a higher level of discernment to distinguish truth from error.
New relationships will surface to open gates for the future.
In his article, Grady also points out that Bentley's theology should have been seriously investigated when Bentley connected with the "healing angel" of William Branham. (See the picture below for the "healing angel.") Yet, Bentley was never called on this bizarre connection.
While teaching at Southern, I served a church in the same town where Branham founded a church. Branham was once a well known (perhaps the best known) Pentecostal healing evangelist... at least until he went astray.
A little history may be helpful: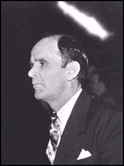 Branham rejected the doctrine of the Trinity and in fact claimed the doctrine was of the devil. Consequently he believed that anyone baptized into the name of the Father, the Son and the Holy Spirit needed to be re-baptized. He predicted that 1977 would usher in the new millennium, and he believed denominationalism is the mark of the beast. Branham also believed the sin in the Garden of Eden that brought about the curse of God was not the eating of literal fruit, but the sexual union between Eve and the chimpanzee-serpent-beast. I kid you not.
Yet, the movement and the meetings with Todd Benley went on... until last week when reality caught up.
Now let me say, I work very hard to be charitable to Christians of different stripes-- much to the chagrin of those in my denomination who think we are the one true New Testament faith. And, this is not intended to be a post against one group (note, again, the title and you can visit my earlier posts on Pentecostal movements here and here.) Finally, I tend to think that movements should work out their theological discussions and I stay out of them-- rarely writing a post like this.
Yet, when I see things like this, it is just hard not to ask: does anyone still have a Bible and some common sense?
Let me add: I do not think this is a Pentecostal issue. That is why the title is, "Evangelical Gullibility."
In other words, all kinds of Christians are forwarding emails about the FCC's phony plan to ban religious braoadcasting, signing up to have emails sent to the loved ones after the rapture, and watching Christian television for its theological depth. For that matter, I have just as many odd people come up to me with "something they discovered in the Bible that no one has ever noticed" after I speak at a Baptist, Wesleyan, of non-denominational meeting as I do when I speak at a Pentecostal one. Furthermore, many Pentecostals and Charismatics HAVE expressed concern about this movement-- including some when I visit the Assemblies of God office a couple of weeks ago.
I just have to wonder with Grady if Christians really are just gullible.
True revival is generally a messy affair. On the one hand abuses often accompany genuine works of God, and on the other hand much of what is called revival is nothing more than fanaticism. Courage is required to ask tough questions and do so with with grace and kindness, patience is necessary to wait and see if what is called revival bears lasting fruit, and theological discernment is critical for the church when it comes to awakenings and revival.
The Exchange is a part of CT's Blog Forum. Support the work of CT. Subscribe and get one year free.
The views of the blogger do not necessarily reflect those of Christianity Today.