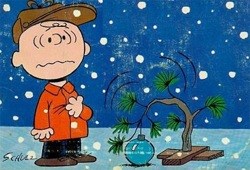 George Barna just released some interesting research on the effect the Christmas season has on individual behavior and experience. More specifically, "five seasonal behaviors were evaluated... regarding the impact of the end-of-year holidays, producing some surprising results."
Listening to Carols
Even though most people complain that retails stores start playing the music too soon, listening to Christmas carols in the home is the most popular change in behavior among those surveyed.
Of the five behaviors explored in the survey, the only one which a majority of people acknowledged as a change they make during the holidays was listening to Christmas carols in their home. Six out of ten adults (59%) said they will definitely do so this holiday season.
Christmas and Church Life
I'm betting most of my readers are familiar with the CEOs in church life. No, I'm not talking about Executive Pastors, I'm talking about the "Christmas and Easter Only" attenders. The Barna study actually showed that while attendance will spike this holiday season, the majority of that growth will come from the more regular attenders coming together more often, or for special services.
The Barna study discovered that there will be an upturn in attendance again this season - but more from the more consistent attendance of regulars than absentees. In total, one out of every five adults (20%) said they will attend more religious services at a church, synagogue or other place of worship during the holiday season than they normally would. However, the promised increase in attendance will be more common among regular attenders (27% of whom said they will definitely attend more often than usual during than holidays) than among people who normally do not attend (4%). Among those who normally avoid church, an additional one-eighth (13%) said they might attend a church service or event during the season. Past Barna studies have shown that less than one-half of those individuals who are open to attending more often but uncertain about the likelihood will actually follow through on such a possibility.
This is important, and Barna spends time on this point at the end of the article saying that while many churches hope to leverage the holidays as an opportunity to connect outsiders with the church/gospel, outsider are not flocking to join the church on these special occasions.
Drinking and Depression
The holiday season has become a time known both for partying and depression. Barna's research revealed that "seven percent of the public [planned on drinking] more alcoholic beverages during the holidays, led by the under-25 crowd (12%), atheists and agnostics (11%) and liberals (11%).
And four percent of those surveyed said that they would wrestle with loneliness and/or depression during the holidays. "The group that stood out as the most likely to suffer through the holidays was downscale adults, 11% of whom said they would definitely confront depression or loneliness." Of course Christians are not immune to real and significant bouts of depression, but I was encouraged to see that "The people least likely to confront these emotions and experiences were evangelicals..." Nice. "...and atheists." Wait, what? This was interesting. Evangelicals and atheists will give up less than one-half of one percent of their respective groups to depression this season. "Otherwise, the expectation of being lonely or depressed was consistent across demographic segments."
It's worth your time, and there's more. Check it out here.
Speaking of Christmas carols and the hope of Christmas against the frailty of a broken world, check out this video from the Casting Crowns.
The Exchange is a part of CT's Blog Forum. Support the work of CT. Subscribe and get one year free.
The views of the blogger do not necessarily reflect those of Christianity Today.