Matt Fry and J.D. Greear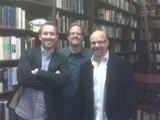 I had a great time this weekend in Raleigh Durham with Matt and J.D. Saturday night I had the opportunity to speak at C3 Church where Matt serves as pastor. On Sunday morning, I spoke over at the Summit Church where J.D. is pastor. I was very impressed with both men and their churches. We had a brief time in J.D.'s study and got a pic.
Preaching was great. Their churches are amazing. And, I will write about both churches tomorrow. However, I had some special fun with J.D. and his daugher Karis in a gokart race at Frankie's Fun Park (for the record, it was a tie). And, let's just say I have a picture of Matt in a stylish (a cat-in-the-hat-like) hat when we went to the Marbles Childern's museum with his son Caleb. Great fun with a couple of great guys.
Both Matt and J.D. blog, so be sure to see visit their blogs.
Cathy Grossman and USA Today

One of the most fascinating jobs in America must be covering religion. I recently had the chance to speak at the Religion Newswriters Association and learned more about this challenging job. As a conservative evangelical, most of my evangelical friends have a negative view of the media. Sometimes that perception is earned. However, I must say that I think that many of these writers try hard to understand us-- and we are not that easy to "get."
Cathy Grossman has worked hard to report well on evangelicals (and many others). And, I am glad to see her enter the blog world with her Faith and Reason Blog. I would encourage you to drop by and take a look. You can find the full religion page here and there is a link to a forum (usually on the left) where there are lots of topics to debate!
Chicago, My Kind of Town
I am excited that I am getting connected to Chicago. Charles Campbell, who helped organize the conference I spoke at last month while at Trinity, shared with me a pretty impressive undertaking.
Matt Willis is a church planter who is using the Wiki technology to create a prayerwalking map of the Chicago neighborhoods. He and others are seeking to mobilize large numbers of people to come to the city to pray and post their observations here.
Behind the Scenes with "Al"
You can enjoy the whole Al blog series here.
Latino Settlement in the U.S.
J. B. from the International Mission Board keeps a sharp eye out for helpful new reserach. She sent this on to me today.
Latino Settlement in the New Century [pdf]
The Pew Hispanic Center offers timely commentary and research on a wide range of issues related to the Hispanic population within the United States.

Over the past few years, they have put out working papers on immigration, economic forecasts, employment, and pending legislation. This report by their senior research associate Richard Fry was released in October 2008 and it offers a detailed demographic portrait of the growing Hispanic community in the United States. Throughout its 35-pages, visitors will find detailed statistical information on the transformation of the Hispanic population over the past decade, along with material on which counties are experiencing the greatest statistical increase in the number of Hispanics. Finally, the report is greatly enhanced by its use of tables, graphs, and county-level maps of the US.
Mark Driscoll and Acts 29

Mark Driscoll and I have been emailing back and forth about a new project. More on that as soon as possible. However, in the meantime, you should consider listening to this recording where Mark talks about the values and focus of Acts 29. Crazy idea-- if you have questions, it might be good to actually listen to the vision and values. But, what do I know? Have a listen here.
You can also listen to an interview I did with Mark a while back here.
I have not had much of a chance to be at many Acts 29 events lately, but I am excited about a forthcoming meeting that Mark, John Piper, Matt Chandler, I, and several others will be doing in June 2009 in Raleigh Durham. Should be a great week. I will be teaching a class at Southeastern and doing the conference in the evening, etc.
The Exchange is a part of CT's Blog Forum. Support the work of CT. Subscribe and get one year free.
The views of the blogger do not necessarily reflect those of Christianity Today.