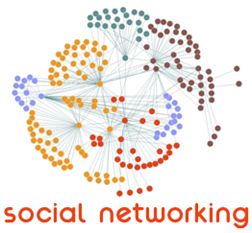 I guess I am relatively integrated into the online community: You can find my articles, preaching and lectures around the internet at various websites, I have my own youtube channel, of course I have a blog, and I have found the value of social networking tools like Facebook, Twitter. And for the record, I'm not even thinking about using Myspace (does anyone still do that?), tumblr (which is pretty cool), or anything else out there. At least for now.
But now that I've been at it for a while now, I can honestly say there are a number of things I really enjoy about social networking.
* It's great for re-connecting with people with whom I've lost contact.
Honestly, this is a huge plus and has made staying in touch with people much easier - especially for those of us who find ourselves busy and pressed for time.
* It allows for immediate reaction and response to ideas and issues.
Social networking has worked well at informal polling and pulling advice and ideas from my online "friends."
* It provides a way for sharing both the serious and the superficial aspects of life.
Simply put, this is both helpful and enjoyable! Most people get that social networking can be enjoyable, but I also find it inspiring to read what God is teaching others and what risks some are taking for the gospel of Jesus Christ. Of course, such insights are not gleaned from everyone so you have to know who to watch/read.
* It is an immediate call for prayer that crosses the globe.
Just last night I got word that Donna had been in an accident and quickly posted, "Donna's been in a car accident. She says she is fine. I am on my way there now." I am very thankful for those who prayed and wrote back.
But like all things in life there are things in life there are negatives.
Many of my friends say they want to be less connected via the Internet, not more. They say they can't spend their days responding to Twitter direct messages and Facebook messages. Sometimes that is because they say they are too busy. Sometimes it is because they say such interactions are superficial. I must admit, I understand at times. However, I am of the opinion that it is better to be connected using social media, recognizing the limitations, than to be disconnected. As a rule, I respond to all my Facebook messages as that seems people are really writing me (like they do on email). I try to respond to as many Twitter messages as I can, but responding to all gets very tedious to those who follow you since your responses go to all your Twitterfriends (and many are just comments, not really part of a conversation). I try to respond to all direct messages, though sometimes I fall behind.
I think I like Facebook better than Twitter, though I use Twitter to "feed" into Facebook. On Facebook, you can actually see the interactions below a comment. On Twitter, you cannot. It is interesting to me that people are much more likely to respond on Facebook than on the blog. I have probably had over 100 Facebook conversations this week and a much lower number on the blog (though this has been a slow blog week).
There are some disadvantages, but I like the value of being connected in this way. So, for now, I am still "in."
However, just for fun, there are some things about social networking that drive me just a wee bit crazy. For example:
* When Twitter friends ask me to promote their product on my blog or Twitter.
Stop it.
* When conferences ask me to promote their conference on my blog.
Stop it.
* When people want to argue with me through Twitter.
Here's how it goes down: "Do you really think it is right for LifeWay to not sell this or that product?" Yes, let me think, could I have the privilege of debating you about this while 2000 people watch and we put our thoughts into 140 character Tweets? Genius.
* When people do drive by questions.
For example, I tweet, "Going to be in Chicago for a week teaching at TEDS." My next tweet is, "Just landed in snowy Chicago." Then, I get two replies, "Ed, how long will you be in Chicago?" Three words people: READ THE FEED. It's not as violent as a drive-by shooting, but it's just as impolite.
* When people try to discuss blog posts via direct message on Twitter.
Look, if I wanted to have a private chat about it I would not have posted it on the blog.
* When people ask me random questions via Twitter.
"Ed, we have 300 people in our church. How many students should we have in our youth group?" My name is Ed, not "google." And, that has a lot to do with your community, by the way.
* When Facebook friends ask me my email address.
Look-- if we are friends, it is right there. This is almost like someone calling me up on my cellphone to ask what my area code is. *sigh*
* When Facebook friends invite me to an "event" they should know I cannot attend.
If it's not a real event, I don't want to "attend." If it is a real event and it's out of state-- it's irrelevant to me.
* When people invite me to join their "cause." I am not joining your crusade for or against the "new facebook," the "reason for the season," or anything else.
I do not believe you are going to change hearts and minds and overcome the evil one with what amounts to an electronic petition that no one cares about.
* When people invite me to play some kind of a Facebook game.
Look-- you may enjoy Dungeons and Dragons but I don't want to play it with you at this stage in my life. I'm not networking here to see your magic castle, become your squire, or fight your mob war. Just sayin'
Alright... enough fun.
Those are my thoughts about social networking. What are yours?
I am interested in a couple of things:
1. What are you thoughts about social networking? Do you use some of these tools? Why or why not? Give me your thoughts.
2. What suggestions would you have for me? I have been intentionally adding more video content at the suggestion of some friends, but what other suggestions would you have for the blog, Twitter, and Facebook. For example, I am thinking of creating a regular on-line (live) video conference to answers questions that people might want to ask. (Let me know if you think that would be a good idea, if you don't mind.)
To me, the question I struggle with is this: how can these tools be used to advance the Kingdom? My goal is to help pastors and church leaders. I don't think short interactions do that (and I wonder about the narcissism it may promote). So, I write longer blog posts than most do in the hopes they might provide some helpful content. I see Twitter as more relational fun with folks who are interested in what you do. I see Facebook as a community of acquaintances and friends in discussion. And, I see the blog as a place to put deeper thoughts or ideas that require more space.
So, I would love to hear from you and let's do a little social networking here.
I am open to your ideas, suggestions, requests, or criticisms.
--------------------------------------------------------
And, these are the responses I got from some friends when I tweeted about this post. As you can see, only Larry is really a Christian. Grin.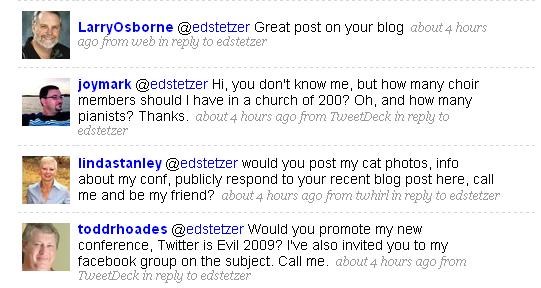 The Exchange is a part of CT's Blog Forum. Support the work of CT. Subscribe and get one year free.
The views of the blogger do not necessarily reflect those of Christianity Today.