I just received my copy of The Multiplying Church: The New Math for Starting New Churches.
Bob continues to crank out books... and he always makes me think. In this case, Bob's focus is churches that plant churches.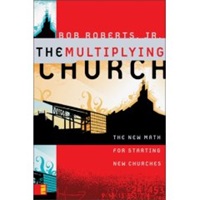 Bob asked me for my input and I gave a bunch. I enjoy the dialogue with Bob because he really wants feedback and is not afraid to push back. We have great arguments-- and then we do it again. So, we had a good time talking through the book and "provoking one another to love and good deeds" (Hebrews 10:24).
You can order the book here.
Here is the foreword I wrote for the book:
The Multiplying Church.

Kingdom minded leaders stop focusing on what is hard or risky, move beyond the comfort of addition within their own building, and risk.

My friend Bob Roberts is a risk taker. It is evident in his ministry. As a result of shunning the safe in favor of radically chasing after the Kingdom of God, Bob has become a multiplier. He's instilled that mentality in the members of NorthWood Church, the body of believers he pastors in Keller, Texas. The result: exponential Kingdom growth.

Not many people are able to grasp what it means to think and act exponentially, especially in today's North American Church. But, Bob is there on both. That is what makes him uniquely qualified to share his insights. I can be pretty frantic, but I pause when I hear or read something that comes from somebody who's "been there, done that." Bob has always given me reason to pause.

Actually I did more than pause when Bob sent me this latest book, The Multiplying Church. I lingered.

Bob explains what the church should look like when it fulfills the biblical mission of reaching the people of the world for Christ. When the church lives out its mission, it will be founded on the Gospel, evidence true discipleship, positively impact society, and become the body of Christ in whatever cultural context it develops. Ministry will be done. Jesus will be worshipped as supreme above all else. People will be prepped for the Feast of the Land.

And it will be done in accelerating fashion.

Really, Bob describes what can happen when "Missional Meets Exponential." Jesus loves the church and gave Himself for her (Eph. 5:25) and declares, "I will build My church" (Matt. 16:18). Moreover, he allows us to join Him in its building. Following our Lord's command to make disciples of all the "nations" (Matt. 28:19-20) and to witness for Him throughout the world (Acts 1:8), the Bible records the acts of the apostles as planting churches, evangelizing, and teaching the new believers.

In Acts 20:28, Paul exhorted the elders of the church at Ephesus "to shepherd the church of God," (HCSB), meaning that they should care for and guard the church. In fact, he emphasizes that very point earlier in that verse ("Be on guard for yourselves and for all the flock"). In 1 Corinthians 14, Paul encouraged the leaders in Corinth to edify, build up, and strengthen the church through worship.

I have seen it time and time again in research I've conducted. Churches that multiply exponentially have pastors who constantly encourage members to get out where real people with real problems live and be Christ, they stress: Be the church Jesus intended. Of course in admonishing this, these pastors have not unlocked the secrets to quantum physics. They're simply repeating a recurring theme of Jesus' ministry. He doesn't call us to stagnation. The Savior was constantly pressing forward into the spiritual darkness and charging His charges to charge! They were to go!

Interestingly Jesus was intentional. There was no winning converts for the sake of boosting numbers at the First Church of Jerusalem. If that had been his interest he would have made like too many 21st Century evangelical churches and glossed it all over with those groupies he alienated. No, Jesus had building the Kingdom of God locked squarely in his sights. Paul understood the primacy of Jesus' objective better than any other human who has lived. He gave his life for the birth, growth and multiplication of the church.

Bob has that same kind of passion for seeing churches live out that same mission. He codes it into the DNA of a church plant. At the heart of Bob's vision for church planting is developing leadership that will plant churches with the intention of planting other churches. NorthWoods offers a nine-month internship where Bob annually trains more than a dozen potential church planters and their spouses. Since Scripture nowhere says that "Caucasians will inherit the Kingdom," Bob is intentional about making sure half the internships are filled with non-Anglo planters who reach other ethnic groups both within the United States and beyond. These church planters are not locked into programmed models but instead focus first on the needs of the community and allow cultural flavor to influence the form of church. The beauty is that the gospel is at the heart, bringing a standardization to otherwise radically diverse sister churches.

You will find a discussion of these things in this book. Bob teaches how missional churches act faithfully and intentionally wherever God gives them opportunity by being incarnational, indigenous, and intentional. Let me spell this out so it's even more clear where Bob is heading:

Incarnational: Missional churches become deeply involved in their communities. They are not focused so much on their buildings as they are on living, demonstrating, and offering biblical community in a lost world among a lost people. An incarnational church functions as the "body of Christ" because it represents the presence of Christ within a community. They get that the reason spiritually lost people act spiritually lost is because, well, they are spiritually lost. They don't back away from godless people but instead embrace godless people because they understand the hearts of lost people conquered by the Lordship of Jesus builds the Kingdom.

Indigenous: Missional churches take root in the soil of their society and reflect, appropriately, their surrounding culture. Obvious example: If a church is in an urban setting saturated with hip-hop culture, southern gospel quartets miss the mark. Bob teaches this. Related (WARNING: toe-stomping zone ahead), It's ironic that most evangelical churches are filled with people who live very much like the world but look different from it on Sunday. Study after study has shown that many North American evangelicals engage in the same lifestyles and sins as the unchurched. It should be exactly the opposite--we should look similar to those in our community but act like members of a heavenly community.

Intentional: Missional churches are intentional about their methodologies. In missional churches, biblical preaching, discipleship, baptism and other functions are vital. But worship style, evangelistic methods, attire, service times, locations, and other matters are determined by their effectiveness in a specific cultural context. (I know this last statement probably turns some dogmatic theological cranks out there, but before you get too worked up leave your cultural presuppositions outside your prayer closet and spend a little time objectively reviewing Romans 14 and the first half of 15. Paul had lots to say about primary and secondary issues and we'd do well to keep our Bibles open there before being too critical of churches actually multiplying themselves among people different than themselves.)

There are two key factors that mark Bob and this book

1. When Jesus proclaimed, "As the Father has sent Me, so send I you" (John 20:21), His mandate was not directed to a select group of cross-cultural missionaries. It was a commissioning act of you, me, and our churches as well. We have a sender (Jesus), a message (the gospel) and a people to whom we are sent (those in our culture). I call this becoming missional in practice or missional orthopraxy. "Being sent" means that we must move outside the walls of our church buildings and engage the people in our communities.

Bob models spiritual transformation personally and leads others to experience transformation that results in spiritual obedience. They are changed... and when they are changed they change their world. They are missional in practice.

2. Growth is a spiritual work granted by God (Hebrews 6:3), not a mechanistic formula. John Mark Terry explained, "We have the best materials, media, and methods, but we lack spiritual power. Christians of the apostolic era had none of our advantages; they didn't even have the New Testament. Still, they turned the Roman Empire upside down. What impact does your church have in your community?" (John Mark Terry. Church Evangelism (Nashville: Broadman and Holman Publishers. 1997), 16).

In the book of Revelation, Jesus evaluates seven churches and reveals a pattern for evaluating churches throughout history. If you look around your city today, you will most likely find churches that face challenges like the church at Ephesus, resemble the church at Laodicea, and endure false teaching like the church at Thyatira. Jesus, as Head of His church, evaluates us and calls us to repentance when we lose our proper focus (Heb. 12:2). He was evaluating based on spiritual impact. Bob's book causes me to evaluate my life, ministry, church planting - everything - based on the spiritual impact I'm having on the world around me.

George Barna also reflects on this issue of spiritual impact and leadership, "After fifteen years of diligent digging into the world around me, I have reached several conclusions about the future of the Christian church in America. The central conclusion is that the American church is dying due to lack of strong spiritual leadership. In this time of unprecedented opportunity and plentiful resources, the church is actually losing influence. The primary reason is the lack of leadership. Nothing is more important than leadership" (Barna, George, Leaders on Leadership. Regal Books, Ventura, CA, 1997, page 18).

I made the statement at the beginning of this foreword that Kingdom minded leaders stop focusing on what is hard or risky, move beyond the comfort of addition within their own building and risk. This takes courage and I think what Barna is ultimately getting at is that there are not enough people with courage to give themselves to the cause of reversing the trend and leading the church into the fray of contemporary culture unapologetically wielding the Sword of Truth (which is the Bible).

Jesus wants risk takers. He calls for courage. He expects us to be like Him. "I tell you the truth, anyone who has faith in me will do what I have been doing. He will do even greater things than these, because I am going to the Father. And I will do whatever you ask in my name, so that the Son may bring glory to the Father. You may ask me for anything in my name, and I will do it" (John 14:12-14, NIV). Jesus had the opportunity to only physically impact His own culture and geographic region. But He gave to us the opportunity to have a global impact. The question is, "do we have the courage to build His kingdom?"

If talking about building the Kingdom was sufficient I can tell you the curtain would have dropped and the show ended a long time ago. Courage and action are synonyms.

If we are going to move from missional to exponential, it will be costly. It will cost something financially--giving beyond what we think is reasonable. It will cost something spiritually--praying longer than we feel like praying. It will cost something mentally and emotionally--sending out workers into his harvest fields is hard to do because we have to let go of things and people that are dear to us (or at least dear to our earthly kingdoms). It will cost us something physically--being disciplined in every area of life is difficult.

Bob knows that transformation of society can happen - he's seen it happen in more than 100 church plants - but he knows it only happens when the gospel impacts the culture. In the end, Bob helps bring us back in a simple but profound way to the fundamental truth in Scripture--it all boils down to Jesus. He guarantees the forces of hell won't stand against His church (Matthew 16:18), He gave His peace to His disciples (hint: us) and then said, "Go" (John 20:21). He is the builder, the sender, the head, the beginning and the end of it all. There is no other name under heaven given among men by which people can be saved, and it is at the pronouncement of this precious name, and this precious name alone - "Jesus!" - that every knee will someday bow and every tongue will confess that He is Lord, to the glory of God the Father.

May His name be lifted high from our lips and in our churches. May His fame spread to the ends of the earth.