I recently had a great talk with Sharon. We first met at the recent Convengent Conference at Southeastern Seminary. She is articulate, gracious, and passionate about the gospel.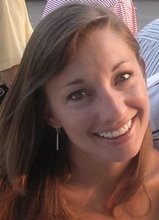 Sharon is a new writer, recent graduate of Duke Divinity School, a college minister to students from Duke, UNC- Chapel Hill and UNC-Greensboro, and a part of The Summit Church (where J.D. Greear serves as pastor).
Check out her blog at www.sheworships.blogspot.com.
She wrote me (and I have permission to quote) about women's ministry. I found her thoughts challenging. As a father of three daughters, I hope to instill in them such passion for the gospel and the Word.
Sharon wrote:
As a woman who has a passion for women's ministry, I am somewhat dismayed by the resources available to my generation. I have spent the last seven years of my life going to college and getting a masters in divinity, so it frustrates me that most women's ministries focus on merely surviving the perils of marriage and motherhood. I have yet to encounter a women's ministry whose goals involve preaching the Gospel, planting churches, changing your community, country and world. So while the current vision is important--women do need encouragement as they battle the frustrations of family life--it is also rather small.
For women like me, the state of women's ministry therefore poses two problems. One, there is a lot I would like to do before I get married and start a family, but women's ministries largely ignore my stage in life, as if my life hasn't really started yet. And that trend begs a very important question: Why aren't women's ministries capitalizing on the tremendous resource of my time and energy? Young women have so much to offer the Church but we are largely overlooked, and that is, simply stated, an inefficient use of the Kingdom's assets.

Two, a lot of books for women focus on helping them get through the day, heal, and survive, but the prospect of merely "surviving" my life is thoroughly unappealing to me, and discourages me from involvement in women's ministry altogether. As one women's minister explained to me, "It's a season-of-life kind of thing. Once you're a mom, you don't have time to think about theology and engaging the culture." I think I speak for many women my age who desire much more than that, and are disheartened that bar has been set so low for us.

The truth of the matter is that women's ministry is changing. More and more women are getting advanced degrees. More and more women are following current events, are engaged in the culture, and want to be intellectually challenged. This does not mean that women's ministry must become heady, academic, or political, but it's got to be about more than mere survival. We want to be women of vision, women who use our minds, our educations, and our time to change the world. This requires more than a Christian self-help book or a pep-talk style devotion at the beginning of each day. It requires leaders and teachers who can challenge us to think critically about our culture and what is going on in the world, as well as engaging Scripture in an active way, and living it out radically.

That, I believe, is the future of women's ministry, and that is the vision I try to capture with my writing.
Check out more from Sharon here.