Jan 7, 2008
Rick Warren and Tim Keller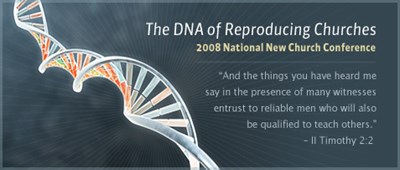 Here is a little "Breaking News" for you...
You might enjoy coming to the Exponential Conference, where Rick Warren has just joined the line-up.
Thursday will now include sessions from Warren and Tim Keller... who woulda' guessed they would be sharing the same platform? I have the privilege of knowing both men, but it is unique to see them together at one conference.
(If you are looking for me, I will be in the green room watching the dialogue.)
The line-up at the conference is largely because of the hard world and church planting vision of Todd Wilson at Passion for Planting (who partners with me at www.newchurches.com) and Dave Ferguson, who in addition to helping spawn a movement of reproducing churches, is also a great guy.
The main sessions are as follows:
Session #1 with Ed Stetzer: The Characteristics of Reproducing Churches - Our plenary sessions will start with a panel of leading Reproducing Church leaders introducing their own perspective on what it takes to multiply churches in a powerful, God-honoring way. We will then analyze DNA traits.

Session #2 with Andy Stanley: Apostolic Vision - The Apostle Paul is passing along the vision of a reproducing church to a young church planter named Timothy. The DNA of reproducing churches contains an apostolic vision of going and sending. As leaders of reproducing churches we must clearly communicate the vision of what it means to be a reproducing church.

Session #3a with Steve Andrews: Radical Disciple Making - What Paul is doing with Timothy is disciple making. What Paul is asking this young church planter Timothy to do is disciple making. Disciple making is essential to leadership making which is essential to church making which is essential for being a reproducing church.

Session #3b with Dave Ferguson: Genuine Community - The pattern that Paul had left for Timothy to follow was the creation of eternal communities called the church. The result of an apostolic vision and radical disciple-making is always a community of people who will get each other through anything and offer hope to those outside the community in this life and the next.

Session #4 with Alan Hirsch: Missional Movement - From Paul to Timothy to "many witnesses" to "reliable men" to "others" shows us four generations of reproduction. The DNA of reproducing churches contains a missional impulse to multiply. As a part of a movement of reproducing churches we must continually insist that we see reproduction in every part of the mission.

Session #5 with Tim Keller: The Gospel - What Paul passed along to Timothy and ultimately to generations of reproduction was the good news of the hope we find in Jesus. The DNA of reproducing the church of Jesus Christ always carries with it the hope found in the person of Jesus. This is what the vision and movement are all about; offering people the hope found in Jesus and His community.
Support our work. Subscribe to CT and get one year free.