Jul 2, 2008
Founders Conference Address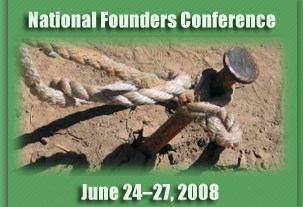 Did I call the Founders Conference attendees "functional hyper-Calvinists?"
Well, some comments have sprung up on the blogs about my message at the Founders Conference. Today, the news story was published covering my second message.
Here are some of the notes from my first message-- which I may not have said exactly as I wrote in these notes. But, these "talking points" may give a feel for what I said. (Some of it, particuarly the section on pragmatism, were hand written and then I added them here.)
Best case, listen to my messages and the other messages here.
I was impressed with these men and their passion for the gospel. I am encouraged to hear their desire to get more involved in evangelism and church planting. Though we would not do everything the same, I was grateful that they invited me. And, I was glad I went.
And, don't be a functional hyper-Calvinist. ;-)
_____________________________________________
My first message:
I want to be upfront with you that I come with a bias-- many of my Southern Baptist Reformed friends are not well represented in church planting and evangelism...
That is not the case with all of the Reformed community.
I have had the privilege of speaking at 4 of the 5 top multiplying churches in America (based on a study I did for Leadership Network and published in Outreach Magazine). Interestingly, 4 of the 5 are Reformed.
5. Spanish River Church...
And, let me add that in my recent book, Comeback Churches, filled with statistics that drive some of you crazy, we studied 324 churches that had "comeback" after a significant period of decline. One of those churches was Grace Baptist, pastored by Tom Ascol, President of Founders Ministries...
But, I think that much of the SBC Reformed community is under-involved in these areas. Which, to be fair, is why your focus in this meeting is church planting and revitalization... a good and important theme.
Now that I have probably offended some of you, I want to start with a few quotes: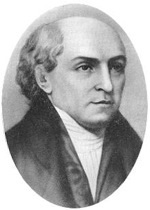 "As our blessed Lord has required us to pray that his kingdom may come, and his will be done on earth as it is in heaven, it becomes us not only to express our desires of that event by words, but to use every lawful method to spread the knowledge of his name."
This "whatever it takes" approach came from William Carey in An Enquiry into the Obligation of Christians to Use Means for the Conversion of the Heathens.
I believe that many in the Reformed community need to start using "means" to more faithfully do evangelism and start churches.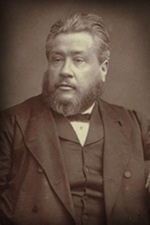 Charles Spurgeon also has a warning to some of his brothers who lacked passion for evangelism:
"...they maintain their churches by converts from other systems. I have even heard them say, 'Oh, yes, the Methodists and Revivalists are beating the hedges, but we shall catch many of the birds.' If I harboured such a mean thought I would be ashamed to express it. A system which cannot touch the outside world, but must leave arousing and converting work to others, whom it judges to be unsound, writes its own condemnation." --Charles Spurgeon, Lectures to My Students: Complete & Unabridged, by Charles Haddon Spurgeon, page 243, Zondervan, 1979.
Let's open up to Luke 24:46-49
Luke 24:46-49 (HCSB) 46 He also said to them, "This is what is written: the Messiah would suffer and rise from the dead the third day, 47 and repentance for forgiveness of sins would be proclaimed in His name to all the nations, beginning at Jerusalem. 48 You are witnesses of these things. 49 And look, I am sending you what My Father promised. As for you, stay in the city until you are empowered from on high."
1. The Gospel and the Mission
46 He also said to them, "This is what is written: the Messiah would suffer and rise from the dead the third day, 47 and repentance for forgiveness of sins would be proclaimed"
Jesus is clearly presenting the focus-- the gospel. Church planting is a tool, the gospel is the goal.
We must remember that the gospel is on a mission. I was going to call it "a missional gospel," but I don't think the gospel needs modifiers. Prosperity gospel, social gospel, they all have one thing in common - when you have to modify the "gospel" with an adjective you end up with a false gospel.
Jesus describes the gospel similar to that of Paul's description:
1 Corinthians 15:1-4 Now brothers, I want to clarify for you the gospel I proclaimed to you; you received it and have taken your stand on it. You are also saved by it, if you hold to the message I proclaimed to you--unless you believed to no purpose. For I passed on to you as most important what I also received: that Christ died for our sins according to the Scriptures, that He was buried, that He was raised on the third day according to the Scriptures,
But, Jesus also added the idea of propagating the gospel. Jesus gives the same, "suffer and rise from the dead," formulation from 1 Corinthians, but then adds "and repentance for forgiveness of sins would be proclaimed."
Jesus is on a mission and wants us to join that mission.
John 20:21 Jesus said to them again, "Peace to you! As the Father has sent Me, I also send you."
Fundamental to the nature of the gospel is the proclamation of the gospel.
We need to be in the world to tell the world about Jesus. We hear much from our Reformed brothers about holiness... but I warn you: holiness is separation from sin and not separation from sinners.
We need to be known for being passionate evangelists.
Let me encourage you as friends here:
Don't make heroes of pastors who are great preachers and theologians, but whose churches are not evangelistic. They are talking about the gospel without living it out.
What we celebrate we become. And if we celebrate those with strong theology but week witness, that is exactly what we will become.
Churches with strong theology but little mission are like a bodybuilder with huge theological arms, but tiny, spindly missional legs. Don't make that exciting. Don't celebrate that.
I know that claims of "hyper-Calvinism" are a straw man. I know no hyper-Calvinist in my denomination. If I did, their church should discipline them and the denomination should dis-fellowship them. But, I know that Bill Ascol cautions his church here to not be "functional hyper-Calvinists."
Watching out for functional hyper-Calvinism is a good caution for all of us.
I know many who are "functionally hypercalvinist," Reformed and not-Reformed.
But, here is the important thing: Hyper-Calvinist or functional hypercalvinist, the result is the same: God is not honored and given the glory he is due.
2. A Gospel for the Nations
Jesus said the gospel (v. 47) "would be proclaimed in His name to all the nations, beginning at Jerusalem."
It is both a Global Mission and a mission whose applications in some ways determined by the people we have been called to reach.
The "nations" come up here and in Matthew 28.
What does it mean?
Matthew 28:18-20 Then Jesus came near and said to them, "All authority has been given to Me in heaven and on earth. Go, therefore, and make disciples of all nations, baptizing them in the name of the Father and of the Son and of the Holy Spirit, teaching them to observe everything I have commanded you. And remember, I am with you always, to the end of the age."
Panta ta ethne.
Now, not everyone thinks that the "nations" refers to different kinds of people as I do. But, most misisologists and many theologians do.
We need a passion for God's global mission among the nations.
I work for the IMB and we need you involved in reaching the nations: the Pokot, the Quechua, and the Iban. We need you to "Let the Nations Be Glad."
Working in "peoples-focused" ministry leads to some important "means":
The how of ministry is in some ways determined by the who, when, and where of culture. Yes, churches have "marks," but it seems that some churches are all marks and no mission. Mission leads to churches and expressions that look different. A biblically faithful church should look different in New York, Singapore, and Owasso.
Older Western expressions are not necessarily more holy expressions. The gospel must be understood and expressed in each cultural context. God and the gospel do not need to be "made relevant," they already are. But, that does not mean we are. (And, I should add, neither are younger expressions.)
Church plants need to be seeker-comprehensible. And, I use the seeker language on purpose to rile you up. But, if you are going to get into church planting you will need to use language that the unchurched can understand. Planting is not the same as pastoring an existing, particularly a theologically driven existing, congregation.
What you call respectful, sober, and worshipful, is often based more on your culture than the scriptures.
3. A Clear Obligation to Witness
vs. 48 You are witnesses of these things.
Jesus calls us to be witness of that message. That's good and we all agree with that. We all talk about it. But, it seems to me that many don't do it.
The "in-thing" right now in the reformed community seems to be to write books on evangelism. I think that is good in some ways, but bad in others. It is good because it is an acknowledgment that the movement desperately needs to grow in that area. It is bad because it might be similar to me writing a book on weight loss.
Maybe it would be better to listen to those who are already adept at evangelism rather than find it necessary to write a new version to correct theirs.
If you want to overcome the negative perception of Calvinists, Calvinists must be known as evangelists.
Nobody was upset at D. James Kennedy for being a Calvinist. He was known as an evangelist.
We must evangelize and plant the gospel to start a church.
I believe that church planting is the most important form of evangelism because it ties the church to the mission.
Let me share a few thoughts related to evangelism that leads to church planting:
Begin by understanding the gospel and clearly articulate what God has called you to do.
Exegete the context. (Statements like "contextualization was an anathema to the apostles," are exceedingly unhelpful.) Most SBC churches do not need more reasons to not engage the culture. If the 50's came back, most Southern Baptist churches would be ready to go - but if we believe this gospel is true, we need to live it out and evidence it here, now, today in a way that people look in and see the kingdom of God evidenced.
Reach out and evangelize (This is a challenge for people who think, "If I just preach the word, my church will grow.).

Door to door
Community events
Bridge events
Too many think if they just tell someone the gospel, they are faithful... they say, "I don't need to learn how, the power is all in the gospel." Then why did Jesus approach the woman at the well differently than Nicodemus. Why did Paul preach differently at the Aeropogus, Lystra, and Psidian Antioch?
Start groups
Begin worship (launch the church)
Disciple the people (they are not a church until they covenant with each other).
Covenant together
Plant new churches
My desire is that churches will be: Biblically faithful, culturally relevant, counter culture communities for the Gospel and the Kingdom.
4. A Spirit Empowered Mission
49 And look, I am sending you what My Father promised. As for you, stay in the city until you are empowered from on high.
Jesus indicated that such a focus will require waiting for the Holy Spirit.
I am pragmatic. Let me get it out there since I know it will bother some. It seems like pragmatism has already been whacked at a few times here.
You see, I am a missiologist and I ask, "How has God worked and what can we learn about how he is working today?"
People often beat on pragmatism like a low hanging pinata on cinco de mayo, but the dictionary defines pragmatic as, "Dealing or concerned with facts or actual occurrences; practical." Not sure who would be opposed to that, but I am sure there are some.
But, I looked up the antonyms since so many people don't want to be pragmatists. They are: idealistic, impractical, unrealistic, unreasonable
I also want to be anti-pragmatic. I believe this is Holy Spirit work that genuinely is, "idealistic, impractical, unrealistic, and unreasonable."
We need the supernatural non-pragmatic work of the Holy Spirit to work in our prayed over and thought out plans.
Remember William Carey, An Enquiry into the Obligation of Christians to Use Means for the Conversion of the Heathens:
As our blessed Lord has required us to pray that his kingdom may come, and his will be done on earth as it is in heaven, it becomes us not only to express our desires of that event by words, but to use every lawful method to spread the knowledge of his name.
We need to learn how God has already worked to create a biblically driven and contextually appropriate (pragmatic) strategy. We also need to believe Him to work in supernatural ways as we trust Him and are obedient to his commands.
Conclusion:
You have great influence at Founders. And, I am hopeful and encouraged that you want to use that influence to focus on evangelism and church planting that reaches lost people.
_____________________________________________
And here are some of the news excerpts from my second message:
The overwhelming assumption of the New Testament is that local churches will plant other churches, Ed Stetzer said June 26 in the keynote address at the 26th annual Southern Baptist Founders Conference...

Stetzer challenged pastors to avoid leading local congregations that are theologically sound but inwardly focused (a "cul-de-sac church") and encouraged them to wed orthodox theology with church planting.

"What was normal in the New Testament has become abnormal today," Stetzer said of church planting. "The New Testament church was always multiplying and the church today must always be multiplying. Mission is to be wrapped together with good theology.... God is a sending God."

Preaching from Luke 10:1-12, Stetzer gave six principles that undergird church planting:

-- Prayer is essential to successful church plants. The proper place to begin a church plant is on one's knees, Stetzer said, but many church planters have a tendency to shirk the duties of prayer because they are self-starters. When a person begins to pray for the place where he is going to plant a church, God will break his heart for that place, he said. A church planter must go where he has a deep love and concern for the people and not where the latest demographics predict a favorable outcome, Stetzer said.

-- Prayer flows into a radical reliance on God. All Christians are called to be on mission with God, Stetzer said, but the church has created a false three-tiered Christianity: lay people, those called to full-time ministry and those called to ministry but not called to missions. "We're all called," he said. "The only questions are 'Where?' and 'Among whom?' There is not a separate call to missions." Church planters must not wait until circumstances such as personal financial resources are right, but must radically depend on God, he said. "You will never have enough resources to plant a church," he said. "God will provide."

-- Church planting blesses a community. A church planter can go in confidence that God is already working in the hearts of some in that community, he said. Churches are to go and serve all the people in their communities and be a blessing to them, he said.

-- Build relationships and settle in. A church planter should become a part of the community which he serves and must build deep relationships, while preparing to stay for the long haul and engage the local people with the Gospel, Stetzer said. The planter will likely have to leave some of his own culture behind, especially if he plants in a place far outside his native territory, Stetzer said.

-- Meet needs and serve people. One of the means God sometimes uses to bring people to Himself is through Christians who meet practical needs of people in their community, Stetzer pointed out. Serving others often builds a bridge to the Gospel, he said. "Though salvation is entirely a work of the Lord, we have an obligation to use means," Stetzer said.

-- Church planters are announcing the kingdom of God. "When we plant churches, we are extending the boundaries where Christ reigns -- a church as a sign and instrument of the Kingdom of God. The world around us sees what the Kingdom of God looks like when visible saints express the love and life of Christ."

The task of church planting is not fundamentally a denominational function, he said, but is a function of the local church...

"If you really believe the agenda of the Kingdom of God, if you want God's name and God's fame magnified, how can you not want to be a part of church planting?"
And, no, I did not call the attendees "functional hyper-Calvinists," though I warned them not to be.
It seems that many evangelicals, Reformed and not so, have become that very thing...
Support our work. Subscribe to CT and get one year free.