A couple of weeks ago, I gave a presentation at Every Nation ministries. They are a network of like minded churches with a heart for church planting, campus ministry, and leadership training (three key leverage points in our culture, I believe).
If you read the blog much around here, you have seen Steve Murrell comment. He is one of the key leaders of the movement. Well, Steve, Kevin York, Rice Brooks, and David Houston invited me to come to the meeting and share some characteristics of movemental Christianity and then do a little Q&A.
Based on my own observations, and adapted from an earlier version I presented at the National New Church Conference and a church planting gathering in Philadelphia, I think that movemental Christianity will have certain characteristics if it breaks out here in the West. And, although I draw from his excellent work, some of those characteristics are different from what David Garrison speaks of in his paradigm-creating book, Church Planting Movements. Since most of his examples are from Two Thirds World settings, I think there will be some differences with movements in the West.
Anyway, here is the outline I shared at the meeting last week. I may develop it more into an aritlce, but for now I wanted to share it with you... feel free to give me some feedback or additional thoughts.
If and when movemental Christianity happens in North America I believe it will consist of (at least) 10 elements: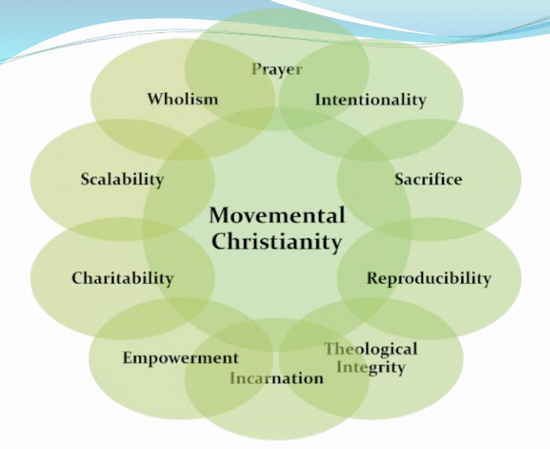 Prayer
Prayer will need to be more than a habit, or a discipline. It must be a conviction that establishes its priority. Before we see movemental Christianity, we will have to be praying, asking God to change us.
Intentionality
We will also need to show the intention of being movemental (see the next 8 elements). As of now, I believe our focus is primarily defensive and incremental, not intentional and exponential.
Sacrifice
Change will not come without giving something up. No movement will happen until pressure is applied to move the church from the place of being static to a body of believers in action. This sacrifice will be paid by denominations, individual churches, and believers.
Reproducibility
Movements do not occur through large things (big budgets, big plans, big teams). They occur through small units that are readily reproducible. Those who want to see movements need to see reproducibility at every level. This is a challenge is to resist the grandiose in favor of the reproducible.
Theological Integrity
Churches wanting to be involved in transformative, movemental Christianity hold firm and passionate positions on biblical views. The Baptists and Methodists won the Western Frontier (1795-1810) because they were passionate about their beliefs. The Pentecostals are not de-emphasizing what they believe to win Central America. Movements are found among people with robust beliefs, not generic belief systems.
Incarnation
Movemental Christianity recognizes that the gospel is unchanging, but the expressions and results of the gospel will vary from culture to culture. It also recognizes that as the sent people of God we are called to appropriately identify with those to whom we have been sent. All of this means that we must understand both the gospel and culture in order to be the biblically faithful, culturally relevant, counter-cultural movement of God. Movements will look like, and be owned by, ordinary people in their setting.
Empowerment
Movements only occur when the disempowered are given the freedom, and then take up the responsibility, to lead. In our case, the clergification of the church has marginalized those God has called - all people. The disempowerment of church members simultaneously satisfies and disturbs many pastors. Frustration results from not being able to get others to do the work of ministry, but satisfaction comes from being affirmed in doing the work others should be doing. Such co-dependency is the death-knell of movemental Christianity.
Charitability
Movemental Christianity is messy. Those involved in it make mistakes, over-emphasize certain things, and even believe things different than I do. Nobody gives her or his life for a bland belief system. A movement of God cannot be contained in a single movement or theological tradition. Therefore, movemental Christianity requires charity to maintain our firmly held convictions while rejoicing for and speaking well about those with whom we differ but are being greatly blessed by God.
Scalability
Movements often are stifled within smaller communities because of the small mindedness of local believers. When God begins to move, and believers allow movement Christianity to begin to grow, structures must be able to rapidly re-size to not stifle such movements.
In many cases, movements will break out of structures. More frequently, non-scalable structures (like some training programs or denomination structures), will actually hinder the movement. These structures become bottlenecks rather than catalysts.
Wholism
The modern evangelical separation of gospel proclamation and societal transformation is an historical oddity. Movemental Christianity will practice wholistic ministry much in the way of Jesus. Current movements and historical awakenings are and were accompanied by societal transformation. (Cities of God: How Christianity Become an Urban Movement and Conquered Rome provides a helpful look at this subject.)
I am sure a true movement will involve more than this... but these would be a start.