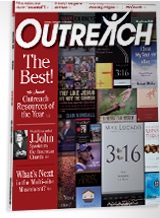 Below is an article I wrote for Outreach Magazine. Outreach has asked me to present an "opinionated" voice in my column-- to bring, I hope, a thoughtful and probing approach to the issues addressed. (This month, my subtly-titled article is called "Jerk Free Evangelism.")
I think that every movement needs thoughtful reflection. So, I listed some of my questions in the article (which you can see below). Now, to be transparent, I preach at a multi-venue church every week, so I would not consider myself "anti-," but I do like to think through the consequences, intended and unintended, of new approaches to church. You can see my thoughts below. Feel free to comment... I would like to hear your thoughts.
Geoff Surratt, who co-wrote The Muiltisite Church Revolution, wrote me a great letter in response to the article, kindly differing with some of my conclusions. If you come to the blog Friday, I will post that letter and Geoff and I will dialogue a bit about it here at the blog.
Questions for McChurch
The multi-site argument goes something like this:
If I open a new coffee shop on your side of town, it may take years before people figure out I'm there. Even then, they may never check out my lattes because they already get their coffee at a place called Buckstops.
On the other hand, if Buckstops opens a new shop, almost immediately hundreds of people will become regulars. Why? They already know the Buckstops brand.
Many congregations are moving to a multi-site strategy for this exact reason: a church plant may take years to get a footing, but an extension site of an established church will grow immediately. Instead of starting with 20 attendees, they may start with hundreds. (When Andy Stanley started the Browns Bridge Campus of North Point, thousands showed up the first day!)
Limitations to the Attractional Model
But is it all good? Since my column is to take a contrarian tone (yes, it is in my contract to be the Andy Rooney of each issue), let me share my concern that the attractional basis of multisite ministry also has some dangers.
In an increasingly unchurched culture, even the best worship and highest quality projection can lose its attraction. For example, there are few multi-site churches in Europe. Will a great speaker and powerful music appeal to a truly post-Christian culture? For some, maybe. But the popularity of YouTube and proliferation of amateur podcasts show a whole generation emerging that is less concerned with polish and more concerned with authenticity and accessibility.
I'm not suggesting we employ a strategy like the one I recently saw on a sign outside a church: "No coffee. No doughnuts. Just the Bible. Come and get it." I'm enthused about new methods and technologies to reach people for Jesus.
But as we rush into multi-site, we should pause long enough to consider at least these three things --
Pastoral Responsibility
Despite a church's best intentions at new sites, sometimes certain pastoral duties get lost: scriptural assignments such as praying over the sick (James 5:14); watching over those placed in your care (1 Peter 5:1); discipline (1 Cor. 5); and breaking bread with the beloved (Acts 2:42). I know that those duties are supposed to be the job of the campus pastor, but we also know it often does not happen. The focus is often on the event more than the community. And people come for the show without connecting to the community.
Christian Community
Connected to pastoral ministry is the community of faith itself. The church is not merely a gathering, but a united people who work together for the glory of God and the good of their neighbors. One of the weaknesses of multi-site churches is that it can encourage a come-and-get mentality over a come and give ethos. Of course this is not only a problem for multi-site churches, but the potential for the problem is significant. Don't misunderstand me; I get that it can work, but it's not easy. If you are going multi-site, I hope it keeps you up at night, wrestling with ways to build community in a system that that can easily discourage it.
Reproducing New Teachers
Perhaps my biggest concern is that the multi-site paradigm is that, without intentionality, it will limit reproduction. Let's face it-- it's easier to create another extension site than it is to create another Andy Stanley.
If the standard for pastoring is the ability to keep 5,000 people on the edge of their seats for 45 minutes, many developing leaders will simply not pursue or use their speaking gifts. To illustrate, consider that Andy Stanley and Ed Young, Jr. both have fathers who are Megachurch pastors. What might have happened if Andy or Ed Jr. had been relegated to hitting the play button for Dad's DVD sermons? It seems to me that our Great Commission strategy should include the reproduction of biblical communicators.
Where Now?
So am I anti-multi-site? Not really. One hour before I wrote this I delivered my message to a high-def camera to be broadcast tomorrow to 3000 people at Highlands Fellowship (Abingdon, VA) and their 6 venues. It's a great church with an innovative strategy.
I am not anti-multisite, but I am anti-consumerism. Church is not about being the best purveyor of religious "goods and services." And if multi-site thrives by appealing to the "come and see" mentality that is so prevalent in American evangelicalism, we will all regret it.
One writer recently wrote about his franchised church--calling it "McChurch--I'm loving it."
Well...
I think I will love it more if reproduction is the goal--reproducing believers, ministries, groups and churches. I would love it more if we all worked harder at producing disciples and leaders, and not spectators. And, if you are going multisite, make sure you stay focused on the mission and its multiplication.
The Exchange is a part of CT's Blog Forum. Support the work of CT. Subscribe and get one year free.
The views of the blogger do not necessarily reflect those of Christianity Today.