A few posts back Chris Norman posted a question in the comments that I thought I would explore a bit as a blog post. His question was for Alan Hirsch, Neil Cole and me and resulted in a brief email dialog. The issue revolves around the full-time pay of pastoral leadership. Is a church healthier with, or wthout paid staff? Is such a concept even biblical? My response in the comments was:
I have no problem with paid pastors (it is biblical). My concern is the bias against the unpaid and the clergification of ministry. All believers have a ministry, mine is just to the office of pastor. God calls us to different ministries, some are paid and some are not, but all are essential.
The monetary support of pastoral leadership is a biblical model. Paul wrote to the church in Corinth that, "the Lord commanded that those who proclaim the gospel should get their living by the gospel." (1 Cor. 9:14) He presses the point again in 1 Tim. 5:17-18 when he told the young pastor, "Let the elders who rule well be considered worthy of double honor, especially those who labor in preaching and teaching. For the Scripture says, 'You shall not muzzle an ox when it treads out the grain,' and, 'The laborer deserves his wages.'" There are other passages that also support this practice (Gal. 6:6; 3 Jn. 1:8) as a good model for sustaining the leadership and direction of the church.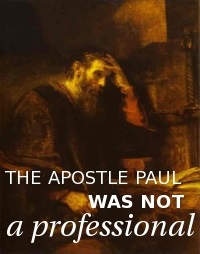 While many understand the biblical merit of this argument, many have also bought into the clergification of Christian ministry. This is the belief that the professionals carry out the real work of the church, and everyone else simply lends a hand here and there. And "professionals" are of course those who make their living from the gospel. Therefore, bi-vocational pastors or church planters are often held in much less esteem, and the rest of the church is seen as practically unnecessary. Such a perspective misses the example of Paul, and more importantly the nature of gospel ministry and church health.
While clearly articulating the idea that pastoral leadership should be supported by their local church, Paul himself often worked outside of the church to support his church planting endeavors. More importantly, Paul clearly teaches that the church's health is built upon the interdependent ministries that arise from the church body, and not solely from the teaching ministry of paid leaders (1 Cor. 12; Eph. 4; Rom 12:3-8). We have to guard against the tendency to depend more on man and less on Christ among his people.
In the email conversation Neil Cole added some helpful words to this discussion, and I wanted to share them here (with his permission).
1. Paul does say it is the apostles "right" to be supported, but that he and Barnabas have forgone that right for the furtherance of the gospel. I believe the idea is that in pioneering works, he doesn't want to offer the gospel at a charge. That is my own conviction, so I never receive support from the church I am starting at the time, but will gladly receive it once I move on.

2. Jesus sent the disciples (both the 12 and the 70) off without any financial support. He said "do not take a purse." No reserves, no credit cards, no plans for sustenance. They were to believe God to provide for them and solely focus on obedience to the kingdom principles taught in Matt 10 and Luke 10. I often wonder what Christianity would look like if we all started this way. After their faith and obedience are demonstrated (tested?), Jesus later says, "Now, take a purse." (Luke 22?) The idea is that you do not know how to handle money until you know how to go forward without it. Once you prove that your heart is right and your faith is sound, then financial support is fine...as long as it is releasing you to do more of what you do already. The idea of employment is foreign to the NT. You are owned by Jesus, not any other. Job descriptions, office hours, performance reviews, raises, lay-offs, bonuses, etc...have no place in God's kingdom. This is not a business enterprise but a Kingdom and each are agents under Christ's command and none other. He will not place the order and then not pay the bill.

3. There were many times Paul made tents, but also times when he served "full time" while others worked to support him. He never took money from his new churches, but accepted it when he moved on (i.e. Philippians). There is not one model for how this works in the NT and not even one only for Paul himself.

We have many who are moving this direction with radical faith and God is honoring. The last chapter of my next book (Organic Leadership) is story after story of church planters who ventured off away from secure salaries to live by faith and using their entrepreneurial gifts. Each story is unique and powerful. Often additional "side-effects" occur that no one expected...like greater respect in the community and fruitfulness in transforming a city. Often they end up having much greater financial support then they would have had in "professional ministry".
Alan Hirsch had limited time to write but added,
The only thing I would add to Chris is that given that you are in an established church, it has its 'givens' and professionalization of ministry is one of them. But I think we do need to be very careful about being domesticated by being paid full-time. We easily get co-opted to becoming chaplains of the status quo.
Neil's and Alan's advice and cautions should give us all pause as we consider what are the pitfalls and pressures we face in the local church. The health of the church depends on the presence of Christ working through the whole body as his missionary activity, and not on select personalities or professionals.
The Exchange is a part of CT's Blog Forum. Support the work of CT. Subscribe and get one year free.
The views of the blogger do not necessarily reflect those of Christianity Today.